Long before Madeleine McCann, there was Ben Needham, a British toddler who vanished while holidaying with relatives on the Greek island of Kos.
Ben was just 21 months old and in the care of his grandparents who had emigrated to Greece, when he disappeared while playing outside their farmhouse on July 4, 1991.
Now a new witness has come forward with information that could explain the boy's fate, telling police that his longtime mate Konstantinos Barkas, known as Dino, may have accidentally killed the boy.
The man reportedly approached Greek detectives with the information following Dino's death from stomach cancer last year
Like Maddie McCann, who disappeared in 2007 during a family holiday in Portugal, countless theories and conspiracies surrounding Ben's fate have placed him variously in the hands of gypsies, wealthy childless couples or even sold into sexual slavery.
And like Maddie, sightings of Ben over the years have led his family on wild goose chases around the world.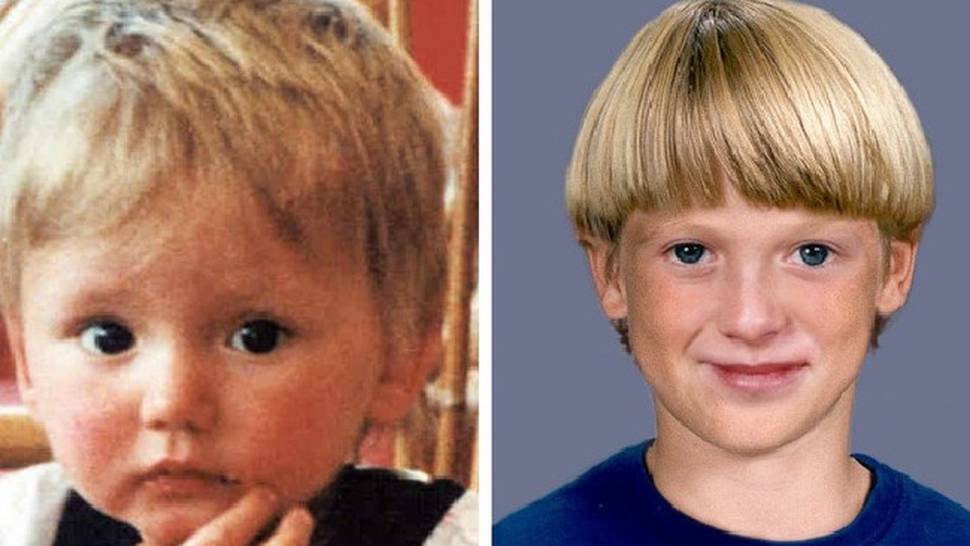 If the new information is correct, however, the truth may be mercifully mundane but no less tragic.
According to the mystery witness, Dino was working as a digger operator on a construction site near the property Ben vanished from. The man reportedly came forward after an appeal for information was aired on Greek TV earlier this year.
He claims Dino accidentally crushed the boy to death with the digger after the curious child wandered onto the site. His workmates had helped keep his dark secret ever since, out of loyalty to their friend.
The area surrounding Ben grandparents' farmhouse, including the construction site, was searched at the time but the witness claims Dino failed to tell police of two soil dumping sites.
Those sites are reportedly now being searched for Ben's remains.
Kerry Needham, the mother of the missing boy, who would have turned 26 this year, told of her devastation after British police visited her home in Sheffield in the UK to tell her personally of the breakthrough.
"What they had to tell me was the last thing they would have ever wanted to. They think my Ben could be dead and buried," Ms Needham told The Mirror.
"They are no longer looking for a missing person. How do I cope with that?"
"My mother's instinct has always told me he was alive. What if I've been wrong all this time?
"This feels different now. I'm petrified. I think the police believe they will find Ben's bones. I think he's dead.
"They will be bringing specialist people from the UK to search for his remains. They don't believe Ben's alive any more."
Ms Needham said officers from "Team Ben" at South Yorkshire Police, led by Detective ­Superintendent Matt Fenwick, had the bad news written all over their faces when they knocked at her door.
"They'd gathered us all together, me, my mum and my daughter Leighanna," she told The Mirror.
"These officers have been heroic, truly incredible. They have been so supportive and passionate about finding us the answers we've longed for all these years.
"That day they seemed apprehensive and really concerned for us, as they started to explain their findings.
"They said a new witness had come forward and told them there were two areas of land that building waste had been dumped at by Dino which had not been searched.
"Their faces said it all and that's when I said, 'And you're going to search it aren't you?'"
In 2013, Ms Needham's hopes of finding her son alive were raised after a video emerged of a young blonde man with a group of Roma people at a religious celebration in Cyprus.
The person who took the video believed the man bore a "striking resemblance" to a computer-generated image of how Ben might look now and was prompted to hand it in to police after the case of Maria, the young blonde girl filmed dancing at a Roma camp in Central Greece made world headlines.
The young man agreed to take part in DNA testing but the results came up negative for a match with Ben.
Ms Needham has campaigned relentlessly for a quarter of a century for her son to be found and runs a Facebook page devoted to him and other missing children.
Comparisons have often been drawn between his and Madeleine McCann's disappearance but the families of the missing children are anything but friends.
Last year the Kate and Gerry McCann deleted their Find Madeleine Twitter account after claiming to have been bombarded with online abuse from supporters of Ben Needham's family.
Ms Needham had publicly questioned why more than $20m had been spent on Madeleine's campaign compared to just over $1.6 million spent on finding Ben.
She said she had put up with years of slander and abuse from McCann supporters and felt the decision to delete the Madeleine account was a "personal attack".