A severe heatwave has set off new records in India, so much so that the roads beneath pedestrians are literally melting like wet cement.
Literally.
In the footage above, pedestrians' footwear can be seen actually sinking into the tarmac as they walk due to how hot it is.
For farmers in particular, the effects have been widespread and devastating, worsening poverty and even prompting suicide.
The Indian government has estimated that as much as 25 per cent of the country - 330 million Indians - could be affected by the shortages.
Temperatures in the northern desert province of Rajasthan have soared to 51C, the highest in the country's recorded history, and the third-highest temperature ever documented on Earth.
Temperatures across much of northern India have exceeded 40C for weeks. With much of the country densely-populated, this only makes the problem worse.
Murari Lal Thanvi, a man from Phalodi, in Rajasthan, told the BBC the weather alone was hot enough to render his mobile phone unusable.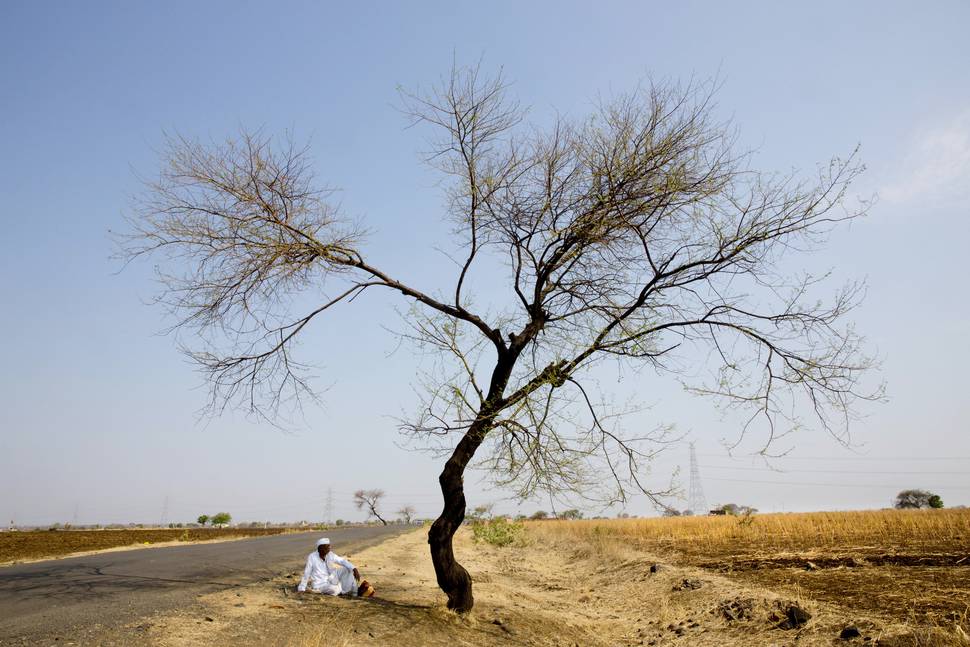 "Even my mobile phone gave up and stopped working when I was trying to take pictures today," he said.
"I was able to switch my mobile phone on after putting a wet cloth on it for about 20-25 minutes."
But this has now gone beyond minor inconveniences and a bit of physical discomfort. The impact of the heat has been devastating, and increasingly fatal, particularly for the hundreds of people dying of starvation due to withering crops in their remote fields.
Tens of thousands of farmers have had no other option but to abandon their land and move into the cities.
Meanwhile, suicide among farmers is on the rise thanks to the extreme environmental conditions. According to the Indian Express, 36 farmers in the drought-ridden region of Marathwada have committed suicide this past week alone.
They reported that over the past four and a half months, the total figure of suicides has been put at 454. Officials said the collective total in the past 16 months has reached 1548.
Officials told the Press Times of India that there is a mere one per cent of water left in the region's dams.
Extreme weather conditions obviously present huge problems for farmers. In this case, withered crops are forcing tens of thousands of them to abandon their land and homes to move to the urban cities.
Extreme droughts, unseasonal rains and poor yields have left them with crippling debt and even greater poverty. For some, it would seem death is the only option.
In other shocking reports, financially-crippled women are forced into prostitution to support their families.
Rama Devi, a now-single mother of three from Kadiri, Anantapur, told News 18 her lack of income as a farm labourer had forced her to take up sex work.
Her husband deserted the whole family when the incessant environmental conditions financially destroyed the family.
"There had been no rain for years, and no work," Ms Devi told News 18. "My friend said how long will you live without work. He said he has a job that can ensure a good future for my children. So I took up the job of a sex worker. I had no other option. Many times clients would beat me, force me to drink alcohol and travel to different cities along with them. But I have to tolerate everything."
She said she loathed her job in the sex trade. She is stigmatised by her community, and her children - who also bear the brunt of discrimination - resent her for it.
In his latest broadcast on the monthly radio program Mann Ki Baat, Prime Minister Narendra Modi has addressed the country's heatwave and droughts.
He called on the nation to conserve water amid the harsh drought conditions, stressing the importance of long-term planning and protecting the environment.
"I appeal to all citizens to pledge to not waste water in June, July, August or September," he said, referring to the months where the conditions are expected to ease.
He said in many states, people have started using "sprinkler technology" to successfully improve their agriculture, stressing that "perfect planning" and "proper technology" can yield good results.
Six months ago, at a high-stakes United Nations conference in Paris, Mr Modi blamed richer nations around the world for the country's suffering, saying India was suffering the effects of climate change without having necessarily caused it themselves.
"Climate change is a major global challenge. But it is not of our making. It is the result of global warming that came from prosperity and progress of an industrial age powered by fossil fuel," he said.
He criticised affluent nations, saying "those with luxury of choices" had an obligation to help reduce emissions.
"We in India face consequences. We see the risk to our farmers. We are concerned about rising oceans that threaten our 7500km of coastline and 1300 islands. We worry about the glaciers that feed our rivers and nurture our civilisation."