A man was shot by snipers live on camera after threatening to set off a bomb inside a TV station.
The man, who worked as a contractor, was dressed in an animal onesie when he allegedly made the threat at Fox 45 headquarters in Baltimore, forcing the evacuation of the building.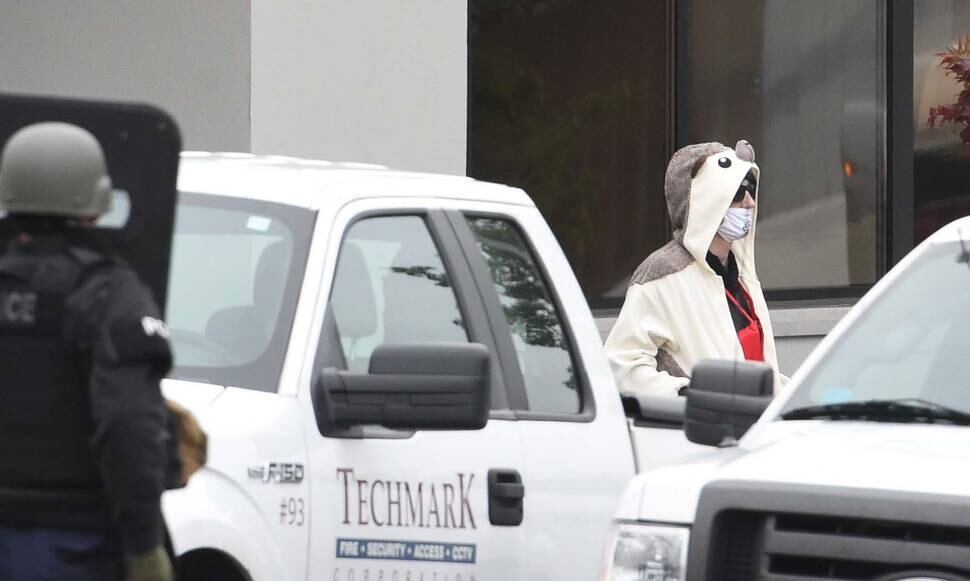 Police said the suspect, aged in his 20s, was alive but refusing to co-operate with authorities, Fox News reported.
It was not yet known if the man had a bomb but police have confirmed he had wires inside his clothing and that he was scanned by a bomb robot while on the ground.
The suspect was dressed in the animal onesie, a surgical mask and sunglasses when he broke into the Sinclair-owned Fox affiliate about 1.20pm.
News director Mike Tomko said the man, who had earlier set a car alight outside the station, told them he had information he wanted to get on air.
"He had a flash drive, said he had information he wanted to get on the air," he said.

"He compared it to the information found in the Panama Papers. I told him, 'I can't let you in, you're going to have to leave the flash drive here and slide it through the opening'. He wouldn't do that. Apparently he had made some threats before."
Police used a robot to communicate with the man who has ignored police commands.
The man was taken into custody by SWAT officers, Fox 45 reported.