Donald Trump's wife Melania has tried to stay out of the spotlight during her husband's campaign for the Republican presidential nomination.
But as Mr Trump's popularity with female voters continues to decline, Mrs Trump has been hauled out in front of the cameras to help make the case for why her husband of 11 years, and the father of her 10-year-old son Barron, should be the next president of the United States.
Now, the 45-year-old has given an extensive interview about her life to GQ magazine. Reporter Julia Ioffe visited Mrs Trump's native Slovenia, spoke to her childhood friends and the long lost half-brother she has never publicly acknowledged.
Mrs Trump clearly isn't happy with the way she was portrayed in the article, this morning denouncing the piece on Facebook, calling it "dishonest...disingenous reporting".
"There are numerous inaccuracies in this article including certain statements about my family and claims on personal matters. My parents are private citizens and should not be subject to [GQ reporter] Ms. Ioffe's unfair scrutiny. I am hopeful that the media will begin to cover me fairly and be respectful of my family's privacy," she wrote.
Here are the seven weirdest things we learned from the piece.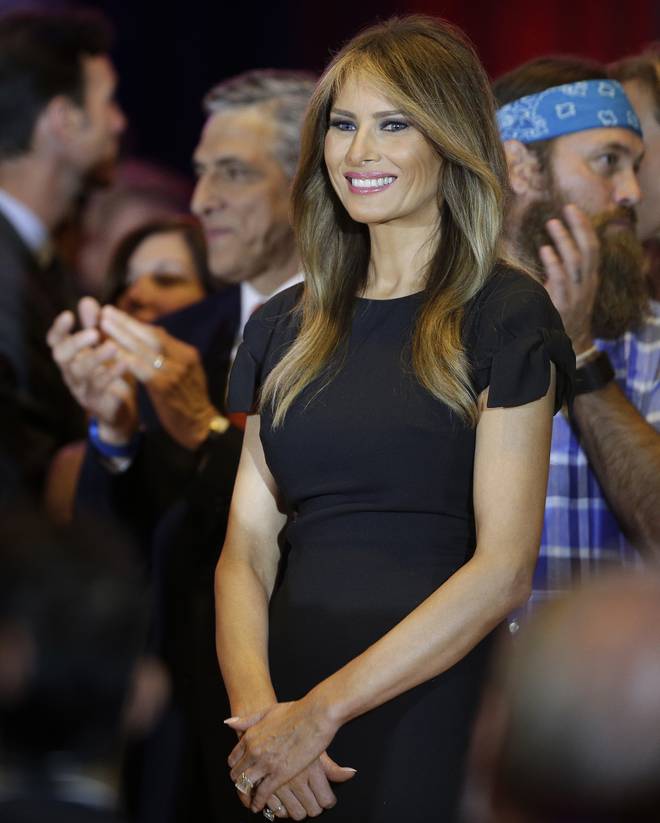 2. HER FRIENDS DON'T THINK SHE'S VERY SMART
An old friend of Mrs Trump's from Solvenia wasn't exactly gushing with praise for her intellect.
"People say she's smart, she's well-educated like Jackie Kennedy, but ... she's smart for the things she's interested in, like jewellery. She's not stupid, she's not a bimbo, but she's not especially clever."
3. MELANIA PLAYED HARD-TO-GET WHEN SHE FIRST MET TRUMP
The pair met at a party during New York Fashion Week in 1998, but Melania knew from the start that she wasn't going to be Trump's side-chick.
"If I give him my number, I'm just one of the women he calls," she said of their first meeting. "I wanted to see what his intention is. It tells you a lot from the man what kind of number he gives you. He gave me all of his numbers."
But she waited a week before calling him.
"I'm not starstruck. We had a great connection, we had great chemistry, but I was not starstruck. And maybe he noticed that."
4. HER FATHER LOOKS AND BEHAVES SCARILY LIKE HER HUSBAND, BUT SHE'S COOL WITH THAT
When asked about the inevitable comparisons between her husband and her father, she agreed they're quite similar.
"They're both hardworking. They're both very smart and very capable. They grew up in totally different environments, but they have the same values, they have the same tradition. I myself am similar to my husband. Do you understand what I mean? So is my dad; he is a family man, he has tradition, he was hardworking. So is my husband."
5. SHE HAS ALWAYS TAKEN CARE OF HERSELF
Most of us are awkward, pimply and oily in high school, but not Melania, according to an old classmate Petra Sedej.
She wore foundation, mascara, blush and lip gloss everyday. "Even in summertime," Sedej said. "She was always perfect, every day."
Years later, she would still take "assiduous care" of her body, walking with ankle weights, eating seven pieces of fruit a day and diligently moisturising her skin.
6. SHE DENIES HAVING PLASTIC SURGERY
In Melania's modelling days, she found she was losing jobs to younger models.
"She went away for a two-week vacation, then came back, and was more ... buxom," claims Matthew Atanian, a photographer who was Melania's roommate when she first moved to New York. "She admitted it to me. She just said it needed to be done to get more lingerie jobs."
When asked about her alleged breast augmentation, Melania was on the defensive.
"I didn't make any changes," she said. "A lot of people say I am using all the procedures for my face. I didn't do anything. I live a healthy life, I take care of my skin and my body. I'm against Botox, I'm against injections; I think it's damaging your face, damaging your nerves. It's all me. I will age gracefully, as my mum does."
7. SHE HAS A 50-YEAR-OLD HALF BROTHER WHO HAS NEVER BEEN PUBLICLY ACKNOWLEDGED
Melania has a half brother, born to a woman her father Viktor Knavs dated before he married Melania's mother. After a son was born in May 1965, the mother sued Mr Knavs for child support. Viktor denied paternity, but after a blood test the court determine that Mr Knavs was the boy's biological father, but he has never acknowledged his son, Denis Cigelnjak, who is now 50.
Mr Cigelnjak has never spoken to the media and his existence has never been publicly acknowledged by the Trumps.
Reporter Julia Ioffe visited Mr Cigelnjak at his home in Slovenia, in the same town where his mother worked at a glass factory. She never married or had more children, and Mr Cigelnjak says he has never met his father, who paid child support until his son was 18.
"I missed being able to say, 'Hey, Dad, let's go for a coffee', " Denis told Ioffe in GQ.
Ioffe wrote: "Periodically, Denis would hear stories about his father, but he said he was afraid to initiate contact and disturb the Knavs family. Now he feels it's too late. He didn't seek attention and says he wants nothing from his father or the Trumps. He wouldn't mind meeting his half sisters, Ines and Melania, who, he's fairly certain, don't even know he exists.
"When I asked Melania about this over the phone, she denied that it was true," Ioffe wrote.
"Later, after I'd sent her documents from the Slovenian court, she wrote to me claiming she hadn't understood what I'd asked, explaining, 'I've known about this for years.' She added: 'My father is a private individual. Please respect his privacy'."
What a strange, world we live in.