Steve Campion, a reporter with ABC affiliate KTRK in Houston, was about to file a live report about historic flooding in Houston when a car rolled right past his news team into a flooded underpass just outside downtown.
Moments later, as the Honda Insight began to slip beneath the murky flood waters, the driver opened a door and appeared to hesitate.
"Dude, you've got to get out of the car," Campion yelled from a safe distance away. "You've got to get out!
"What should I do?" the befuddled driver, struggling to size up the gravity of his situation, replied.
Campion's answer: "SWIM!"
"Leave the car, swim!"
As the man - who later identified himself as Andy - dog-paddled away from his Honda, Campion waded into the chest-deep water and helped the man struggle toward safety, all while keeping his microphone dry.
"Sir are you OK? Watch your step, sir."
"I'm OK," the man replied.
Andy said he didn't think the water was "that deep."
"My car is under," he said, looking in the direction of his vehicle, now completely submerged in the flood water.
Without pause, Campion transitioned seamlessly into his broadcast, noting a second car had also disappeared into the same flooded underpass. The driver was forced to escape his vehicle, Campion said, by climbing out of his sun roof and swimming to land.
"It's a testament to how quickly things are changing out here and a testament to the fact that this water is a whole lot deeper than people realise," Campion said.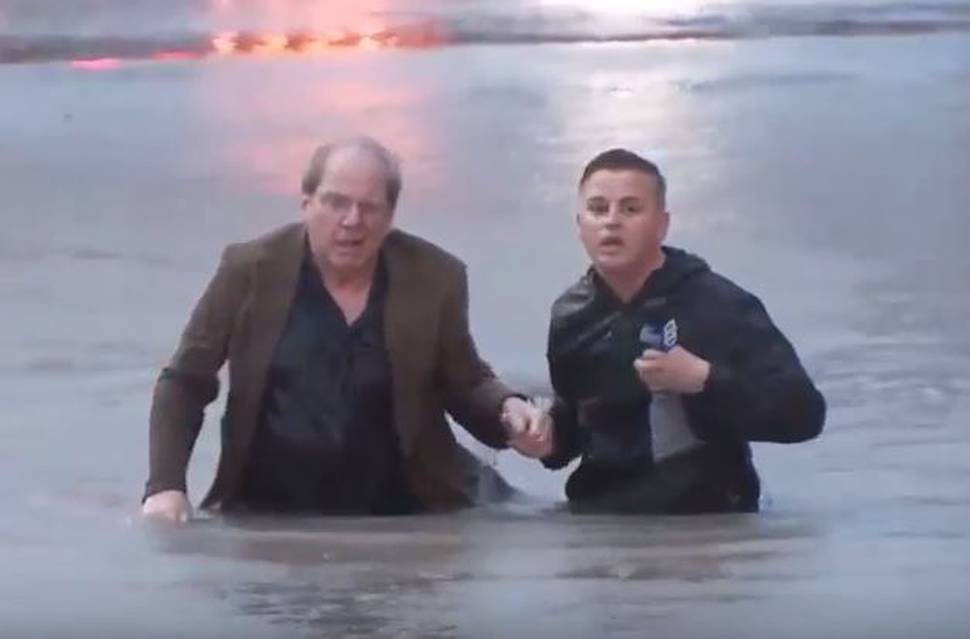 Record-breaking torrential rains are responsible for the speed of today's flooding. At 10 a.m. Houston time, nearly 17 inches (43cms) of rain had fallen west of the city, according to the National Weather Service. An incredible 11.16 inches (28.3cms) was tallied at Houston Intercontinental Airport, which broke the monthly record of 8.16 inches (20.7cms) originally set in 1976.
The flooding has brought the city to a standstill, covering countless streets and highways in several feet of water as well as closing schools and businesses. Authorities have advised residents to stay at home, according to CBS affiliate KHOU.
The station reported that some areas northwest and west of the city received up to 16 inches of rain overnight and one location endured 20 inches of rainfall. According to the National Weather Service office in Houston, 70 subdivisions in the metro area were flooded Monday morning.
County Judge Ed Emmett told the station the city has already seen more than 150 water rescues.
"This is a mind-boggling situation," Jim Cantore, a storm tracker for The Weather Channel, said.