Max Bocanegra was an ordinary 25-year-old Texan photographer who spent his days surfing and hanging out with his frat-boy roommate.
He was an unlikely candidate to be running a highly lucrative people-smuggling network, illegally driving Mexican immigrants from a city just inside the US border to Houston and living large with the cash.
His wild story of partying, gambling and human trafficking caught the attention of the world this week after a Rolling Stone profile revealed how Max's roommate Stephen Sluyter eventually told authorities everything, putting his mate away for 40 months.
I thought money was the best thing in life, it ruled me

SHARE THIS QUOTE:
Since the story, a reformed Max has built a successful business and is popular in the community. He's gone from dodging the police to creating a campaign video for the local sheriff, shooting photos of the mayor and doing crossfit with border patrol.
This week, he's appeared on TV news and producers are knocking on the door hoping to create a movie of his life. He says he has no regrets.
"It made me who I am today," he told news.com.au. "It was a great ride. If I knew I was going to get the jailtime, I'd have done 100 people more. I would have done it a lot harder.
"Better to spend a few years as an inmate than the rest of your life knowing you're a b***h. [Stephen] was my best friend, he turned his back on me."
Not knowing they were destined to be informed on, Max and his growing band of recruits "kept their heads down", trying to avoid border patrol and the police.
His involvement in the business had snowballed. He first got into the game when he began taking promotional photos for Miguel "Boss" Bolado, a DJ. Boss always had ready cash, but he was never around. When they spoke on the phone, the DJ would be in some city six hours away.
"I thought he was trafficking cocaine," Max, now 29, told news.com.au. "I said, 'how do you make your money, is it coke?' He said, 'no, human trafficking.' I said, 'I want to do it.'"
Within five minutes, Max had rolled a blunt and was in a car following Boss down south to Falfurrias, near the Mexican border.
Soon that became his life. He'd spend the day surfing, wakeboarding, painting and chilling at home in Corpus Christi, then drive down to Falfarrias as evening fell, "grab a bunch of people and come back north."
On the way back, he would stop off at his place as a halfway point and watch some TV with the immigrants before rearranging the cars and driving those who were continuing to Houston. The whole process took about six hours, and Max was making $500 a head, a few grand if he took 12 or 15 people.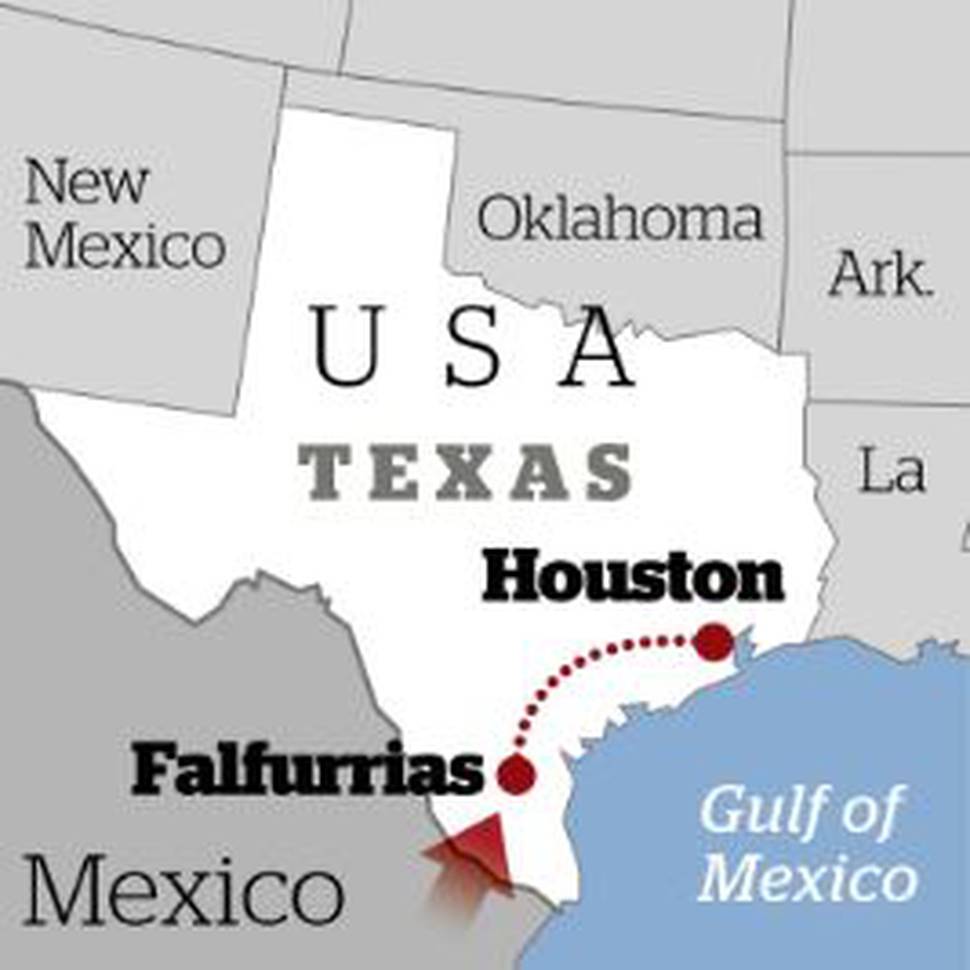 He saw it as easy money. For many of the Mexicans, this was just a portion of their journey, and he didn't have to cross the border. But smugglers were their only options for undetected travel through the US - no one else would pick them up.
Max soon realised he could make even more cash if he found more people to help him. "The way I recruited is I'd just live lavishly. I'd roll a $300 blunt and just leave it there, I'd buy drinks. People would ask, 'How do you have so much money?' I'd say, 'I could pay your college tuition in a month.'"
The photographer turned smuggler recruited college students and "local guys a few years younger who were infatuated by the fact I had a lot of party supplies ... drugs, alcohol, weed, girls. I was able to throw it around ... music, drink, everything."
Soon, Max had three or four cars a day going down to Falfarrias and the operation was making $8000 a day. But he says he has nothing left. "All of it went to Vegas," he said. "Partying, living life to the fullest. Money is the most disgusting thing of all and I'm glad I got rid of it. I thought money was the best thing in life, it ruled me. Now it's the opposite."
But Max insists that his team were good people smugglers, and would get referrals because they "took care of people".
"Call me Robin Hood," he laughed. "I most definitely knew I was helping a lot of them. There should have been a different way of going about it."
They would share a smoke with the Mexicans, give them somewhere to stay for a few nights and, crucially, do what they had promised. Other less scrupulous smugglers would take the $1000 poor families had scraped together and then leave them on the side of the road, their life savings gone, said Max. "They'd be like, 'Laters! What are you going to do, call the police?'"
There were a few times Max recognised this was not his world. Known as the "surfer guy" to the tattooed Mexican gangsters he worked with, the third-generation Mexican-American was seen as the "white guy", and far from your typical smuggler.
On one of his first runs, when he was still nervous because "you hear so many bad things on the news", he picked up a 19-year-old girl and her 20-year-old brother. They spoke a little English, and told him how the brother had watched his two sisters being raped, and then the other had been killed. They were hoping to be able to pay back their parents for helping them get out.
"They want a better life," he said. "And I'm an American, I just want money to buy new shoes."
-news.com.au