Good Morning Britain
weather girl Laura Tobin left her co-stars and viewers speechless after she accidentally ripped a 'rare' superhero poster worth £150,000 (NZ$325,771) live on air.
The 34-year-old breakfast host donned a pair of white protective gloves to present a picture of The Replicator when the 'mishap' occurred.
After a tense pause and panicked calls to go to an advert, Laura revealed that the whole thing was actually a hilarious prank.
"Now, this was a character back in the 70s. This is a special poster that is worth about £150,000 and there's only ten of them in the world."
Rather haphazardly handling the image, Laura continued: "So here we go. No one's really seen this before.
"I've got my gloves on but I'm feeling really nervous because you said the oils can really spoil them."
Laura, dressed in a Karen Millen navy dress and Michael Kors high-heels, attempted to pick up the picture with her surgical-looking mitts in order to "get a closer look".
Failing to hide his anxiety, fellow host Richard Arnold said: "I'm a bag of nerves now Laura."
As she tried to remove the comic from the display board it tore in half and Laura shrieked: "Oh my goodness! Is this the original one that's worth £150,000?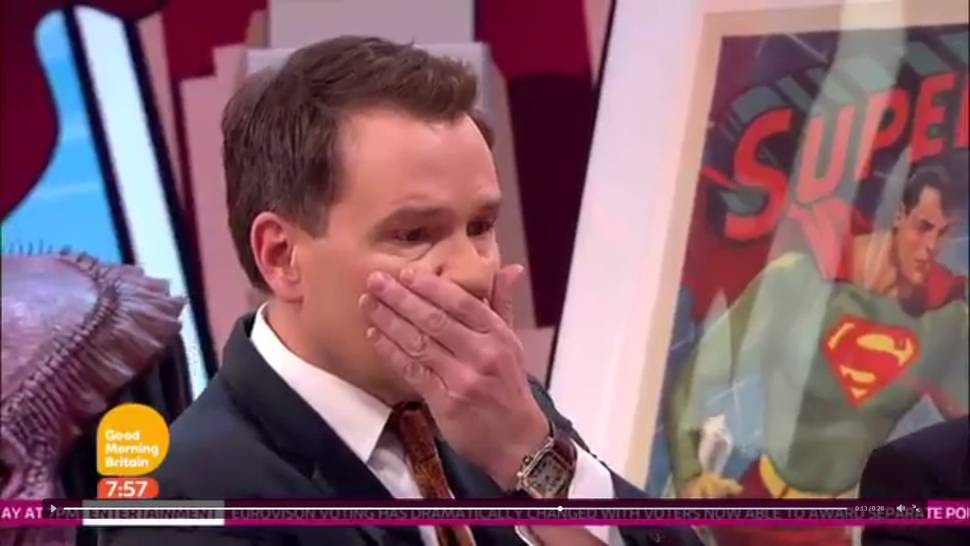 "My heart is going ten to the dozen. Was it the gloves?"
Completely unaware of the joke, a shocked Richard threw his hand to his face and said: "We are making this up, right?"
Meanwhile, newsreader Ranvir Singh grimaced: "We've probably got some insurance that covers this."
While a panicked, Charlotte Hawkins looked around the studio and said: "Can we just glue that back down again? Can we go to an advert?"
Clearly pleased that she had managed to fool her colleagues, Laura finally revealed: "Guys - it was a joke! It's not really worth £150,000, it's worth nothing!"
She then took much delight in tearing the rest of the picture into tiny pieces.
Laura later took to Twitter and shared a picture of what the poster looks like now and wrote: "Ha-I'm expecting my #oscar in the post for that performance! Ripping 'a rare, unseen & expensive' character' The @gmb faces were priceless!".
Vowing to get his own back Richard replied with a picture of cartoon baddie Hooded Claw and a tied-up Penelope Pitstop, writing: ".@GMB @Lauratobin1 My revenge will be diabolical #FridayFeeling."
-Daily Mail