"A disturbed mind crying out for therapy." That's a Russian newspaper's summation of Prime Minister Tony Abbott's threat to "shirtfront" President Vladimir Putin in Brisbane.
Mr Abbott grabbed global headlines for his tough talk ahead of the Russian leader's expected attendance at the Group of 20 meeting next month.
On Monday, Mr Abbott declared he would "shirtfront" Mr Putin at the G20 leaders meeting in Brisbane in November over the shooting-down of flight MH17.
He backed away from the aggressive sports term on Tuesday but insisted he would hold robust talks with Mr Putin over the "murder" of 38 Australians when the Malaysia Airlines flight was shot down over eastern Ukraine.
In an open letter, published on Pravda online, which is considered a mouthpiece for the Russian Government, columnist Timothy Bancroft-Hinchey has demanded Mr Abbott pull his head in.
"Like any bully there comes a day when you pick on the wrong person, get your teeth smashed in and go running home to Mummy, blabbering like a ninny," he wrote.
The threat was the "most crass example of stupidity the world has seen since the USA, the UK and Australia murdered Iraqi civilians in an illegal and criminal series of war crimes.
"If you seriously think you can physically confront your guests and assault a visiting head of state and walk away freely, then you are mistaken," he said.
He said Mr Abbott had rendered himself liable for prosecution for criminal intent and incitement to violence.
Mr Bancroft-Hinchey warned the Australian leader should not pre-empt the investigation into the MH17 plane wreck.
"Wait for the inquiry before making your odious accusations and sounding like a foul-mouthed, despicable, pith-headed and uncouth, loutish oaf," he said.
The Melbourne-based Herald-Sun newspaper returned fire with an editorial published in English and Russian, saying Mr Putin has "blood on his hands" and should stay away from the G20 gathering in Brisbane.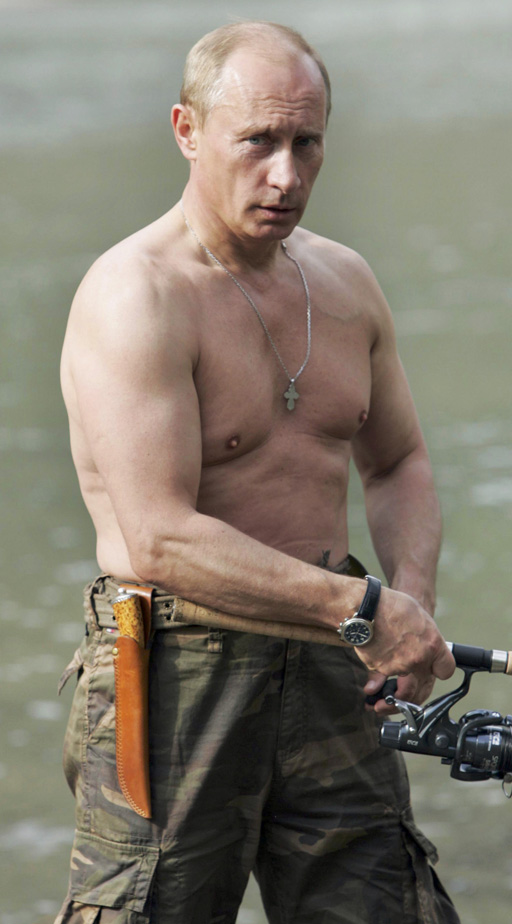 Russian leader Vladimir Putin fishing. Photo / Getty
The News Corp Australia outlet condemned Russia's backing of Ukrainian separatists - who are alleged to have shot down the plane and hampered the retrieval of human remains, adding to grief of families.
"Be very clear, most Australians do not want you to visit our country," the paper said.
"You must stop evading responsibility for the atrocity and humbly apologise on behalf of your nation."
The Russian embassy in Canberra yesterday said Mr Abbott's "shirtfront" comments were unhelpful and immature.
"We consider the recent statements tough talk, we consider it immature," the spokesman said.
"Shirtfront" is a sporting term that means to charge into an opponent and knock them down.
The embassy spokesman said Mr Putin was preparing to attend the multilateral meeting only.
"There has not been a request for bilateral meetings between Russian and Australian leaders so we are not exactly sure where and when Prime Minister Abbott would like to shirtfront President Putin," he said.
The spokesman also said the term "shirtfront" seemed a bit outdated. He also said it use was meant "for the ears of the Australians", because it would be difficult for foreigners to understand.
The Australian Government and opposition are frustrated at a perceived lack of co-operation by Russia in the investigation into the July shooting-down of the Malaysia Airlines flight, which resulted in the deaths of 298 people, including 38 Australians.
- AAP