The Western Bay of Plenty appears to have escaped Sunday's storm with only minor damage.
A set of traffic lights in Mount Maunganui are still out after being hit by lightning, and a road in Oropi remains partially closed today after water scoured out the road surface.
A Western Bay of Plenty District Council spokeswoman said Oropi Rd was closed between the intersection with State Highway 36 and Glue Pot Rd overnight last night, but one lane was expected to reopen note>MON this afternoon, with stop-go traffic management.
The council received 30 calls yesterday regarding flooding, slips and downed trees.
There were some temporary partial road closures because of fallen trees and surface flooding, but all had been repaired and reopened, with the exception of Oropi.
There was no major infrastructure damage or closures in the water, stormwater and wastewater networks.
Tauranga City Council took 15 calls relating to flooding on Sunday.
A set of traffic lights at the corner of Totara and Maui Sts was damaged by lightning during the early morning thunderstorm and could be out for several days.
A council spokeswoman said that was the only known damage to infrastructure.
Farmers have come through the storm well in spite of a few tense hours as the Kaituna River rose past warning levels approaching high tide.
Bay of Plenty Federated Farmers president Darryl Jensen, who farms at Paengaroa, said some farms had minor slips and damage to culverts, as well as some lingering surface water.
"It's all stuff farmers can handle. It is part of farm life."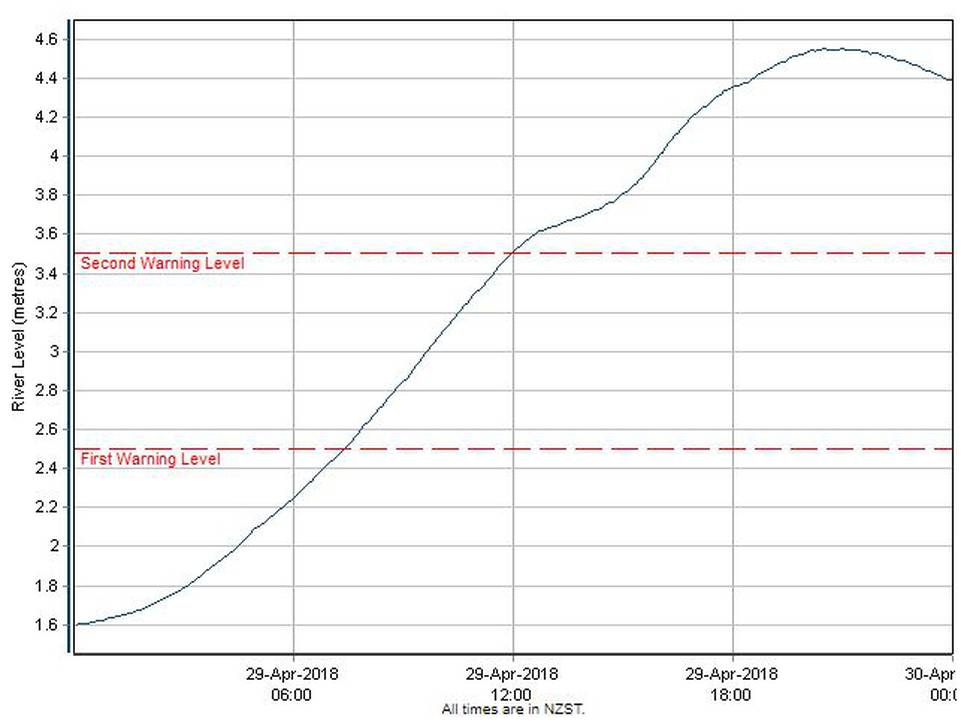 He said farmers were advised to move stock to higher ground when the Kaituna River - which flows down from the heavily flooded Rotorua Lakes area - exceeded its second warning level, but it did not breach its banks.
The river level at Te Matai peaked at 4.5m. It hit the second warning level of 3.5m about midday and continued rising until the tide turned about 6.30pm, according to Bay of Plenty Regional Council monitoring data.
Katikati sheep and beef farmer Rick Burke said all was well in his area in spite of high rainfall.
"It was certainly a big rain event. We had just on 200mm here between Friday and Monday morning."
He had noted land slumping in some areas on his land, but no slips or culvert damage, to which he credited a programme of planting out waterways to slow water at its peak flow.

Weather followers call for donations
The administrators of a local weather news Facebook page are calling for donations of quality clothes and teddy bears for people flooded out of their homes in Rotorua and Whakatane.
Kaysi Fredericks, one of five people who run the BOP Weather and Natural Events page, said they were hoping local businesses across the Bay would sign up to be drop-off points for donations.
She said she had seen people lose everything in floods before and knew how stressful it was.
"As I mother I know what it is like when a disaster hits and a child just wants a teddy bear to hold."
Anyone interested in helping their efforts should visit the Bay of Plenty Weather and Natural Events Disaster Help page on Facebook.