Ruined carpet, sea-soaked furniture and soggy personal belongings remain stacked on front lawns along Kaiaua's main road after the coastline village was devastated by Friday's storm.
As many parts of the country move on from the summer tempest, residents in the communities worst-hit by the floods face a formidable task rebuilding their lives.
A large chalkboard outside The Pink Store, formerly Kaiaua Seaside Store, tells residents it is closed for business.
Inside the owner is far from slacking off. Lynn Yeager is filling in her insurance claim when the Herald enters. It's a big job - she's already dumped five chest freezers and five more are being returned to suppliers such as Tip Top.
The salt water that flooded her shop, rising half a metre up the dairy and cafe's walls, has destroyed the freezer motors.
She has also thrown out more than $5000 worth of drinks and ice creams ruined by the sea or from power being cut to the shop for more than 12 hours.
A thick brown layer of silt sits on the bottom shelves of one of the drinks fridges she hasn't had time to wipe yet. An unpleasant fishy smell from the hundreds of oysters washed up on the store's front step lingers.
"It was like we were in the water. It was really smelly stuff."
Of the 253 properties visited by building inspectors in Kaiaua village or along the coastline, 147 have been damaged.
The inspectors have deemed 13 houses uninhabitable, 71 partially habitable and 163 had damaged but liveable.
The Thames Coromandel District Council has completed 95 per cent of its inspections and so far one property is uninhabitable, nine are partially habitable and 140 have light or no damage.
Civil Defence Minister Kris Faafoi is travelling to Thames this morning for a briefing on the weather damage and recovery plans before visiting residents in Te Puru and Kaiaua.
Friday's storm caused mayhem around Auckland, Waikato and Coromandel. A couple on Waiheke nearly postponed their wedding and the storm also forced campers in Coromandel to change their plans after washing away parts of the state highway.
Hauraki mayor John Tregidga said the storm paired with a king tide had hit the small coastline community of Kaiaua hard and the clean up would take "some time".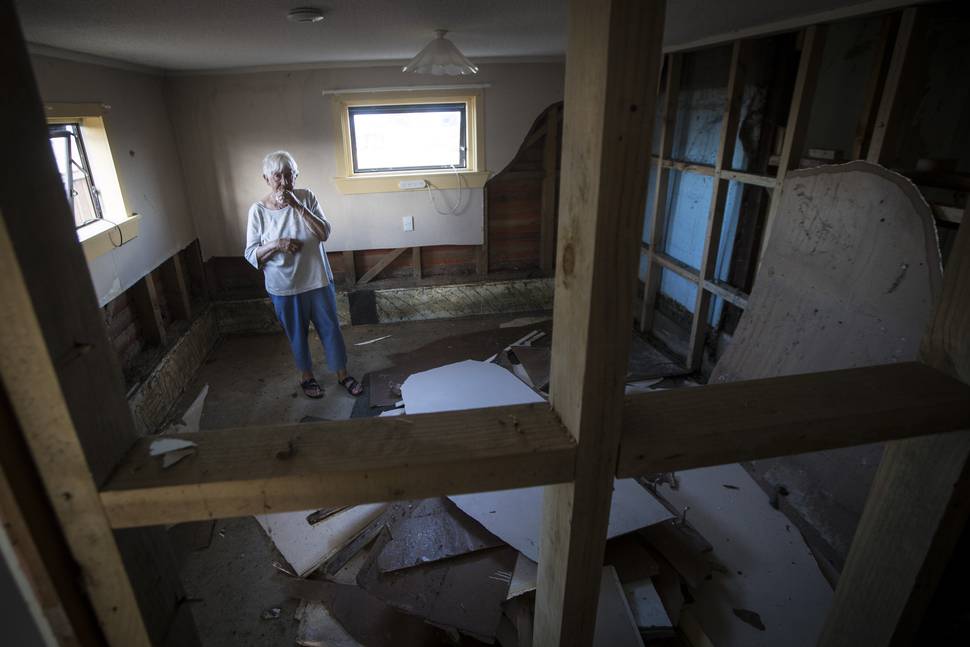 Whereas most of the damage along the Thames Coast had been to the road, Kaiaua's had been to its houses, he said, and Civil Defence warned homeowners to avoid eating homegrown veges, which could be contaminated with septic tank overflow.
It was the worst flood damage he had seen to the community in his 30 years on council.
"We've had a lot of flooding over the years, this happens in the Coromandel and Hauraki Plains. This would be the worst - it's way up there - for damage."
Yeager, at the Pink Store, is still waiting for the insurance assessor to visit, but estimates a lot more of the swollen shelving at her shop will have to be binned.
With help from her daughter, husband and locals who have spent the past three days sweeping, water blasting and wiping, she hopes to reopen the shop on Saturday to make the most of her busiest time of year.
Two doors down retiree Denise Fraser was helping guide a rental caravan into her driveway.
It will be her and her husband's home for the next two weeks while they oversee the repairs to their beachfront property. The insurance company had offered to pay for a motel for a week, but the couple wanted to stay on site with their dog, cat and parrot.
The 12 goldfish in a large tank on their front deck were swept away by the tide.
The Frasers' house is one of the properties deemed only partially habitable after the ocean broke through their home.
The soaked carpet in the living areas has already been ripped up and remaining carpet in the bedrooms will be torn up this week.
Mud is caked onto the floor of the kitchen and a line of dirt on the wall shows it was 12cm high.
The bottom of the gib also has to be cut away and replaced.
Fraser has lived in the property for 10 years with her husband Donald and it's the worst flooding she has ever had to deal with.
The stress of the situation put so much pressure on her husband, who suffered from a chronic lung condition, that he was rushed to hospital on Sunday.
"It just got too much for him so he was carted off in an ambulance."
She was hopeful her husband's health would improve so he could would return later in the week to help supervise as some of the family heirlooms he inherited with the house had been damaged by the water. Their two lounge suites were also destroyed.
"A lot of the stuff has to go and he's quite sentimental about stuff. Especially since he's not well, it kind of upsets him.
"But of course he couldn't stay here with the smell because of his lung condition."
She was hopeful the fishy stench would disappear once the house had dried out.
Further along East Coast Rd, the ground level of Bonnie Campbell's two-storey house has been gutted after the downstairs sleeping area was submerged in up to 1.5m of water.
The 84-year-old's two daughters Karen and Tina Killeen are staying to help, despite there being no running water. She is also living in a house stickered partially habitable by inspectors.
They are relying on bottled water and were grateful when their diminishing supplies were topped up by a Thames woman who delivered 48 bottles of water on Sunday. Power was only restored on Saturday night.
Campbell is fearful to leave her home of 30 years because of looters and is instead popping down the road to her niece's for a shower.
She has no idea how long it will take to repair the first floor of her property, which needs new walls and a new bathroom and laundry. Her carport and garage have also been completely destroyed.
Mayor Tregidga said the Kaiaua community was rallying together, but the economic impact could not be ignored.
The coastline was a popular spot for motor homes and there were usually between 60 and 70 parked up at this time of year. He estimated there were just eight on Monday and said their absence along with the bach owners fleeing early would have a huge economic impact.
Some of the biggest mussel farms in the country were in Kaiaua and they had also sustained significant damage, he said.