A five always looks better than a six for the members of the Wanganui Harriers Club as the new season got underway with the annual 16km Brine to Wine Road Race this morning.
There were 94 runners and walkers who lined up at Castlecliff Beach or at the set relay points down the road for the journey across town to the Top 10 Holiday Park in Aramoho on Somme Parade.
They were competing either as individuals or in two and four-person teams, with the walkers setting off at 8am and the runners following an hour later.
Having powered away to a quick start, Chris Lines would be the first runner across the line, in a time he was certain from his watch was 59m 18s, although he had a little consternation with the time keepers after their initial estimate of 60m 49s.
"No-one has broken an hour in ten years, so that was the goal," Lines said.
"It started out real nice, but I knew the heat was coming out, there was a slight head wind all the day."
"But a good start to the winter season."
Nick Berry finished runnerup around 50s back, followed shortly after by Tom Ditchfield, as Lines and Berryman had deliberately set an aggressive pace early.
"Nick and I stuck it out, he stayed with me for 10km," said Lines.
"I went hard out to drop Luke Watts, because he won it last year."
Lines had finished runnerup to the Gilbertson Shield-winning Watts in 2018.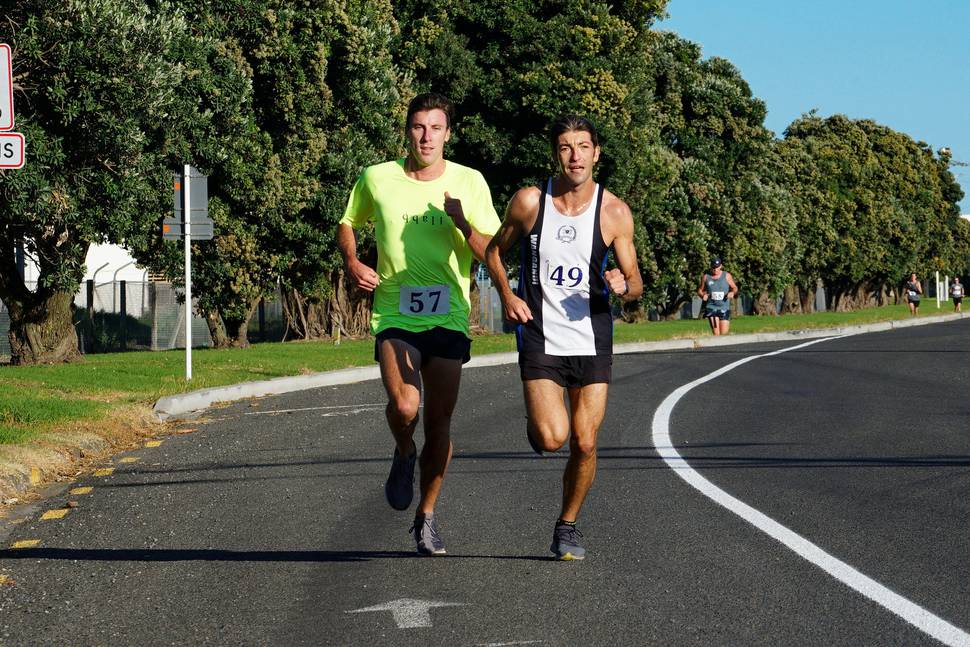 Quite often, the leading runners of the Brine to Wine will have enough pace to overtake the head start for the walkers just before they reach the finishline at Somme Parade.
However, this year the walkers were able to take the line honours, as Kate Quigley completed the course in 1h 54m 51s, comfortably reaching her own personal goal.
"I wanted to break two hours so I'm really happy with that," she said.
"It was the most beautiful day, perfect conditions."
After watching the sunrise at Castlecliff Beach, the Top 3 walkers all managed to finish under the two hour mark, as Richard Lewis finished only 12 seconds behind Quigley, while Pete Monrad was a further three minutes back to also complete the course before the leading runners arrived.