Forget Fonterra and Open Country - a Whanganui couple are making a living by selling milk direct to the public.
Edo and Anita Mooij bought 18ha of land in the Okoia Valley near Whanganui nearly three years ago. They wanted a special kind of dairy farm, small and selling to the public through a vending machine attached to the milking shed.
Last year the Ministry for Primary Industries imposed new regulations that added cost, but the Mooijs have managed to survive that and are selling 1000 litres of milk a week.
Mr Mooij said it helped that he consulted a dairy inspector while setting up the business. He showed the man his dairy shed plan, made alterations and had it approved.
The same man inspected it and was the one who visited him when he had to register to sell raw (unpasteurised) milk.
The regulations meant a lot of changes. The Mooijs had to buy $15,000-worth of new equipment, which they are paying off.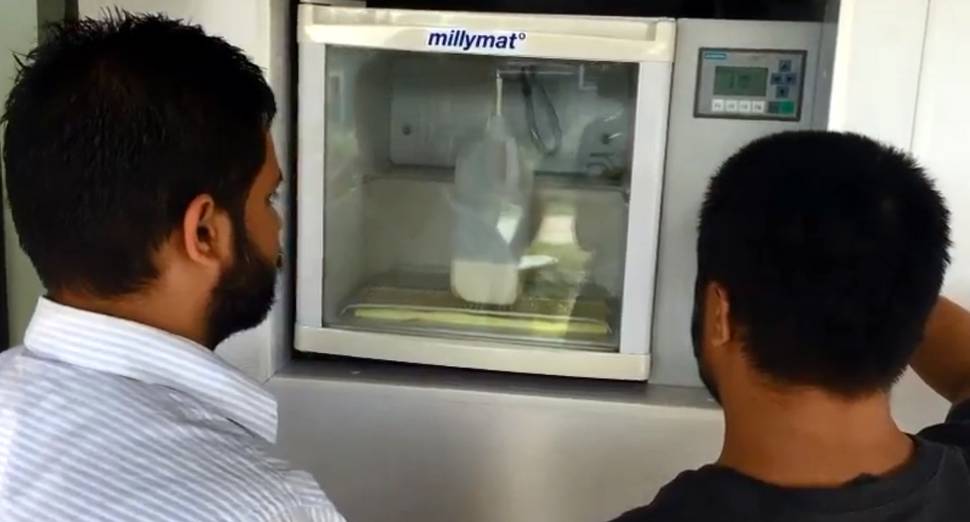 They have to test their milk every 10 days, which costs them $600 a month. The testing is for the somatic cells that show a cow has mastitis. Their somatic cell count has to be under 120,000, and Mr Mooij said it was averaging 90,000.
If it stays low for a year they will be able to go to monthly testing, which will cut that cost by two thirds.
To keep the cell count low they had to get rid of 12 cows. Two went to people who wanted a house cow, and the rest to the works. Mrs Mooij said that hurt.
"It was awful actually. My favourite cow had to go."
Some healthy cows have naturally higher somatic cell counts, her husband said. But their herd now is younger, which keeps the count down.
They had to get registered, and are subject to audits and tests. They've been able to keep some of those costs down by finding an alternative provider.
They have to give use-by date for the milk and supply sticky labels for it - it keeps for a week.

They have to wear gloves and sleeves during milking, because the bugs present on normal human skin count as potential pathogens in the testing process.

They also have to display a health warning beside their vending machine, and with any advertising.
"Raw milk may contain harmful microorganisms that can cause serious illness," it says, and suggests the milk is heated to at least 70degC for one minute.
The Mooijs have never heard of anyone getting sick from drinking their milk.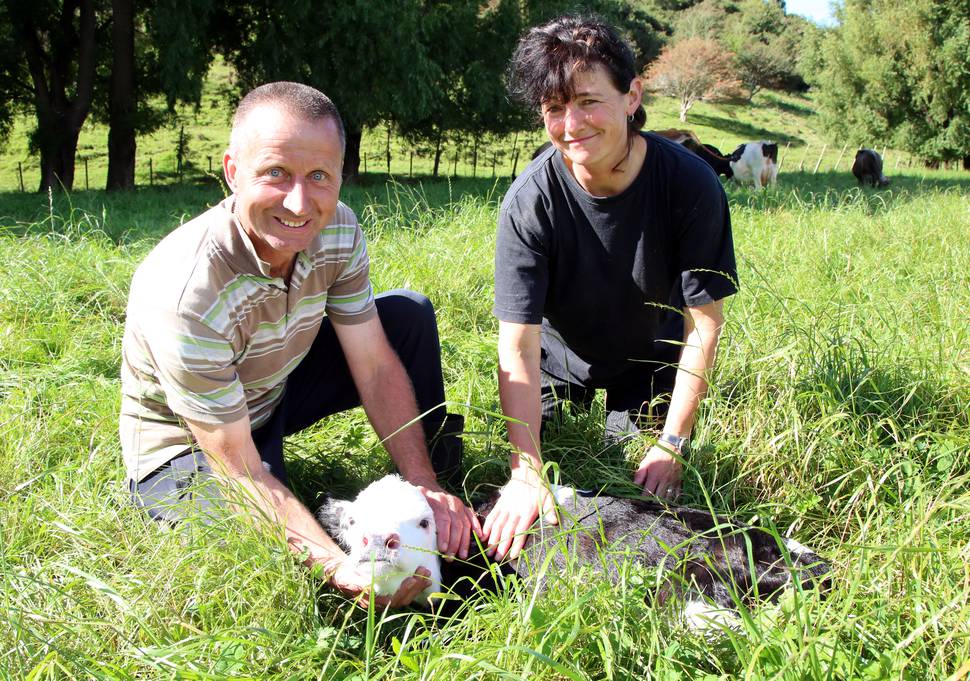 They have 24 cows and a bull: some Jersey, some Jersey/Friesian cross and their favourite breed, the gentle Brown Swiss. They are working toward year-round calving, so that milk production and feed needs stay fairly constant.
Female calves are kept for milking. Male calves stay until they have been weaned, and are sold on to fatten for beef.
They eat rye grass and clover pasture, and the cows get maize pellets to munch while being milked.
"It makes them relaxed and happy, and willing to come in."

Milking is once a day, in the morning, in a four-a-side herringbone shed. The milk is immediately chilled and dispensed from a coin-operated vending machine.
Milking shed effluent is stored and irrigated back onto pasture as fertiliser. It grows grass well, and this summer has been a good one, Mr Mooij said.
"We've had rain at the right time. We can't keep up. It's still growing faster than they can eat it."
They don't have another fertiliser regime.

"We try to be as organic as possible, but without registering for it because I don't want all the bureaucracy that goes with it. With more auditors, more regulation, more cost we would definitely have to put the price up."
They sell about 1000 litres of milk a week, at $2 a litre. It's enough to support the family.
When they first bought the farm both the Mooijs had other paid work as well. In their second year Mr Mooij raised 140 calves with the excess milk, and last year Mrs Mooij was able to stop doing other work.
They've also sold one house and bought another, and increased the farm size to 28ha.

The biggest hassle can be fluctuating demand for their milk. When there is milk left over at the end of the day they have to decide what to do with it.
They feed it to calves and pigs, and Mrs Mooij makes their own halloumi and feta cheese. They also barter it with a cheesemaker, who supplies them with a melt-in-the-mouth double cream Stilton.