Most schools have a library, many have a swimming pool, some even have bike tracks, but how many schools have their own museum?
Wanganui Collegiate School has had one since the 1960s.
Following its 150th anniversary in 2004, it underwent development to become one of the school's most impressive features.
Almost everything you can think of is in there, including a copy of every one of the school's magazines published, old uniforms, pictures, medals, trophies and much more.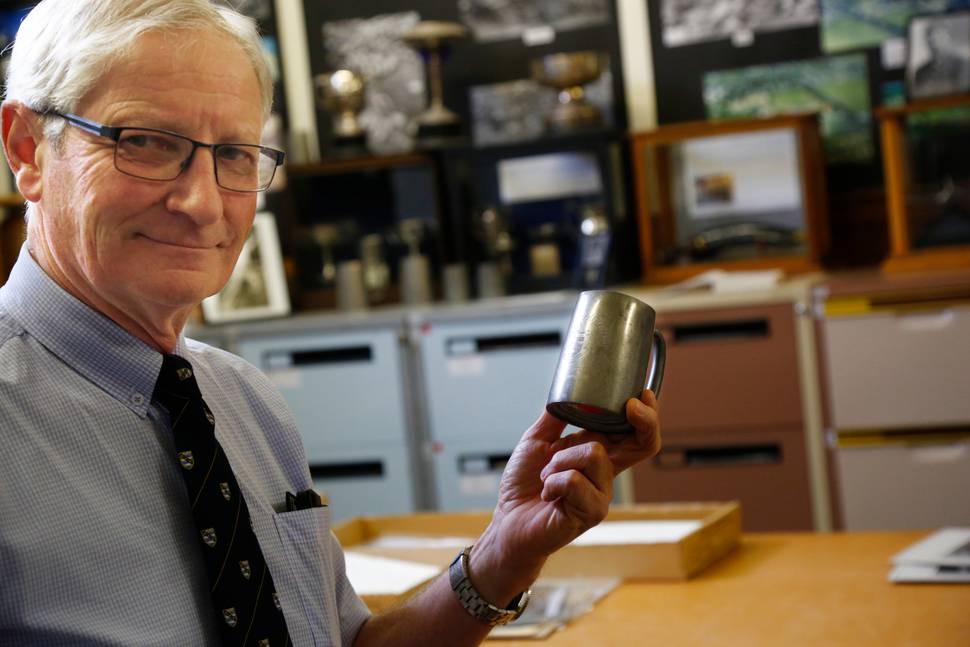 Richard Bourne is the president of the WCS Museum Trust, which was founded shortly after the anniversary.
One of his favourite items in the building on Collegiate's Liverpool St premises is a pewter tankard displayed on the ground floor.
It was sent to New Zealand by an Englishman in 2004 whose name was not familiar to Bourne, and he made it his mission to find out the story behind the tankard.
Bourne discovered that the man had been a stagehand at the Sadler's Wells Theatre in London in the 50s.
"On this occasion, it was the first time the Hamburg Opera Company had come over and they brought their own stagehands with them," Bourne said.
"He saw a German drinking out of this tankard, he asked him why he had it and took it from him. There was still a bit of feeling after the Second World War."
The man knew the tankard was from New Zealand because he recognised the word Wanganui engraved on it from his time spent in the country building boats.
Bourne then tracked down the intended recipient of the tankard.
"I managed to get hold of the guy Randal Kettle who was an old boy. He was still alive and he was absolutely amazed," Bourne said.
"He left school in 1942 to go overseas with the navy. His family sent him a package of things back to England with friends who lived in the Channel Islands.
"He never got them."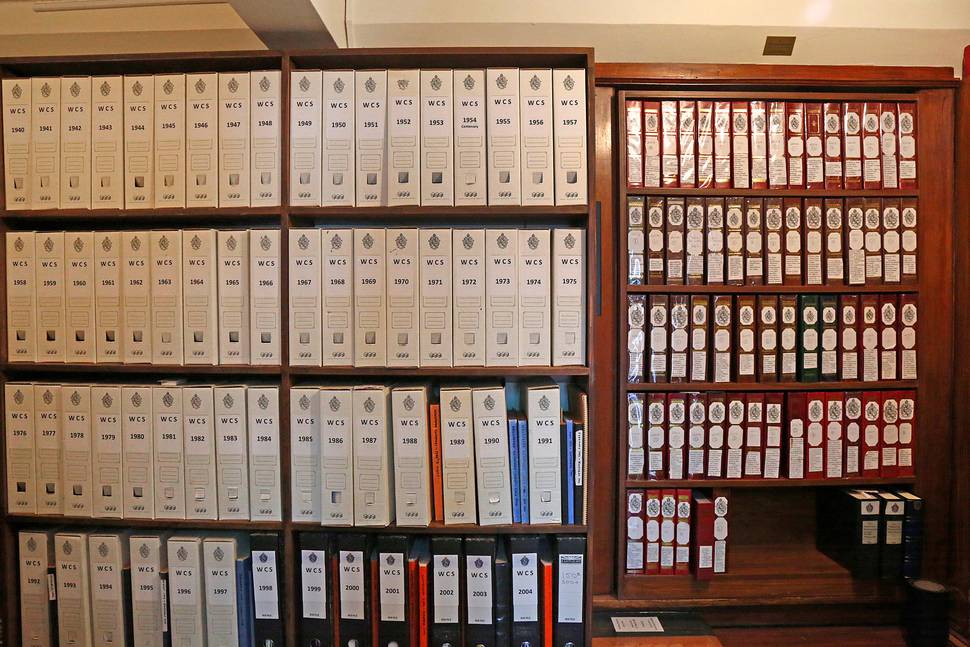 The idea for a school museum came from Peter McKay who was teaching at Collegiate while Bourne was attending there in the 60s.
McKay was concerned that the history of the school was being neglected. He was given a room in one of the classroom blocks and began collecting items of interest.
"The school built a new music suite in the early 90s so this space became available. It basically became a dumping ground," Bourne said.
"I was president of the old boys leading up to the school's 150th anniversary in 2004 and a group of us decided to make the museum the old boys' project for that."
So began a long process of digitising, cataloguing and displaying that is ongoing today.
Thousands of photographs have been sorted, scanned and added to a computer database so they now exist in a physical and digital format.
A big factor in putting everything together is Frances Gibbons.
"Frances was librarian here from 1989 until 2009. She'd been running the school website in those days and had been very helpful to the museum," Bourne said.
"When she retired, I thought: 'Here's somebody who could help us.' It took some time to convince her, but now she's involved and has done an amazing job."
Thanks to Gibbons' efforts, visitors can now get the information they require without having to handle fragile historical items.
Typing the name of a former or current student into the Microsoft Access register database displays information about them from the museum on-screen.
Such information might include the sports teams represented, titles held, pictures taken and any information on their later careers.
One of her favourite displays is a miniature replica of a Supermarine Spitfire aeroplane.
"We were able to help some people in Northern Ireland locate and identify some graves in the churchyard near where they live," Gibbons said.
"They were trying to find out who this young man J S Hornby was because they were air force historians."
Hornby was training to fly in Northern Ireland near the end of the war when he crashed and died the day after his 21st birthday.
Bourne was able to provide a photo and obituary to the historians who were ecstatic and sent the replica plane in return.
Gibbons has been cataloguing at the museum since 2011 and with most of the work done as a volunteer.
She said the cataloguing was fairly concentrated work, so would spend two hours on it at a time.
Gibbons took up Bourne's offer to help at the museum because she finds the history interesting and it brings her a lot of joy, particularly when people return.
"There was an old chap that came here in January. He said: 'I haven't been in this building since I was 16' and he was walking up the stairs to the old music room," Gibbons said.
"He was 86. It had been 70 years since he walked up those steps. That's the sort of real buzz you get from people coming in."
Almost 2000 old boys enjoyed reminiscing at the 150th anniversary and it was so successful that the eight-person museum trust was formed.
A self-funded charitable trust, the museum largely gets by on generous donations from old boys, their families and other trusts.
One donation that Bourne is particularly fond of came from old boy Howard Jones.
"He was a retired army colonel who came back to Whanganui in '93 and his hobby was photography," Bourne said.
"He used to go to everything around school and he would take photos of what was going on. He'd document them and when he got quite old, he rang me up one day.
"He said: 'Richard, I'd like to give my photograph collection to the museum' so I said: 'That sounds great Howard, I'll come and see you' because I knew I'd need a bit of space.
"We needed 10m of shelving. There were 27,000 photos, which is incredible."
Above the rooms storing photos, uniforms, magazines and yearbooks is the old music room which used to host choirs and band practice.
It is now a display room presenting items such as the school's first computer, an Imperial 66 typewriter, leather suitcases, a tin tuckbox and a model ship.
The items have not stopped trickling in and the museum receives anywhere from one to three donated items a week.
Bourne is retiring from his role as sales and marketing manager at Roger Dickie New Zealand Ltd next year which will free him up to do more work at the museum.
Before taking up that role, he ran sports and saddlery business Bourne's Sportsworld for 28 years.
"Being an old retailer, I've always enjoyed dealing with the public. Meeting the people through the museum, particularly what I call senior old boys, means a lot to me," he said.
"However, we don't want the history locked away in here, we want to get it back out into the school. That's our main focus over the next few months."
The new administration building and the newly strengthened H G Carver Memorial Library will open early in 2019 and it is intended to set up displays in each.
People can look through the museum on open days and on all major Collegiate event days. It will also open for groups with a pre-arranged booking.
One visitor was a representative from The Museum of New Zealand Te Papa Tongarewa in Wellington, who wrote a positive review of her experience in a newsletter.
News of the impressive setup has travelled all around New Zealand and teachers from as far away as Auckland have visited it with thoughts of starting their own museums.
"We've already been contacted by a number of schools that have heard about it and we're very happy to share our experience with them," Bourne said.
"We feel proud with what we've achieved."