On an ordinary street in Gonville is an extraordinary garden.
The garden belongs to Kevin Luff. Even when you know Kevin is a landscape designer and gardener by trade, his garden is remarkable.
The garden was just a lawn with some camellias on it when Kevin moved in three years ago with his wife Christina, son Dante and dogs Lily and Sabbath.
So Kevin got to work and transformed the garden. He loves plants that are not often seen in Whanganui gardens, such as bromeliads and orchids.
"I'm a plant nut - I love unusual plants," he confessed.
"And we're lucky to have a bit of a micro-climate here - normally you can't grow bromeliads outside in Whanganui."
In both front and back gardens the lawns have gone, to be replaced by rockeries.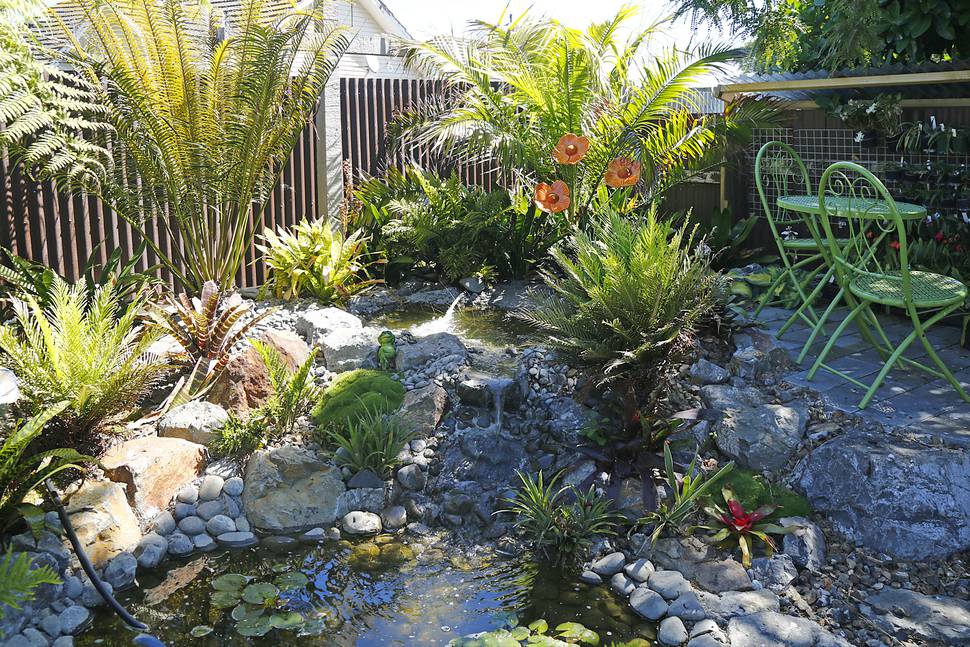 The front garden has a garden bed in the shape of New Zealand, with special plants and garden art marking Whanganui.
"It took me about two weeks to make it. Once I start doing something, I just keep going until it's done."
In the garden, a shingle path leads through a small lawn into the large rockery.
Bromeliads - some very large and brightly coloured - dominate here, and there's also an orchid nursery, and garden art scattered throughout.
Kevin's garden contains several sculptures by Castlecliff-based artist Ivan Vostinar, and Buddhist and Christian inspired sculptures.
In the centre of the rockery is a covered barbecue area, one wall of which is devoted to a collection of another of Kevin's plant obsessions - Tillandsia.
Also known as air plants,
Tillandsia do not need to be planted in soil as they are able to get their nutrition from the air.
Tucked away In the far back corner of the garden is a little grotto with a waterfall and a small pond.
"I love sitting out in the garden when the weather is good, having dinner. Or inviting people over to have a barbecue," Kevin said.
There's only a tiny part of the garden that Kevin hasn't turned into a rockery, and wife Christina insists it remains as it is.
"She says we have to keep some of the lawn, and I suppose she's right."