Following Steelform Wanganui's historic Meads Cup three-peat last weekend the province now has six Heartland Championship titles and 10 finals appearances in 12 years. Zaryd Wilson asks what makes Wanganui Rugby tick.
When you think of dominant rugby teams you first think of the All Blacks.
In domestic circles you think Canterbury.
But when it comes to amateur rugby in New Zealand it's Wanganui.
The Butcher Boys further cemented their place as the greatest union in the Heartland era last Saturday when they claimed their sixth Meads Cup title in 12 years a third in a row beating Horowhenua-Kapiti 30-14 in Levin.
Since the inception of the Heartland Championship - the national amateur rugby competition which replaced the old National Provincial Championship division 2 and 3 - the team's win rate sits at a shade under 80 per cent and includes two unbeaten seasons.
As Wanganui Rugby Union chief executive Bridget Belsham says: "We're consistent."
Former Wanganui Chroniclee sports journalist John (JB) Phillips says the strength of the Wanganui Heartland team has a lot to do with what's below it; the strength of the local club competition.
"That's the backbone. A lot of the smaller unions struggle to maintain the clubs."
Wanganui had a nine-team premier club competition this year with the inclusion of Ngamatapouri, the isolated South Taranaki club which was resurrected three seasons ago on the back of the Manuka honey boom in the Waitotara Valley.
"We have lost clubs in the past but somehow or other the majority of surviving. They're continuing to compete," Phillips says.
But Wanganui Rugby club liaison officer Paul Kenny says it's even more grassroots than that.
"A lot of unions haven't got that B competition. Ours is strong and that kind of forces the top competition to be a little bit better."
He points out that in 2016 there were four representative players playing in the second tier of club rugby.
"And there a bit of history with the clubs. There's always been that rivalry.
"We're always open to clubs using their initiative and bringing in one or two overseas players too.
"Not at the expense of local talent, but it's good to have some of those better players coming into the union."
It all makes for a competition where most teams can beat any other on their day and four or five clubs could realistically win the competition at the start of any given season.
"You only need to look at the finals the last few years have been decided by one or two points," Kenny says.
That only strengthens the Wanganui side.
And where there has been gaps, the union has been working to fill them.
The Whanganui Metro colts was set up two years ago to play in the Manawatu Colts competition in the absence of a similar grade in Wanganui.
"I think every union will tell you the biggest bridge is between secondary school," Kenny said. "We don't really want them coming out of school and playing men."
It's been a success. The team have made the playoffs in both seasons and provided players to the Heartland, development and Maori sides.
Belsham says there is a lot of work going on to create a structure that keeps developing players at all levels.
"There's these sort of things getting done in the background that's only going to strengthen us in the future," she says.
"I think that is testament to the clubs and the work they do but it does start from juniors.
"We have to continue to grow the junior game to make sure the players are around for the future."
You only have to look to the highest levels of New Zealand rugby to see the fruits of that work.
All Black Waisake Naholo, Blues and Taranaki pivot Stephen Perofeta, Manawatu flyer Te Rangatira Waitokia all started in blue, black and white.
And it was all on show last month when the three all took the field in the Ranfurly Shield clash between Taranaki and Manawatu.
"We want to encourage that growth," Belsham says. "We're not going to hold players back. We know where we fit in the realms of New Zealand rugby and that some players aren't going to stick around here forever but Heartland rugby has its place."
With rising stars moving on quickly Wanganui's success relies on its stalwarts to be the glue holding the team together.
Century-match players Peter Rowe and Cole Baldwin - both of whom have recently retired - have been two of those.
"They both played more than 100 games and have been involved in the team a long time. I think that shows the young ones how much dedication you need to have to be successful," Belsham says.
"Peter Rowe's definitely been a standout during his career and his selection in the provincial Barbarians (to play the British & Irish Lions) was a testament to his contribution.
"I think it's just about the pride in wearing the jersey and having those guys to instil that in them."
It's a culture coach Jason Caskey has worked hard to build through his long involvement in the team.
"If the guys aren't enjoying themselves then the rugby is always going to suffer," he says.
"It's not always easy to create but I think it's about having a core of older guys who have been there."
While Wanganui has lost some experience in recent years Caskey is confident enough has been done to cultivate new experienced heads to pick up the baton.
"I still think a lot of unions put too much into loan players which sort of cheapens the jersey when you rely heavily on it," he says.
"And we've made some mistakes in the past and we've just had to be honest and rectify it.
"A loan player has got to be better than what we've got by a reasonable stretch otherwise you're better to go with the guys you've got."
Backing all this is an office staff of five who have now been settled in the job together for at least three years.
"The team's got a good base. We've got a good base. The community's got a good base," finance officer Kim Flower says, and it's made a noticeable difference.
Off the field it's resulted in the union turning a $128,000 deficit in 2014 to a $107,000 surplus recorded at this year's 129th annual meeting.
Wanganui's KPI rating with the national union jumped from 52.5 per cent in 2015 to 85 per cent in 2016.
Player registrations have increased from 2525 to 2630 and coaching numbers from 164 to 174.
The Wanganui Rugby Supporters Club has been resurrected this year and merchandise is now being sold from Wanganui Rugby HQ at Cooks Gardens.
"I think that's amazing for the players to know that they have that support," Belsham says.
"Supporters always follow winning teams but I thought this year when we had those couple of losses that support would waiver a little bit. But it didn't."
All which gives Wanganui Rugby a certain swagger, a confidence that even in a season which was probably below par - with three round-robin losses - the team still managed to find a way to hold the trophy aloft at the end.
Sixth with three rounds left, Wanganui managed to scrape into the semi-finals.
They then upset table-toppers South Canterbury on their own turf to reach the final before travelling again to beat Horowhenua-Kapiti in last Saturday's final.
As Phillips says: "The cream came to the top in the end."
Belsham got emails after that win.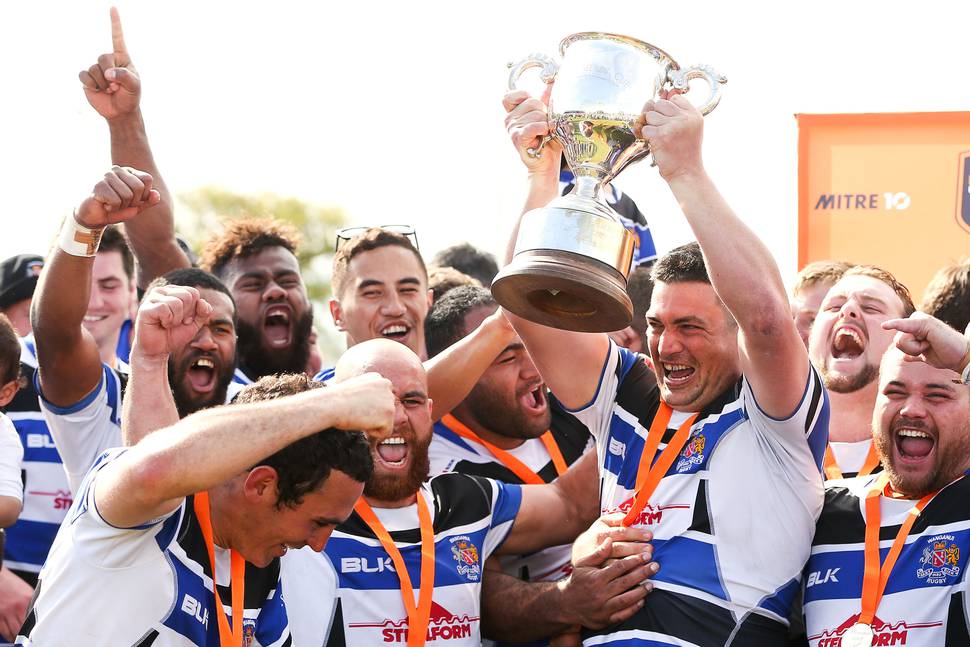 "They were gobsmacked we went from being sixth after week five to winning it.
"But when they got into the top four the boys had faith in each other that they could win it. We know how to win finals."
While Belsham has been chief executive the Meads Cup has never not been sitting in the foyer of Wanganui Rugby.
But she says the Heartland side is not everything.
"Because even if we hadn't won I would still believe we'd had a successful year in some form," she says.
"I know the Heartland team in the pinnacle team and everyone bases everything on that but it comes from the juniors up.
"We have a good strong junior competition and we have the secondary school comp back in Whanganui and girls' rugby, we've got that going.
"We have lots of teams that do perform at a high level."
All involved say there's no reason Wanganui's success in Heartland rugby can't continue.
"We'll always be there or thereabouts," Kenny says. "We had a hard year this year on the field with injuries and retirements but we got there."
But coach Caskey warns not to expect it as a right.
"I think the Whanganui public and rugby public expect that Wanganui will always be at the top," he says.
"But it's not a given and it's got to be earned."