New Zealand is celebrating Music Therapy Week from July 1 to 9 with the theme of Finding Your Voice.

Music Therapy New Zealand (MThNZ) describes music therapy as the planned use of music to assist with the healing and personal growth of people with identified emotional, intellectual, physical or social needs.

There is professional practice and research that demonstrates the benefits of singing for people with communication difficulties related to neurological conditions such as stroke, aphasia, Parkinson's disease, dementia and traumatic brain injury.

Reporter Liz Wylie joined a Whanganui singing group to learn more about the benefits.
There's a whole lotta shakin' goin' on at St Andrew's Presbyterian Church foyer in Glasgow St in Whanganui.
It happens every Monday during term time when the Singing for the Brain group meets to share songs, good company and play a few instruments.
It is my second time at the group and I am welcomed back like an old friend.
I sit next to Gaylene Figvertsen who I met last week.
She tells me she has been coming to the group for a few years.
"I had an aneurysm and my speech was not badly affected, but the singing has really helped to improve my cognitivity and get my confidence back."
There are about 50 people at the group including caregivers.
Everyone is wearing a name badge and there are about 30 of them still pinned to the noticeboard.
"It is cold and flu season so a few people are away today," said group co-ordinator Dorothy Trail.
Before the singing starts, we do warm-up exercises - clicking our tongues, smacking our lips and making "wah-ooh" ambulance siren sounds.
Facilitator Janine Dann then leads the group through a series of repetitive rhymes.
"These will help you to have longer conversations," she says.
Janine and husband Chris Dann travel from Rongotea to Whanganui to lead the group each week.
Jazz pianist Chris leads with the keyboard while Janine leads the singing.
Janine says she is not a qualified therapist although she leads groups here and in Palmerston North.
"My own health hasn't been that great for the past few years and although I would love to study for the qualification, I don't have enough energy.
"I have a nursing background and I love music so this is a way for me to indulge my passions, and there are neurological benefits for me as well."
Gaylene sometimes steps up to help Janine lead the singing when her voice gets tired and Mike Bates plays electric guitar.
Mike was a plumber with his own business and played gigs at the Grand Hotel before a major stroke put him out of business.
The fingers on his right hand are stiff but he has discovered that he can play by taping two fingers together.
Mike not only found his strum again, he found love at the group when he met Shona Jones who attended the group as caregiver to Amy Lamont and Sacha Laugesen.
Amy, Sacha and Amy's flatmate Kayla Hawkins were Shona's bridesmaids when she married Mike at the Bason Botanic Gardens last year.
Mike has also got his plumbing mojo back.
"I work for Plumber Dan now," he says.
Dan Goldsworthy employs Mike to work five days a week but he gets Monday afternoons off to attend the group.
We are well into the song list now and Janine invites group members to take "guest spots" when their favourite songs are played.
Amy leads the singing on her favourite Take Me Home, Country Roads.
Some group members cannot or don't want to sing but listening to familiar music stimulates brain activity too, says Janine.
I'm told that Anne had a beautiful singing voice before her stroke.
Although she is not able to sing now, she attends the group with her caregiver Graeme Rosewarne who is also a singer in the Wanganui Male Choir.
Anne's smile says she is enjoying listening to Graeme and the other singers.
It is challenging for such a large group to stay in key but as some voices go astray, Ken Chernoff leads them back with his strong baritone voice.
Ken is the man on the floor - handing around a basket of percussion instruments, lifting the singing and playing a lovely saxophone solo on What a Wonderful World.
"I also lead an informal instrumental group at the Savage Club each week," says Ken.
"Some of the people here attend both groups."
Ken says the music groups are good for the caregivers as well.
"Their jobs are sometimes very hard so it is lovely for them to do something relaxing with the people they care for."
Shelley Hughes likes to get up and sing although she says it gets a bit loud for her sometimes.
As a founding member of the group, Shelley says she can measure the benefits of singing.
"I have gone from being unable to say words clearly to being able to sing and chat with other people to be understood."
Shelley's mother Lyn used to take her to the group Janine runs in Palmerston North.
"I was working over there when I found out about the group and I worked together with Maureen Mullins to get the Whanganui group started," says Lyn.
Lyn says it is wonderful to see Shelley's growing strength and confidence.
"She had the stroke at birth and she has experienced a lot of frustration with trying to get things out.
"It is so satisfying to see her being able to express herself."
Shelley also does ballroom dancing and says she plans to join the Wednesday night grassroots choir staring up in Castlecliff next month.
Singing, she says, has helped her learn to pronounce three-syllable words.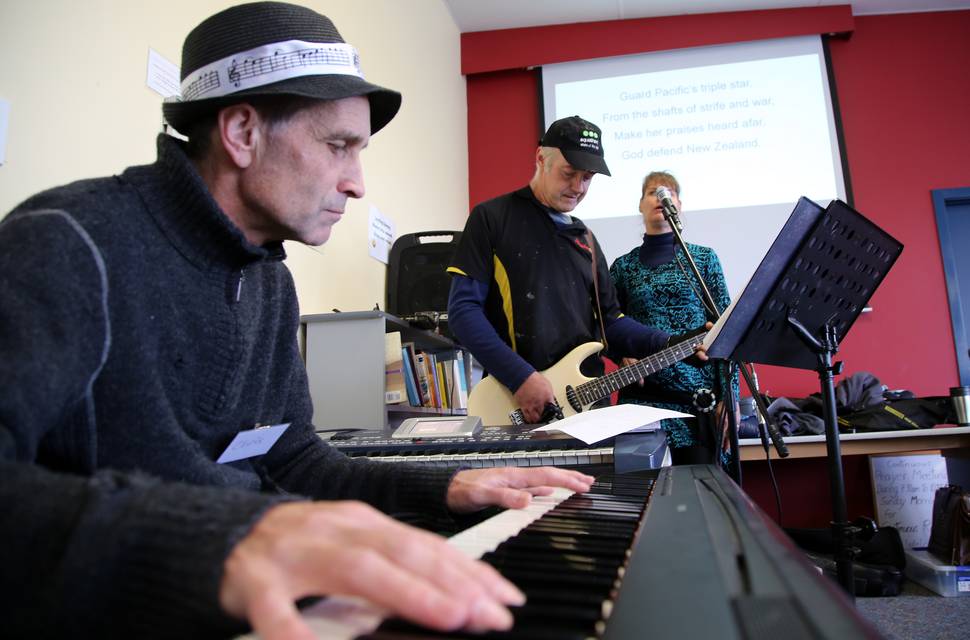 The Whanganui Singing for the Brain Group is now three years old and getting a bit too big for its boots.
"We are planning to divide the group in two," says Janine.
"We will start earlier and have a quieter group and then another for those who like it louder."
Donations from group members currently help fund the Danns' time and travel costs but Janine says they are actively seeking business sponsorship in Whanganui.
"We were fortunate to get a sizeable donation from one of our group members but that has run out now."
The group will take a two-week break for the school holidays and the next Whanganui Singing for the Brain group meeting is on July 24.
Inquiries can be made to Dorothy Trail 06 344 7690 or email mumsocks@xtra.co.nz
To learn more about music therapy or to find out about training options visit the New Zealand Music Therapy website.