Expat Whanganui driver Earl Bamber has secured a unique place in New Zealand motorsport history as he became a two-time winner of the iconic Le Mans 24 hour race at 1am yesterday, NZ time.
Bamber, his fellow Kiwi and friend Brendon Hartley and Germany's Timo Bernhard, who drove the final stint, managed to produce a stunning comeback over 367 laps in the gruelling endurance race, after the No2 Porsche crew had to spend an agonising 60 minutes in the pits replacing the front-axle motor of their LMP1 919 car.
The mechanical fault happened about four hours into the race with Bamber behind the wheel, and the 26-year-old said the crew had to "risk it all" to get back in contention on Circuit de la Sarthe.
Watching it all live and bleary eyed was Whanganui's Lyndsay Tait, spokesman for the local Wheel Trust and Club 500, which gave financial assistance to Bamber in the early years of his career.
"When they rejoined the race they were last. Fifty cars ahead of them," Tait said.
"From what the TV commentators were saying they were told to just go for it - nothing to lose."
The Porsche chances were revived when the favourite Toyota Gazoo Racing team cars had to withdraw with engine troubles - a heartbreak for F1 driver Kamui Kobayashi, who broke the lap record in qualifying and was cruising up front in the night portion of the race until the car appeared to suffer gear box failure.
Late in the morning, local time, the team had got themselves back into contention with Bamber behind the wheel again when they were fifth overall and second in class behind the No1 Porsche team of Andre Lotterer, Nick Tandy and Neel Jani - who were ahead of them by 17-18 laps.
But four hours from the finish, Lotterer was driving as his car slowed to a crawl, with the engine oil light showing as he drove it back to the pits on electric power.
It raised the prospect of a huge upset for the overall victory, as the leading four cars were from the lower LMP2 class.
"Earl's car was 8-10 seconds a lap faster than the leading car and the commentator's maths worked out that they needed just over three hours to get to the front - and there was 3.14 hours left," said Tait.
"Lap by lap they closed the gap.
"The second placed car got a drive through penalty for a pit lane infringement and the third car had a delayed pit stop and all of a sudden Earl's car was second.
"About ten minutes from the end they passed for the lead and the rest was history."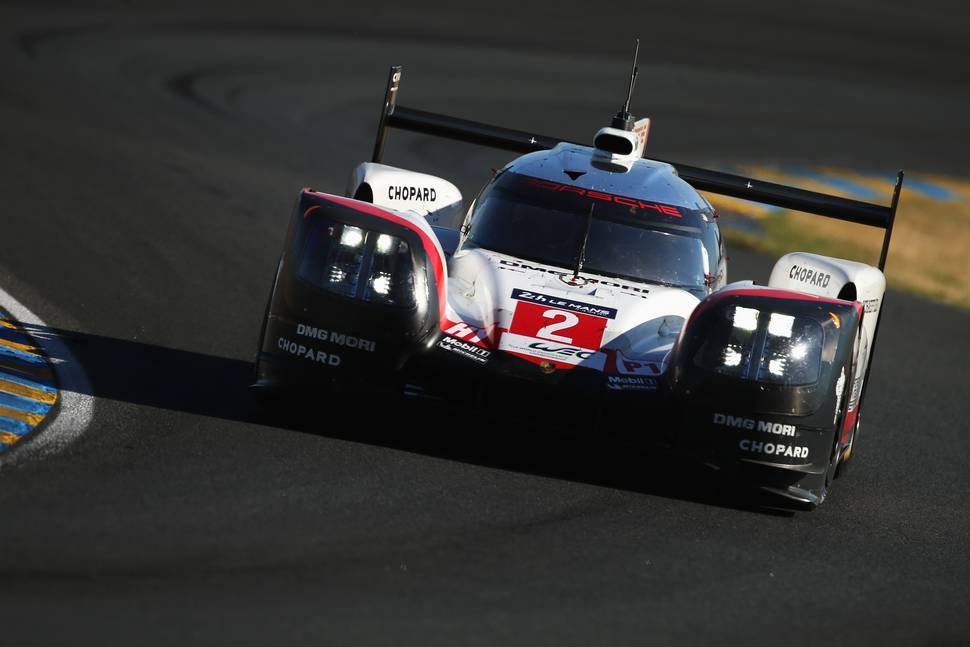 Bernhard took the car to the chequered flag around a minute ahead of the LMP2 car of Jackie Chan DC Racing, while the Vaillante Rebellion team was third.
Bamber and Hartley were very emotional as they watched from pitlane, as Bamber said Le Mans will choose you if it wants you to win.
"It's so magical to get the win for Porsche today in those circumstances - it's what endurance racing is all about," he told Fox Sports.
"I was driving at the time when I heard it go 'bang' and I thought it was our race done.
"It was a matter of fighting back into the top five at first, then that became a podium and then a podium became a win.
"We were counting the seconds, a few hours out it looked like it might be down to the last lap, whether or not we'd pass.
"It was basically a sprint race when we got back out. We risked it all and got the reward."
Tait said the international commentators could not get over little New Zealand producing great Le Mans winners.
"[Bruce] McLaren, [Denny] Hulme, [Chris] Amon and now Bamber and Hartley.
"Amazing the last three are from Bulls, Whanganui and Palmerston North.
"Earl would be one of only a very few drivers who have won Le Mans twice in only two attempts - 100 per cent record."
Bamber said his second Le Mans victory was more special because of Hartley, who had finished runnerup to him in 2015.
"I can't believe it, to win it with my childhood friend Brendon, it's incredible.
"We were both seven years old and he taught me how to drive."