The Guyton Group Trust was very pleased with the capacity turnout at Whanganui's Grand Hotel dining room for Breakfast with Baxter, a fundraiser for a bronze sculpture of James K Baxter.
More than 100 people shared the hospitality of publican Neville Gorrie, enjoying a large buffet breakfast and listening to Whanganui people read from the works of the late poet, raising more than $4000.
It was also National Poetry Day.
Each reader was greeted with respectful silence when they approached the podium and delivered a poem they had chosen.
The readings began with one of the Jerusalem Sonnets, number 28, read by Whanganui High School student Leah Aiono, the youngest of the presenters.
Local actor Kerry Girdwood read Winter in Jerusalem, followed by deputy mayor Jenny Duncan reading Blow Winds of Fruitfulness.
Artist Rere Sutherland chose two poems: The Maori Jesus and Song.
Donald Trott ONZM changed the tone with a reading of the humorous Ballad of Calvary St and former mayor Annette Main delivered Let Time Be Still.
This reporter recited Lament for Barney Flanagan and Lesley Stead, chairperson of the Guyton Group Trust, gave us Sestina of the River Road, out of respect for the awa.
Readings were followed by an auction with Brian Hayward as auctioneer, selling donated goods which included an art installation piece, Waimarie passes, accommodation at the Flying Fox, firewood, books, a fine pen, a voucher for a local business, a jigsaw, a baby mobile and dinner for six at home.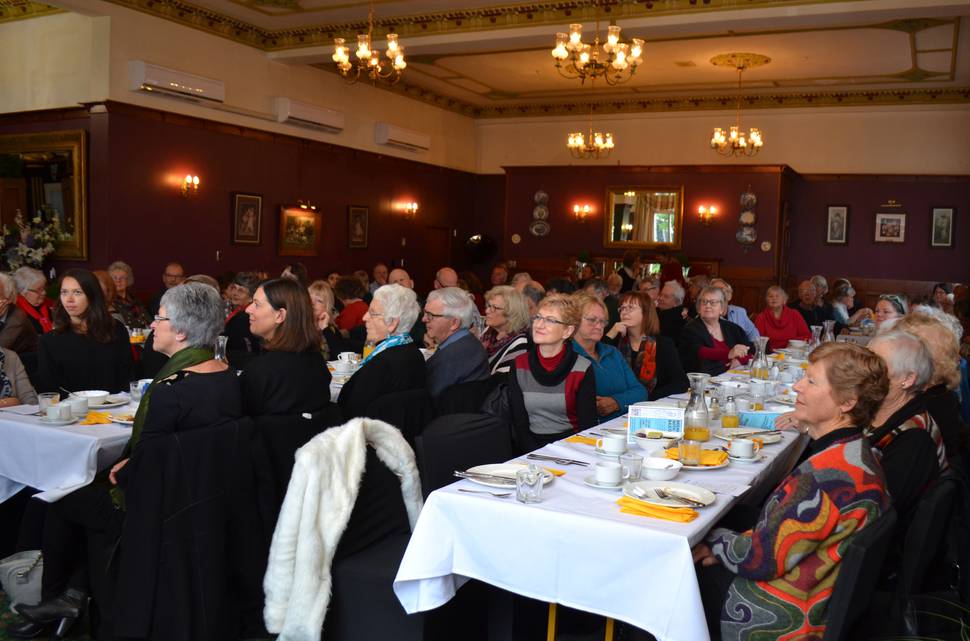 All funds raised go towards the completion and installation of the James K Baxter bronze, to be erected in Guyton St.
"The feedback we have received is just a massive amount of positivity," says Lesley Stead. "So many people loved it and are urging us to do it again, not just with one sitting, but with two. Hopefully, we can follow through on that. Thanks to all individuals and businesses that have contributed to help us and many thanks to the community.
"The selection of poems, from The Maori Jesus through to Ballad of Calvary St were all of them diverse and very well received, and all very well read, I thought."
The venue and breakfast were supplied free by the Grand Hotel.