No Shame No Silence is the title of an art exhibition at Foxton's Te Awahou Nieuwe Stroom from November 2 by 28 artists from across New Zealand.
They have contributed at least 50 pieces of art that will highlight domestic violence and the way the courts respond to this.
"The abused are abused by the court system," organiser Sarah-Jayne Shine says about the rationale behind the exhibition.
The idea for the exhibition came about after she participated in a march on Parliament last year where a petition was handed over demanding an enquiry into the family court.
"I was mortified at my own experience in the family court. There I lost control of my own life and that of my kids."
She said the march brought out into the open other people's horror stories but also experiences of healing and camaraderie among the victims of domestic abuse who were there.
"I also realised that my own situation wasn't that bad. I only had to deal with the family court for 20 months. Others are in that system for years, some even decades.
"Though I felt empowered by the experience of marching, there was so much loss, anger, frustration, grief and other emotions that I took home with me from there. I wanted to do something to process that. I am not into marching. I am a creative person."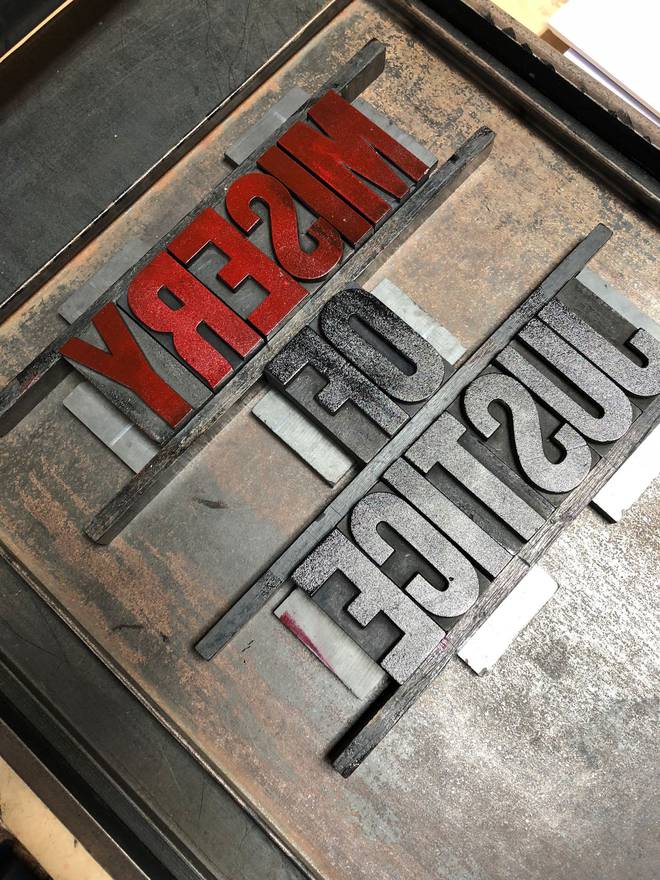 Once the call via Facebook had gone out, the responses flowed in from around the country from many artists who wanted to participate and share their experiences.
She emphasises that domestic violence is not just about women.
"Men also experience abuse. In fact about a third of the artists exhibiting are men." The exhibition is also about children and how they are crushed by the system.
Some of the art works on display will be for sale and there will be merchandise, such as small prints and badges, the proceeds of which go to charities helping victims of domestic violence.
The kawakawa leaf was chosen as a symbol for the issue and the exhibition.
"We wore those on the march.
"It is used for tangi and is a symbol for grief. The strongest leaves of the kawakawa are the best suited for medicinal use and bugs are attracted to them, leaving the holes.
"It is also the symbol for survival and healing and it is heart-shaped."
No Shame No Silence also features a youth exhibition inspired by Roald Dahl's Big Friendly Giant, who caught and bottled dreams and nightmares.
The exhibition about family violence and the family court's response to that, is gaining support from around Horowhenua and the nation.
One such local supporter is Horowhenua District Councillor and local business owner Victoria Kaye-Simmons, who has since brought in her daughter Kirby, who dragged along Oliver Parrant.
Cr Kaye-Simmons says, "This exhibition is unique. Artists contributing their own work to create awareness of domestic violence and our family court system. We need to ensure the correct implementation of family violence legislation is in our family court system.
"I'm here to help this exhibition build a bigger profile around the protection of our women and children and their right to thrive in a safe, happy and loving environment.
"Social issues and stigma around people living this nightmare needs to be talked about more. Their stories need to be shared. We all need to play a part in helping others to understand."
She says when Sarah-Jayne Shine told her about ther concept for the exhibition she was eager to help. "Horowhenua has the second highest stats for domestic violence in the country, so I offered my services to help lift the profile."
Kirby Kaye Simons and Oliver Parrant have been door knocking around the district's business community for contributions to the auction which will be held in conjunction with the exhibition, the proceeds of which will go the the local women's refuge.
They are putting together packs of goodies which will be auctioned off. Each pack contains 12-15 donations and vary in value from $25 to $250 a pack.
"This exhibition is bringing people together who wouldn't normally interact," says Kirby (18), who has become spokesperson for No Shame No Silence. She became involved by driving her mum to commitee meetings and was offered some tasks before becoming fully involved.
She found herself a sidekick in Oliver Parrant (16), who runs his own photography business and is an aspiring artist. The pair have been instrumental in getting a $9,600 contribution towards the art installation from the Ministry of Youth Development.
The youth instalation, inspired by Roald Dahl's Big Friendly Giant story consist of 50 jars, decorated with children's visions of either a dream or a nightmare of life with or without domestic violence. There will also be four large jars, on plinths, that have a much bigger story to it. Oliver is taking care of one of those big jars.
Venus Andrews, Zac Andrews, Saxon Shine will do the remaining three jars. Oliver's work is based around a painting he's done in the past and involves a broken jar being put together again as a symbol that what's broken can be healed.
"The exhibition will be much bigger than expected and the calibre of the work submitted is amazing," says Cr Kaye Simmons.