Every athlete has a complicated relationship with the past – a constant battle with one's self to rewrite, reassess and create history.
For Kiwi featherweight Shane Young, it means coming to terms with a disappointing UFC debut, where he took the fight on eight days' notice – ultimately falling to a unanimous decision loss to Alexander Volkanovski.
This time around, in what he calls a "proper" debut, Young (11-4) has had a lot more time to prepare for his next visit to the octagon, where he faces Filipino Roland Dy (9-6-1NC) in Singapore on Saturday night.
"It's funny because now that I'm here, it only makes sense," says Young. "Because when you're on the way up you're like 'I can't believe it'.
"But now I'm like yeah this feels right. This is my purpose. I've been doing this for ten years now."
He's also had time to ponder the past, in particular, his own.
Young (Ngāti Kahungunu) will be the first fighter to fly the Tino Rangatiratanga flag in the UFC. His decision to showcase his Māori heritage at the world stage has been a culmination of a recent newfound love for his culture.
"In the last probably year and a half, I've kind of begun the uphill trek of remembering and reacquainting myself with my Māori-dom.
"I just know that [flying the Māori flag] would instil me with mana and hopefully inspire other people to just remember their culture.
"Especially in New Zealand I think it's very important for us to remember where we came from and our tīpuna, our ancestors, and try and live a little bit more like they did.
"It's gonna be a good thing for me as well. When I'm walking out it will fill me with mana, fill me with spirit and pride as well as I carry our flag into battle."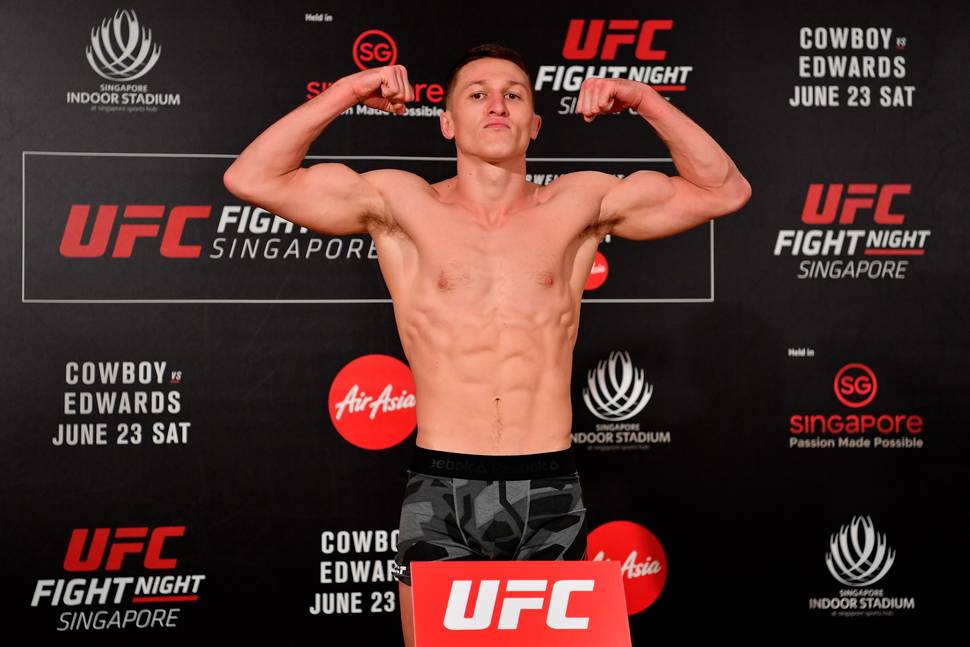 The 24-year-old will also have extra motivation to get his hand raised on Saturday as he aims to also make history by speaking te reo Māori during the post-fight interviews in the UFC octagon.
"That's what's really driving me to win this fight because there's a quote: 'Ko Te Reo Te Mauri o Te Mana Māori'. It means basically the culture of Māori is carried through te reo.
"It's a magical language that's filled with power; our words are filled with power. So I wanna spread that power to the world.
"It's gonna be quite emotional I think."
Two weeks after Young fights in Singapore, his Auckland City Kickboxing gym-mates Israel Adesanya and Dan Hooker will feature in back-to-back events in Las Vegas.
Adesanya is headlining the Ultimate Fighter Finale on July 7, while Hooker fights on the main card at UFC 226 the following day.
They're all part of a new explosion of Kiwi fighters conquering the world.
"What me and Israel say all the time is we're the tip of the taiaha of the next wave," says Young.
"[There's been] so many dudes we could name that were smashing it on the world stage and now 10, 15 almost 20 years later we're doing the exact same thing.
"We'd be really remiss to not use that power for good."
Most fighters would be intimidated to fight in a foreign country on MMA's biggest stage especially early in their career, but Young sees it as an opportunity. It's a platform he wants to use to inspire other New Zealanders, especially Māori.
"I guess what I realised a year or so ago was that you've gotta be the change that you wanna see in the world.
"I wanted to see sporting stars ... especially half-cast people, people of European and Māori decent – the colonised and the coloniser. I wanted them to try and inspire Māori people.
"So many people especially at my age feel very whakamā, feel very shy to let people know that they're Māori because of the stigma attached to it.
"I feel like Māori is magical and people need to see that magic."
For now, there's one man in his way of making history, an obstacle he's confident of overcoming.
"All I've been envisioning is just what I'm going to do in the fight and I just see me beating him from pillar to post.
"I'm just solely focused on what I'm gonna do, I feel like I can beat this guy in any way."