Strange hunchbacked figures have been seen floating from the bell towers of Paris' Notre Dame Cathedral.
But insted of monstrous bell ringers, these are copper statues being winched from the towers for cleaning.
Although the last person to lay eyes on these gargoyles may well have been Quasimodo.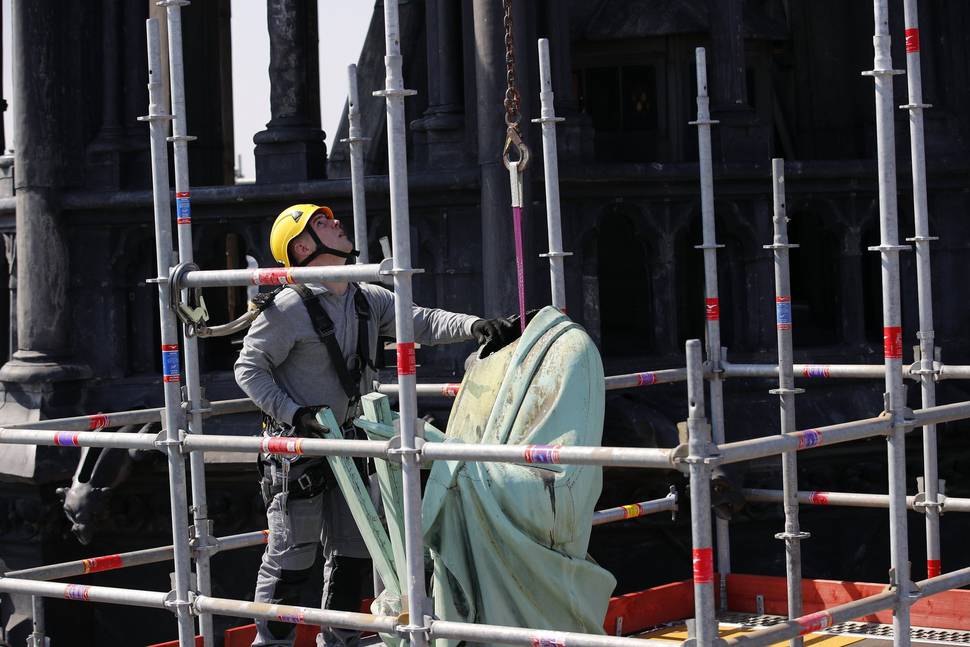 Religious statues set atop Notre Dame have come down for the first time in over a century as part of a restoration of the monumental Paris church's towering spire.
A 100-meter-high crane lowered the copper statues representing the 12 apostles and four evangelists onto a truck, giving the public a ground-level look for the first time on Thursday.
The figures regular posts look over the Paris from Notre Dame's 96-meter-high peak.
The 3-meter-tall statues are being sent to southwestern France for work that is part of a 6 million-euro ($10 million) renovation project on the cathedral spire and its 250 tons of lead.
The setting of Victor Hugo's gothic story about a hunchback is one of the French capital's most visited destinations. More than 13 million visitors pass through the spectacular grand gate every year
But it wasn't always in such good condition.
Following the Napoeonic Wars the cathedral was in a bad shape, but the perfect ruin to image inhabited by a deformed bellringer.
As Hugo described "this ancient queen of our cathedrals" in his 1831 novel:
"But noble as it has remained while growing old, one cannot but regret, cannot but feel indignant at the innumerable degradations and mutilations inflicted on the venerable pile, both by the action of time and the hand of man."
A pefect metaphor for a story about how an ugly exterior can hide a noble character.
The popularity of the novel led to the earliest restoration efforts on the cathedral, by architects Lassus and Viollet-le-Duc.
Arguably, the precursor to this latest bit of repair work to the Saints of Notre Dame.