It was once the glittering jewel in Australia's tourism crown — a luxury resort nestled in the middle of a massive expanse of pristine natural beauty.
Iwasaki Resort in Yeppoon, on Queensland's Capricorn Coast, boasted hundreds of accommodation suites, numerous bars and eateries, a Japanese garden and restaurant, a world-class golf course and the southern hemisphere's largest swimming pool.
For decades after opening at the end of the 1980s, it was a tourism hot spot and attracted domestic and international visitors in droves.
In its heyday, private planes would ferry groups of cashed-up Japanese businessmen to the region, to spend their time drinking, swimming and hitting balls on the golf course.
But two years ago, with many of the facilities severely run down or in a state of disrepair, operator Mercure closed the doors and walked away.
Now, the Capricorn Resort sits abandoned, dilapidated and without a firm plan to restore it to its former glory.
"We used to come here in our 20s. Everybody used to come here to the resort. Now it's cactus," Steven Jenkins said in a video posted to Facebook.
He dropped in with his family at the weekend to see what was left of the former world-class site, and found it littered with rubbish and debris, its once-glistening lagoon pool dry.
Mr Jenkins said he was shocked at how quickly it had deteriorated in two years.
The Iwasaki family, which retains ownership, promised to invest in a total overhaul of Capricorn Resort, as it was then known, and began making plans.
"But they were trying to decide whether to just improve what was there or do a full masterplan," Mr Ludwig explained.
In 2013, the Great Keppel Island resort — another once-premium property located on an idyllic island off the coast of Yeppoon, abruptly closed.
It too was in need of major renovations and a successive change of management had seen minimal investment and dwindling interest from tourists.
In mid-2016, in a double blow for the local tourism sector, Capricorn Resort was shuttered.
"I, like many others, have many fond memories of amazing events, functions and short breaks at the resort," Capricorn Enterprise boss Mary Carroll said at the time.
"What is important at this juncture of time is to help spread the word, that our destination remains one of the best in the country, because more visitors means more jobs."
As Mr Jenkins discovered, visiting the site is a surreal experience, giving the impression that the property was abruptly abandoned.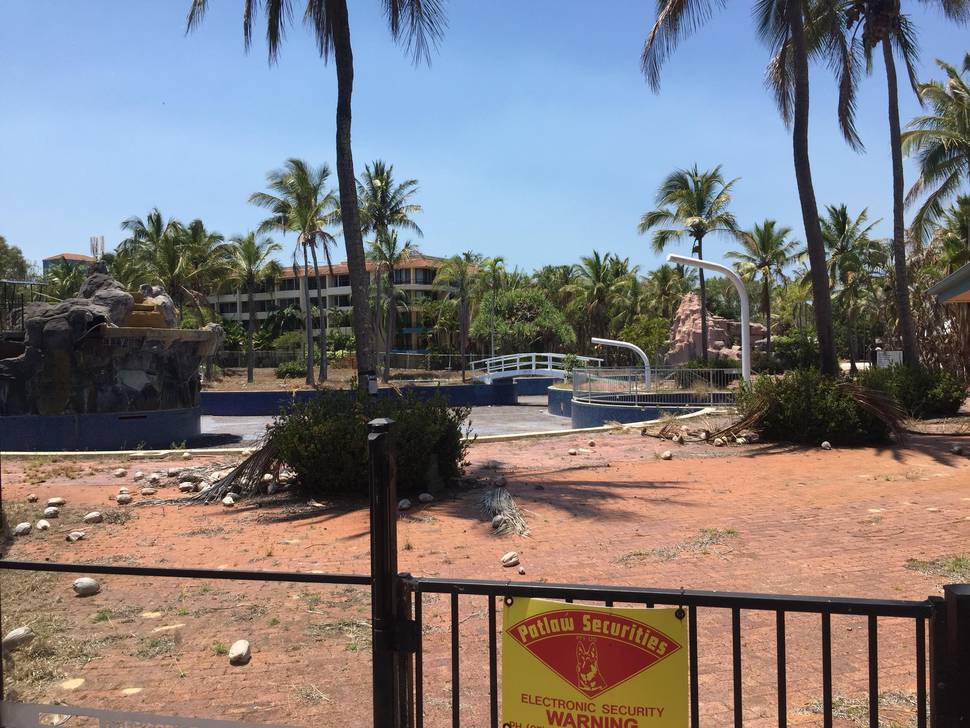 "No one was going to be happy when our two showcase areas closed three years apart. It was disappointing," Mr Ludwig said.
"But Yeppoon is a fantastic travel destination and the Capricorn Coast has so much to offer to visitors."
'Not if, when'
The site is now subject to an Expression of Interest process managed by the government, seeking to entice investors to come up with a masterplan.
Results of that process are expected by the end of the year and Mr Ludwig thinks it's a case of if, not when, Capricorn Resort will begin its journey back to glory.
A representative of the Iwasaki corporation travelled to Queensland last year and admitted the scale of works required is too big for a family business.
"To take it to its full potential, a family company like theirs would need a major investment partner and that's where they're at," Mr Ludwig said.
"It's been an iconic resort in its own right and it now needs to come into a new era. It has huge potential in the future."
The existing facilities comprise a small percentage of the 900-hectare site, which boasts an unparalleled 18km of direct beachfront.
"There are very few properties in Australia that have that level of potential," Mr Ludwig said.
"I think there's a big potential Asian market looking for a unique lifestyle holiday offering that they won't get on the Gold Coast or Sunshine Coast or in Cairns.
"The future of the resort could include areas that aren't overdeveloped, five or six-star accommodation, a mix of eco lodge-style accommodation, incredible recreational opportunities and a focus on the national environment."
The airport in Rockhampton, just to the west of Yeppoon, has an international aircraft-capable runway, which could bring a host of foreign tourists to the revitalised resort.
Great Keppel Island is also on its way back to vibrancy, he said, with a foreign investor on the cusp of committing to a major redevelopment.
"Both are poised to reopen, I believe," Mr Ludwig said.
"While we're waiting for that and Great Keppel Island to get under way, we've just finished a $59 million refurb of the Yeppoon Foreshore.
"We've been focusing on turning that into a tourist destination in its own right. There's a lagoon there, which is up for a design award this week.
"We didn't sit around — we've been very proactive."
Until the future is clearer for both former hot spots, the Mayor said Yeppoon had turned "adversity into success" by revitalising the main town centre.
"We're pretty upbeat. We've got a lot of things happening."