As airlines scramble to fit more bums on planes there is one type of seat that can be lacking.
The ratio between passengers to toilets can be the difference between a comfy ride and a desperate situation. However, when it when it comes to plane configuration toilets are a drain on flight economy, when you could fit more paying passengers in their place.
When Air New Zealand unveiled the first of its new Airbus A321neo planes, they were practically bursting to tell the world how they can seat 46 extra passengers onboard.
What they failed to mention was the new planes have the same number of loos as the old A320s.
Air New Zealand's head of aircraft programmes, Kerry Reeves, told the Herald that this toilet to passenger ratio was in line with competitors.
"We flew with a number of carriers in the US who have this to validate this configuration and see how it was used," he said.
The new A321neo planes have a ratio of one plane toilet for every 71 (and a third) passengers in economy, which is far from the highest ratio.
But this seems to be part of a larger trend where airlines are fitting ever more seats onto planes at the cost of toilets.
Desperate measures
Air New Zealand's old fleet of Airbus A320s have an extremely generous ratio of 1/56 toilets per passengers.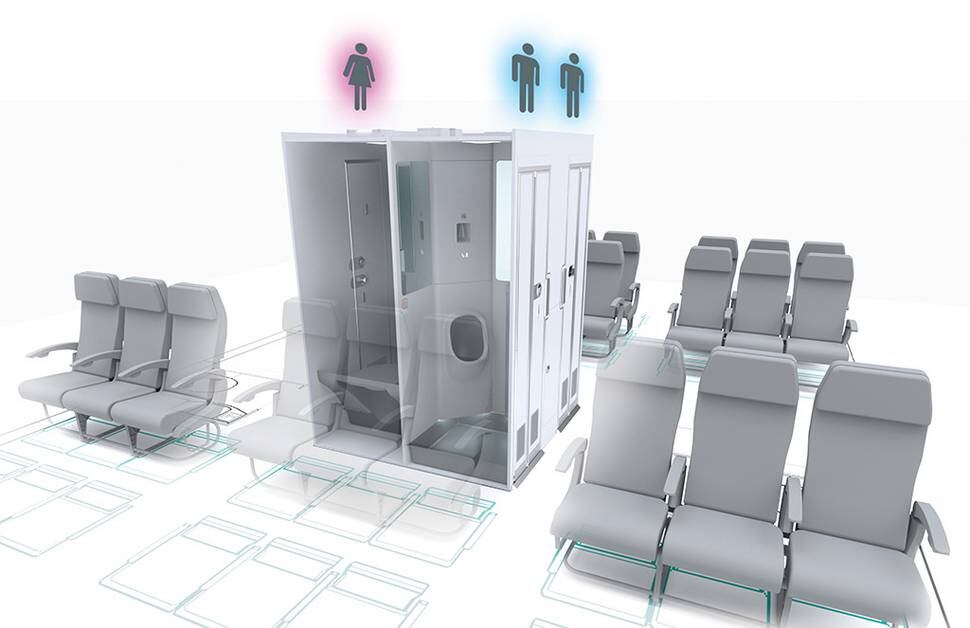 Meanwhile passengers on the airlines' South Pacific competitors are in a worse spot.
Qantas and Virgin's fleet of Boeing 737-800s have a shocking one toilet seat shared per every 84 passengers.
What can be done to reduce waiting time and the queue of cross-legged passengers clogging up the aisles?
The golden ratio
One solution launched at this year's Crystal Cabin Awards is the 'Durinal.'
Zodiac Aerospace developed the Durinal as an 'in flight urinal' to address this very problem.
The press release for the product claims it will not just help the male flyers.
"The innovation will benefit female passengers too, at least indirectly: when the men have their own urinal facility, the queue for the rest of the cabin will be reduced," claimed the product press release.
Miraculously, swapping toilets for Durinals would raise the seat to toilet ratio but increase waiting efficiency.
The Durinal's mathematicians deducted that by replacing one of the thrones with two urinals could cut waiting times 1 minute 27 seconds for women and under 60 seconds for men.
So that's the first problem sorted when it comes to post tea trolley toilet run.
However, we may be waiting longer before someone from Durinal comes up with a solution to problem number two.