What may have begun in a small enterprise in Italy in has expanded to conquer the hearts and minds (and taste buds) of the known world. It raises passions, divides opinions, and has been cut into many portions. While we could be describing the Roman Empire, this food has a far more lasting legacy.
We are of course describing the world's favourite finger food: Pizza.
It may have had its founding in the ovens of Napoli, but the world's best pizzas are now no longer exclusively Italian.
Here's our list of the top cities in which to eat pizza.
6. Melbourne
Sauntering down Lygon Street, through the heart of Melbourne's Italian quarter, you'll hit the highest concentration of pizzerias in Australia. This is also the country's largest Italian-Australian population, and perfect pizza runs through the veins of the populace like tomato sauce!
According to 50 Top Pizza's international rankings – Melbourne's café culture and Italian instincts have resulted in a couple of the best pizzerias in the world.
These are Ombra (76 Bourke St) and Johnny Di Francesco's restaurant Gradi (99 Lygon St).
Pull up a place during the Lygon Street Festa in November, to catch a slice of the action.
5. Venice
Venezzia would not be your first pick for a pizza city. Venetians have quite a haughty reputation when it comes to the food of the people, but the tide is beginning to turn. A new generation of artisan pizza shapers have been folding out enough pizza dough to sink a gondola.
Hop off the Vaporetto at Grigoris (Via Asseggiano) for homely slice – with a glass of beer mind, not wine – or Tre Leoni (Calle Sacrestia).
4. Rome
The Eternal City is home to some the world's best pizza. This chewy, pizza bread comes straight from the oven and is served 'al taglio' – or "by the cut".
Not so fast! Let it cool just a few moments for the perfect supple, doughy texture. To get a true taste for this city's cuisine, go on a wander. Explore the sights and try some more toppings after you walk off your last slice. Make sure two of your stops are at Pizzarium (Via della Meloria, 43) and Emma (Via del Monte della Farina, 28).
3. New York City
Little Italy is shrinking. Manhattan's epicenter of Italian-Americanness has been engulfed by Chinatown and priced off of New York's main island. What's left of micro-Italy is hemmed between Canal Street and Broome Sreet and - as the New York Times summed it up - is now "very little and not very Italian."
But fret not: pizza culture is still alive and well in the streets of NYC.
Dollar pizza can be bought by the slice on street corners from 39th to 3rd. But don't fill up on this stuff.
Cross the Williamsburg Bridge to Brooklyn, where pizza is done just right. Try Grimaldi's Pizza (1 Front St) or head to Roberta's (261 Moore St) in the hipstercentric borough of Bushwick. Perfectly complimented with a bottle of small batch beer.
2. Naples
Where it all started, the birthplace of pizza. Neapolitan crust is the greatest thing to erupt out of Naples since Mt Vesuvius, and almost as hot!
The blistering Italian tricolore of tomatoes and mozzarella was perfected in the ovens of Napoli. To be eaten as an accompaniment to excellent local seafood, and a glass of Campanian wine, try Pizzaria La Notiza (Via Michelangelo da Caravaggio, 53).
1. Chicago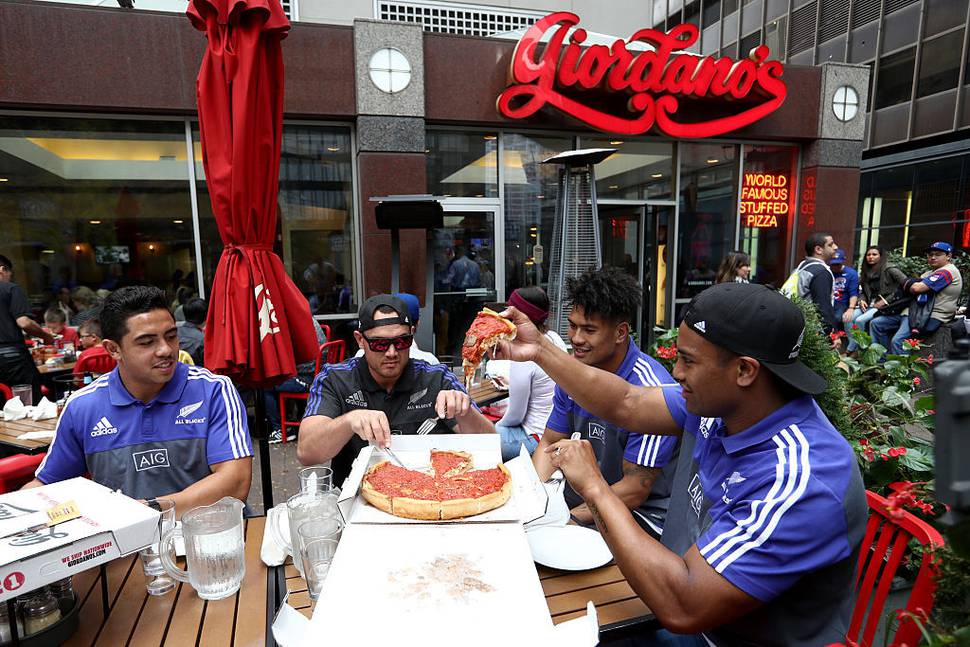 Some people get a bit stuffy about Chicago pizza pedigree. Pizano's pizzeria has been making the signature Chicagoan pizza pie since 1943. Deep-dish pizzas are what put this city on the map, but some newer restaurants have carved their selves a piece of the pie. Spacca Napoli (1769 W Sunnyside Ave) serves up coal-oven fired, gourmet, Neapolitan pizza which – according to Conde Nast Traveller – is the best in the States. An accolade which is sure to burn some fingers!