Author Geoff Chapple lists his five faves of Te Araroa Walkway, which he founded.
NINETY MILE BEACH - ONEROA A TŌHĒ
To anyone starting out, this long beach route allows time to get adjusted, to figure comfortable walking speeds, and decide whether your pack is too heavy. Walking 105km on a hard, slanted surface is challenging. It strains your tendons, and patience, until you settle to your own speed and rhythm. It strains you mentally - walking into a visual frame so blank that distant objects appear to be close, and vice versa, while the vanishing point ahead stays disconcertingly the same. But such disorientation is simply your first lucky dip into Te Araroa's grab-bag of discoveries. For me, it was the thrill of walking the beach at night, the white noise of surf out to the right, the faint outline of the dunes to the left, prodding with a boot the occasional grotesquerie thrown out by the sea.
For hour upon hour, I walked under a hemispheric dome of stars gradually rotating, and the Southern Cross, directly in front, beckoned me on.
PAEKĀKĀRIKI ESCARPMENT TRACK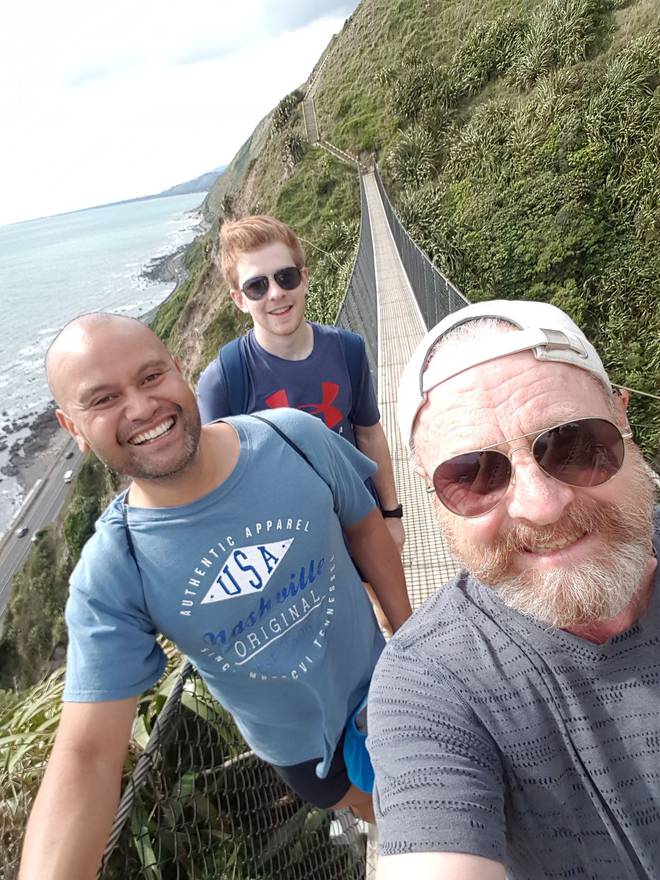 Te Araroa already had a route - a footpath beside State Highway 1 where the Paekākāriki Escarpment squeezes the highway and the main trunk line into a single narrow transport corridor against the sea. But that walk was unpleasant, and we looked up and saw the escarpment. What if you could haul Te Araroa to the heights here, work your way across that vertiginous wall of unstable shale and open up wide views to Kapiti Island and the Wellington coast? The predicted cost was well over $1 million, and we didn't have the money, but we began it anyway, for the track had its own voice - it was too good to fail. We called in specialist engineering for the bridges, and the contractor who turned up to bench the track had sometimes to pinion his digger with hawsers to stop it rebounding away downhill. The track became heroic in every respect, including, on a windy day, its walkers. It opened finally in April 2016, a peri-urban track that has brought whole city populations into contact with Te Araroa. The counter figures over February 2018 showed a daily average of 119 walkers.
THE RICHMOND RANGE AND RED HILLS
The Richmond Range is a true wilderness, free from human intrusion - except for one thing: thank you DoC for the huts. The long ridge-running that brought you through the Tararuas doesn't serve here, for the range has been twisted by the Alpine Fault. You gain altitude, then lose it. You climb to regain height, and yet again the scree laughs its gritty laugh as half of every upward stride is lost to slippage. And then, five days in, everything transforms. The beech forest recoils and the Red Hills stand proud, with a wrap of white mist. The rocks are studded with crystals like giant sandpaper. Almost nothing grows on them. They're mineral-heavy seabed rock that repels ordinary organic life, part of a vast undersea ridge carried long ago by the creep of plate tectonics to the edge of Gondwana's eastern coast. The ridge should have subducted at that edge but splintered off, buried itself into Gondwana's terrestrial rock, then millions of years on, was uplifted here. You walk these Red Hills in thrall to their absolute strangeness, and in homage to the slow churn of Mother Earth.
THE HARPER PASS TRACK
It's long - 74km - but comparatively gentle. The track has excellent huts, a wild hot pool en route, a three-wire crossing of a side stream, and the chance to follow a big river, the Hurunui, right up to where it's little more than a few buckets of pure water tumbling down. You're then on the last mild ascent to Harper Pass (962m), right on the alpine divide, looking west from there on to the braided silver of the Taramakau River below. A Māori greenstone trail went this way and, later, the gold miners overlanding to Hokitika with their pack donkeys. If there's heavy rainfall west of the divide, the Taramakau River crossings can become formidable, but there are huts to wait out any river in spate. Also, the Otehake side stream has a U-shaped channel so is always thigh deep and needs care. But even given possible disruption on the western leg, this track's long history of use and its easy crossing of the main divide - I've seen photos of 9- and 10-year-old kids on Harper Pass - makes it a favourite.
FOVEAUX WALKWAY
It's a profound track with its deeply weathered volcanic outcrops, with Foveaux Strait undulating alongside, and often a pitching oyster boat. But I like it most of all for being an ending, always emotional. "I'd call it bittersweet," recalls Eve Barnett, who, with Chase Lewine, both National Park Service rangers from the United States, finished the trail on April 3 this year. Well exactly. I stood by the same signpost in 2010 as an early walker, Paulus Smit, who went by the trail name "Toek", turned to his trail mate, "Yeti", and said, in sorrow - "We're just civilians now." Together with the high-fives, there's sadness, for at this signpost walkers step out of a singular regime. However tough, or however many rest days they took to savour a beer and clean sheets en route, it's a regime that calls you back into its huge sun-up, sun-down simplicity. You eat, you walk, you shelter day by day, and by small degrees become saturated by the natural order of the world. It's a hard thing to leave.
Lowdown
Escape! Festival, Queen's Birthday Weekend, June 1-4.
Guest Geoff Chapple gives an illustrated talk on Te Araroa Walkway of New Zealand.
Tickets from Baycourt or ticketek.co.nz.
See the full Escape! programme at taurangafestival.co.nz