Slippers, 'Jacindeau' and porcelain pheasants. Claire Trevett shares her secret diary from Ardern's Europe trip.
SUNDAY and MONDAY: PARIS
We arrive in Paris on a Sunday afternoon to discover all the shops are shut.
The taxi driver tells us how Paris works. "Every day we are either on holiday or on strike. So today is a holiday and tomorrow everyone will be on strike."
He was only half-joking. The train and plane workers were indeed on strike on the Tuesday over transport reforms to meet EU rules and working conditions.
Prime Minister Jacinda Ardern has brought her Allbirds shoes which look like slippers and a plea is made for her to at least resist wearing them in stylish Paris, although Berlin might be permissible.
The minute we are on the plane to leave a photo arrives by text of two feet in slippers.
"Technically not on French soil anymore," she writes.
It later emerges that on her first night in Paris Ardern went for a walk along the Seine. She wore the slippers. Nobody recognised her.
TUESDAY: BERLIN
There is a military guard for Ardern and German Chancellor Angela Merkel emerges before her arrival, looks at the guard and hollers "guten tag" at the top of her voice. They holler back at her, she chats to one and then disappears again. It turns out Merkel does this whenever one of the Republican Guard in the lineup has a birthday.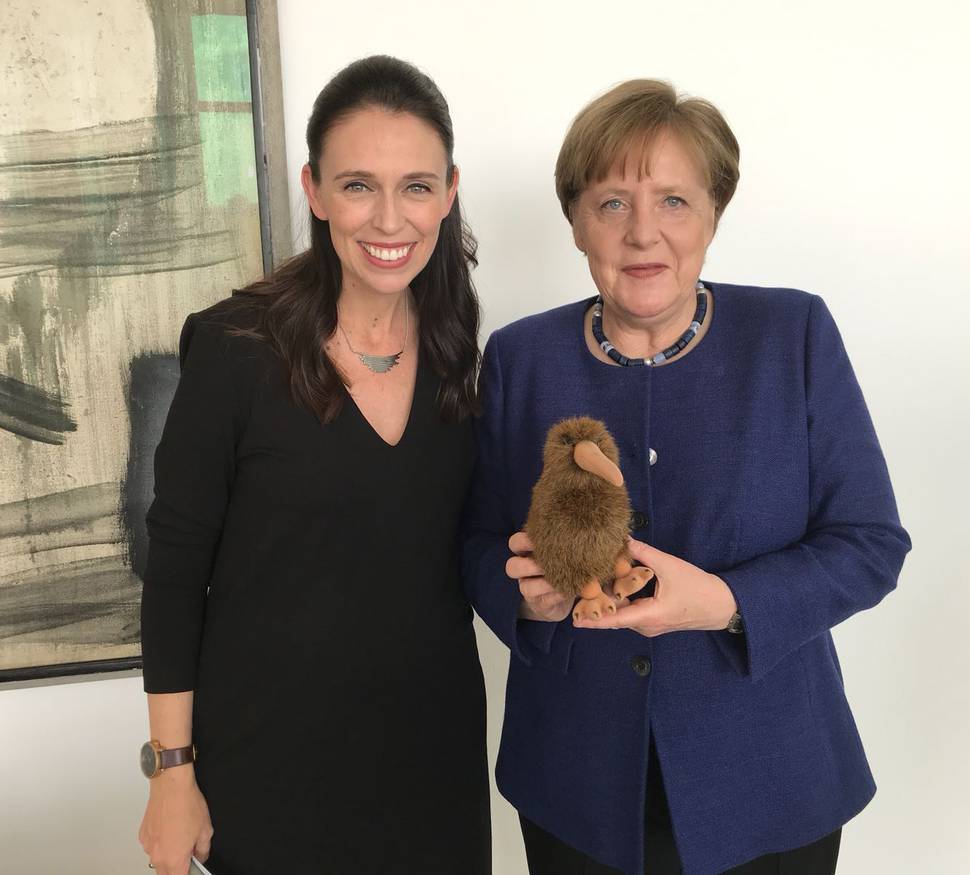 Any nerves about meeting were dispelled by the motorcade which dropped Ardern off. It took off at pace as soon as Ardern had disembarked - one car squealing its tyres at length as it did so, sending Merkel and Ardern into a fit of giggles.
Afterward Merkel declares the meeting fun and goes off to arrange a meeting with Russia's President Vladimir Putin which will probably not be fun at all.
Ardern leaves Berlin as headlines about her "babybauch" (baby bump) appear.
WEDNESDAY: LONDON
Where she goes he goes. Ardern and Canada's Prime Minister Justin Trudeau have taken to spending a lot of time together - and both grab media attention by virtue of being youthful, good looking and in Ardern's case pregnant.
The naming starts: Jacindeau? Jaju? Justinda? Trudern?
Both were in France at the same time, meeting between speaking at the Sciences Po university.
In London it is a joint event speaking to students at City Hall.
Between Trudeau events, Ardern squeezes in British PM Theresa May.
When the rest of the New Zealand delegation leave Downing Street without her, there is a moment of panic outside.
The Downing Street staff were beckoned over. Had she had a turn? Was babybauch rumbling? Have things begun? Have tea, towels and hot water been ordered?
No - she was simply waiting upstairs to hitch a ride with May to a meeting of four of the Five Eyes leaders.
She is so late returning partner Clarke Gayford comes down to the hotel lobby to look for her, worried they will be late for dinner.
Meanwhile at the media centre on the grounds of Marlborough House, the New Zealand media are told to move from the back corner of the nearly empty room because an organiser wants it to be a "quiet area". We wonder if this is some Monty Python marketing event but he is serious.
The strategic genius has chosen the corner with the door closest to the gate where 900 or so media enter and exit the grounds. It is also the door closest to the toilets.
He is nonetheless confident the power of a sign will trump the human tendency to take the shortest route and puts up signs on that door: "no entry: quiet area."
It is predictably ignored. The Quiet Area is akin to the migration route of wildebeest on the savannah.
The speakers booming directly above it also spoil the serenity as do journalists themselves, very few of whom are quiet.
We name it Bonnydoon and slip over the border to the Noisy Area for some peace and quiet.
THURSDAY: LONDON
Ardern is due to meet the Queen at Buckingham Palace and New Zealand is short of "official photographers" to capture this moment.
There are nods and winks and arrangements are made for the media to quietly do it instead.
Ardern doesn't blow our cover, pretending we are footmen. I am so busy admiring the porcelain pheasants on the mantelpiece I nearly miss the moment. I later discover they are valued at more than $40,000.
Later that day the woman who has just been named in Times 100 Most Influential People list is wearing slippers again. All this travel, occasions requiring nice shoes and the hot weather have turned the feet into bratwurst.
She orders the cameras not to pan down.
Ardern tells us nobody has tried to touch her bump - or "front pack" as she has taken to calling it. "Unless you count Clarke rubbing it like I'm some kind of lucky charm."
Later that night another garment is causing a flutter - the korowai Ardern wore to the state banquet.
She sits next to Prince William, whose third child with the Duchess of Cambridge is due to be born any day now, and says he was very nice.
FRIDAY: LONDON
Jacindeau are back together. As the leaders walk into their retreat at Windsor Castle Ardern and Trudeau walk together, Trudeau graciously walking slowly with her right at the back to account for those sore feet.
Meanwhile, the media have been hunting for Foreign Minister Winston Peters who has not been seen or heard of since they arrived.
A Where's Winnie hunt is mounted but fruitless. Plans for a joint media slot by Ardern and Peters at the end of the trip are suddenly changed and those in charge deny it was ever going to happen at all despite it being in black and white in the programme.
A few hours later the news comes through that Peters will now take part in that standup. The programme wins.
Ardern acclimatises herself for a return to New Zealand by catching the last half of a Topp Twins 60th birthday show on her last night. It is something of a political family reunion - others at the show include former PM Helen Clark and Ardern's mate Darren Hughes as well as MPs on the Speakers' Tour. Trudeau does not attend.
She leaves Europe with a gift tally including one bear from Merkel, a Paddington bear from London's Mayor Sadiq Khan and two framed photos of the Queen and Prince Philip from the Queen.