The introduction of new sightseeing attractions is a sure-fire way to keep the tourists coming. Since November, visitors to the Colosseum in Rome have been able to experience vertigo-inducing views from the restored upper levels of the world's largest amphitheatre. In Luxor, two 3,500-year-old Egyptian tombs containing wall paintings, statues, a mummy and other artefacts have been recently opened to the public, and in northern India, a tunnel under the Himalayas will cut journey times for travellers wanting to discover the fabled lands of Ladakh.
But for each newly opened place of interest, others become out of bounds until the dust settles, the scaffold­ing comes down or the land heals itself, writes Tim Pile for the South China Morning Post.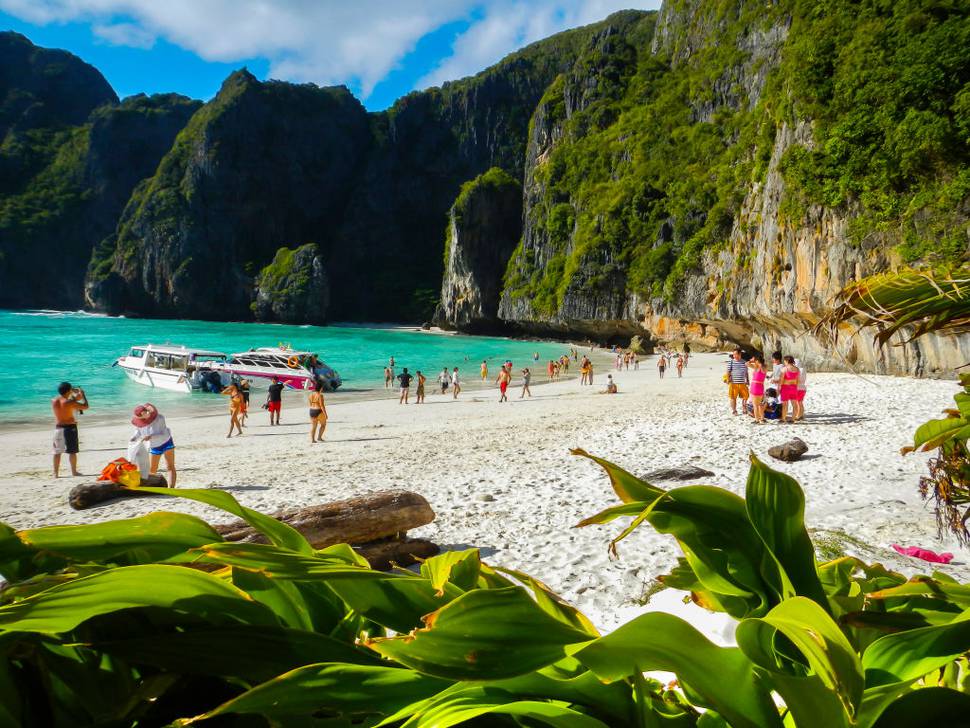 2 Maya Bay
When is a closed beach not actually closed? When it's undergoing a restoration period. Tourists planning to visit Thailand's Phi Phi Island this summer should note that Maya Bay will be off limits from June to September. But only to boats. More than 1,000 operate in the famously translucent waters, where scenes for the 2000 Leonard DiCaprio film The Beach were shot, although fewer than 100 are actually licensed.
Ever-pragmatic tourism chiefs say those on foot will still be allowed to reach the beauty spot via a back route. Damage to coral and other environmental concerns have prompted the drastic action and, even when the beach reopens, there's talk of limiting the number of sightseers arriving by longtail and speed­boat to a miserly, er, 2,400 per day. So that's alright then.
3 Madagascar
Outbreaks of infectious diseases such as Ebola, the Zika virus and Sars tend to stop tourism in its tracks, especially when amplified by media scaremongering. In October, an outbreak of 'the plague' swept across Madagascar, infecting 2,000 people and killing one in 10. And just as health authorities appeared to have things under control, the medieval Black Death has returned. Maybe.
Last month, a school cook was struck down with a mystery bug, prompting fears it may spread to KIDS, although, at the time of writing, tests have yet to confirm whether it is the plague. Madagascar is a huge island and, while you probably have more chance of being bitten by a rabid lemur, it's certainly worth getting local updates before setting off to the national parks, the former pirate island of Sainte Marie or the Avenue of the Baobabs.
4 Jiuzhaigou
Not since a Tibetan goddess dropped her magic mirror and it shattered into more than 100 pieces to form the dazzling lakes of Jiuzhaigou has the nature reserve undergone such a cataclysmic event. As a result of the severe earthquake that rocked Sichuan province in August 2017, the Valley of Nine Villages is closed until further notice. Landslides decimated rural areas, gaping crevasses rendered roads impassable and the famous turquoise waters turned a muddy brown.
Six months on, the threat of aftershocks amid the scarred and ravaged landscapes means that although there are plans to reopen the park partially and gradu­ally, a full restoration won't be complete for at least three years.
5 Dominica
Erupting volcanoes, tsunamis and earthquakes can all have a detrimental effect on tourism revenue, particularly in countries where the industry accounts for a significant chunk of GDP.
In September, Hurricane Maria lashed Dominica, leaving 90 per cent of the nation's infrastructure in tatters. Few residents have access to electricity at present and hotels are still being used to house relief workers, so now might not be an ideal time to book a trip to the Caribbean island.
On the other hand, the best way to help kick-start an economy devastated by a natural disaster is to visit and spend. One option is to arrive by ship – on January 28, the capital, Roseau, welcomed its first cruise liner since the deadly storm.
6 Big Ben
The ongoing renovations to Big Ben mean Britain's most photographed landmark is likely to be shrouded in Taj Mahal-style scaffolding and cranes for up to four years. But for selfie-seeking sightseers, a cunning workaround is available.
Picture printing professionals Photobox will airbrush the unsightly metal framework from your snaps so that friends, family and Instagram followers can marvel at the iconic clock tower in all its unblemished glory. While you're at it, why not get the digital wizards to place you in front of a few more of the world's must-see sights.
7 Ayers Rock
Uluru is to be closed to climbers from October 2019.
The world's largest stand-alone rock isn't currently out of bounds but the clock is ticking. Traditional owners and parks management have announced that Uluru will be closed to climbers from October 26, 2019. The monument formerly known as Ayers Rock is a deeply sacred site to indige­nous Australians but is treated as a theme park by some insensitive tourists.
There are, however, no plans to stop people visiting Uluru-Kata Tjuta National Park and taking photos of the sandstone mono­lith, but with fewer than 20 per cent of visitors actually opting to head up the steep uneven slopes, the time has come to respect local customs and ban the practice entirely.
No doubt staff at Photobox will be happy to airbrush you onto the summit, should you wish.