Eveline Harvey gets a buzz from sightseeing by helicopter
The helicopter:
An Airbus H130. The darling of the helicopter tourism world, this single-engine craft has been designed with sightseeing in mind. The spacious cabin accommodates 7 people (including the pilot) and tiered seating means even those in the back can take in the views through the large wrap-around windows.
Heliport experience:
Located just off the motorway in Albany on Auckland's North Shore, I was warmly greeted upon arrival by Heletranz's Sofia Ambler, who owns the business with her husband John. It's a safety requirement when travelling by chopper that you jump on the scales pre-flight, but this was carried out in a most discrete manner by office manager Julie.
My seat:
Front and centre! Right next to the pilot.
Price:
The cost varies depending on the number of people you're travelling with, but a group of 6 can enjoy a Waiheke Island Heli-Dining Package — which includes a flight to Mudbrick Vineyard & Restaurant, a glass of sparkling wine on arrival, a three course lunch and a taxi/ferry trip back to downtown Auckland — for $390 per person. Choosing to fly both ways costs extra.
Scenic flights are also available, with a 12-minute trip around the Sky Tower costing from $350 for two people, or a 20-minute flight around the city with other passengers priced from $199 per person.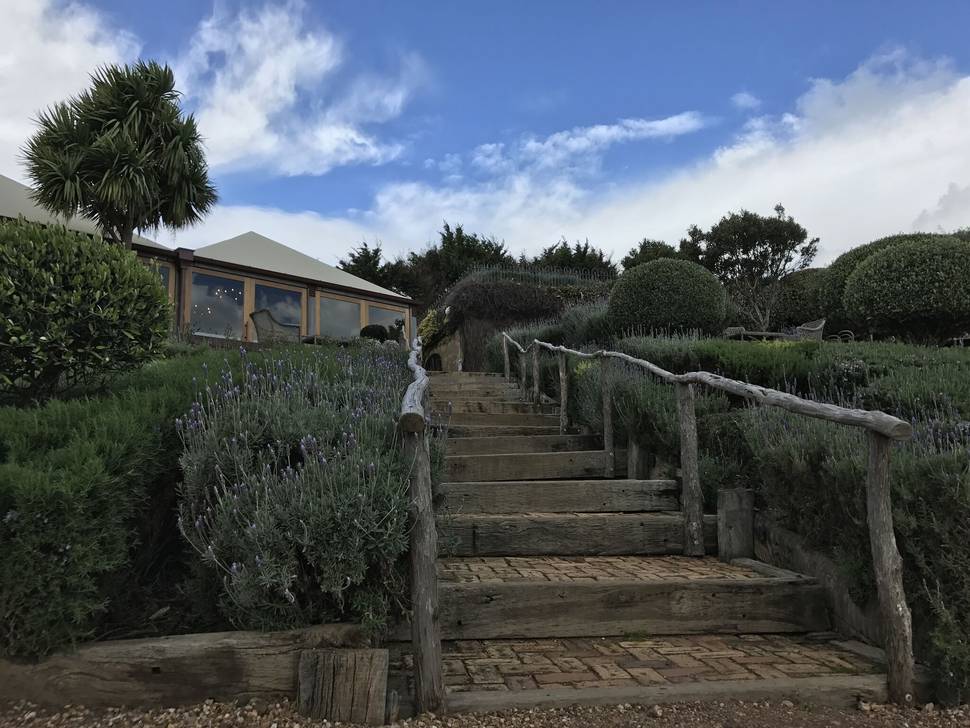 How full?
All 7 seats were taken on our trip.
Blue skies? Although Heletranz has access to one VIP aircraft that can operate in almost any weather conditions — and at night — most flights are conditional on the pilot being able to safely navigate by sight.
This year's spring was even more wet and blustery than usual so we were lucky to catch a break in the weather. Photos look better when it's a bit overcast anyway, right?
Other passengers?
Three journos, two cameramen and our host Sofia.
Safety checks:
Before boarding, our captain Peter Gibson took us through the safety procedure, showed us how to belt ourselves in and detailed how we should leave the aircraft when we reached our destination. My main takeaways? Always ensure the rotor blades have stopped spinning before you get out and make sure you walk towards the front of the helicopter when exiting.
Lift-off:
For those more used to plane trips, going up in a helicopter will be a revelation. There's none of the anticipation of flight as you taxi along a runway, just a gentle wobble as the skids lift off the ground and the craft becomes airborne. It's quite an unusual feeling the first time you experience it, but I loved it.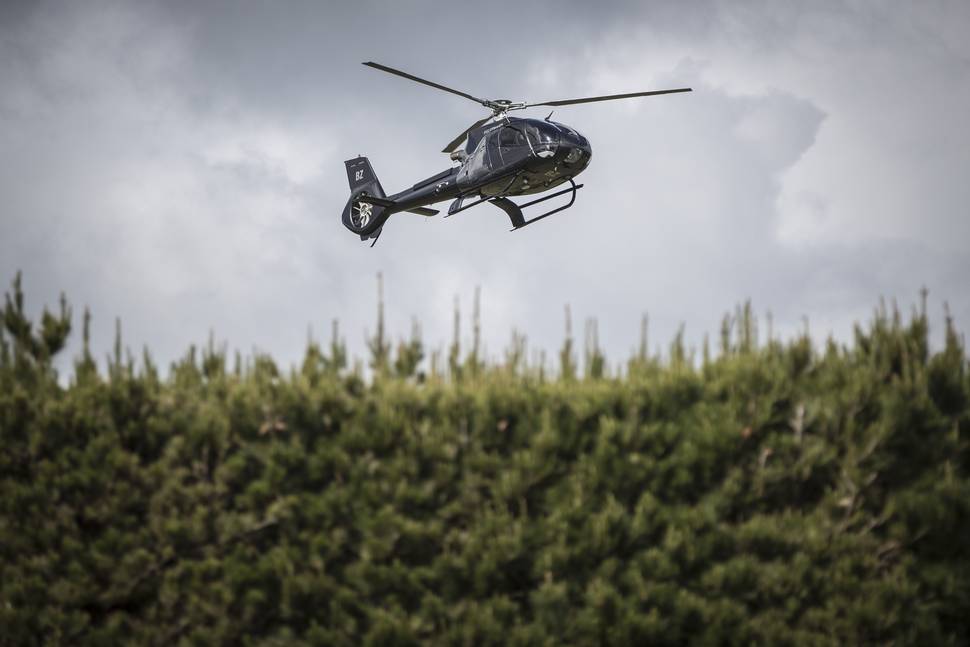 The route:
I was born and raised on the North Shore but this was the first time I'd seen many of the landmarks I'm so familiar with from above: the dark surface of Lake Pupuke, separated from the coast by the narrowest sliver of land; the hospital where both my children were born and the clay cliffs and long, sandy beaches of the East Coast Bays.
With nothing but floor-to-ceiling windows in front of me, I had the most amazing view. Our flight path even took us directly over the forested crater of Rangitoto as we buzzed our way across to Waiheke Island. I looked out for Wilberforces but didn't spot any.
Food and drink:
You'll be too busy gawping at the views to waste any time eating on this flight, but there was plenty to savour once we reached Mudbrick, our gorgeous island lunch destination. For example? Delicious fat oysters from Te Matuku Bay, grilled salmon served with a moreish Dashi broth, melt-in-the-mouth braised Angus beef cheeks, local and imported cheeses and home-made chutney . . . and I haven't even got started on the wine list.
Would I fly again?
Absolutely — this may just be my new favourite way to take to the skies.
CHECKLIST
Further details:
For heli-package deals, see
or phone (09) 415 3550.
Want to stay on Waiheke longer? Mudbrick also has cottage accommodation available. See mudbrick.co.nz for more information.