Stephanie Holmes meets the emotional father of thousands of turtles born on Borneo's Libaran Island
Watching intently the hole in the sand, I imagine this must be what it feels like to be an expectant father pacing corridors outside a delivery room, unlit cigar in hand. In this hole, on Borneo's Libaran Island, there are 109 eggs, almost ready to hatch. Laid on the beach by a female green turtle about 60 days earlier, they were safely relocated to the island's Taman Hadiah (gift garden) hatchery where they have been watched over by a team of dedicated rangers.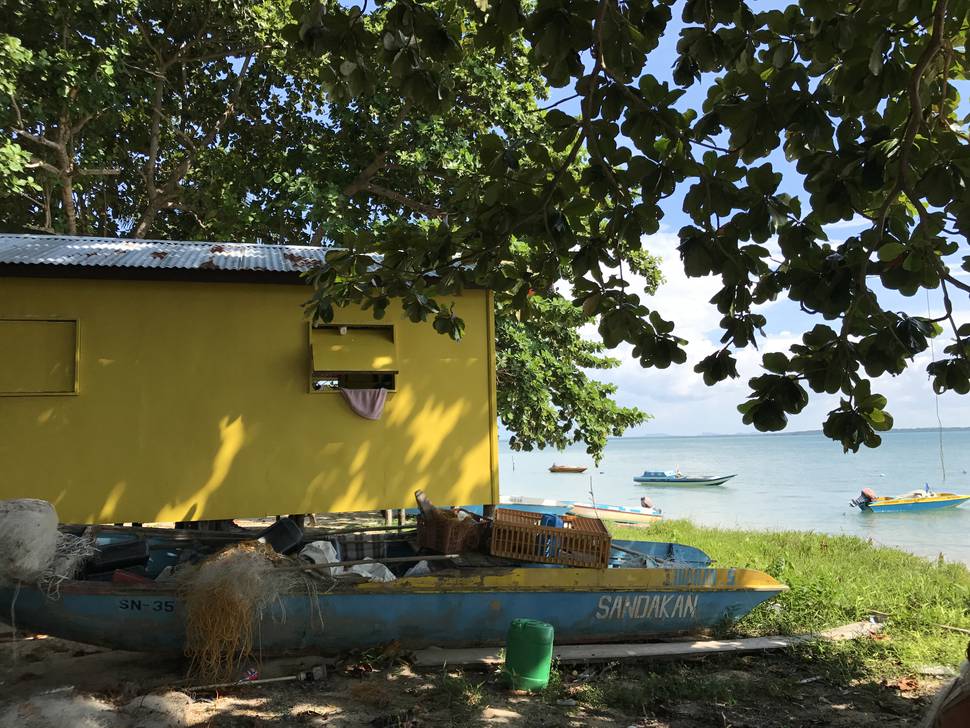 One of these rangers, Harun Haris, a solemn-faced local with warm brown eyes, believes the eggs are going to hatch any moment now and our lucky group is here to witness it.
The day is fading fast and the mosquitoes are biting, but we're not moving anywhere — the anticipation too great. Suddenly, slowly, a tiny flipper digs its way through the sand and the first hatchling appears, busily scurrying its way to the surface to a chorus of excitement from its onlookers. This is just the beginning — the next 10 minutes are a flurry of activity as turtle after turtle digs its way up and out, multiplying before our eyes like popping corn over a hot flame.
Eventually there are 61 baby turtles, scrambling adorably over each other as they follow their instinct to head straight for the sea.
Transferring them gently into a bucket, Harun is like a proud father as he takes us down to the water's edge in the warm twilight. On a count of three, he upturns the bucket and the tiny turtles are off, taking their first steps towards their new ocean home.
It's an emotional moment — due to predators and environmental challenges, only 1 to 2 per cent of these vulnerable infants will make it through to adulthood. "It's hard to let them go," Harun says, with genuine emotion.
Our boat journey to Libaran Island takes 45 minutes across the Sulu Sea from the mainland town of Sandakan. The speedboat ride provides sweet relief from the overwhelming humidity of the morning, and we arrive at the mangrove-lined tropical island feeling refreshed. We're now just 30km from the Philippines, in Malaysian Borneo's northeast, on the final leg of our G Adventures East Sabah Adventure.
We've spent days in the cloying heat of the rainforest, spotting orangutans, monkeys and sun bears and searching in vain for endangered pygmy elephants. The chance to relax on a beach for a while is welcomed by our small group.
We're glamping overnight at the Walai Penyu Resort and Conservation Park. The small permanent campsite gives visitors the opportunity to stay on the island and learn more about the work of the rangers at the turtle hatchery, as well as meeting local villagers. There are about 400 people living on this island, and all are encouraged to take a vested interest in conservation.
Borneo local tourism operator Alexander Lee established the turtle hatchery in 2011 in conjunction with the Sabah Wildlife Department (SWD). On surveying the island, which is close to the Turtle Islands National Park, they discovered green and hawksbill turtles were already nesting here, making it the perfect place for a conservation effort.
SWD put a group of Libaran villagers through an Honorary Wildlife Warden course and they now oversee this important project. As well as keeping turtle eggs safe until they hatch, then supervising their release into the sea, the project also welcomes visitors and students to the island, educating them about the importance of turtle conservation.
. . . the next 10 minutes are a flurry of activity as turtle after turtle digs its way up and out, multiplying before our eyes like popping corn over a hot flame.

SHARE THIS QUOTE:
As part of G Adventures' commitment to responsible tourism and animal welfare, it's a great addition to an itinerary already jam-packed with wildlife sightings.
Turtles need clean areas of sand to nest and lay their eggs so villagers are encouraged to help keep the island tidy, receiving allowances from organisation Friend of Sea Turtles Education and Research (Foster) if they get involved in the clean-up.
It must often seem like a futile task.
Sim Sim village — a collection of overwater stilt houses in Sandakan — causes big problems for Libaran. The residents' rubbish is often discarded in the water, which then floats across the sea, finding its way to the sands of Libaran.
Every morning, villagers come down to the beach and rake the plastic bottles, instant noodle packets and used nappies into piles. Every high tide a new tsunami of trash arrives. Walking through the village in the heat of the afternoon, we're met with nothing but smiles — especially from the local children who find great hilarity in the sight of our sunburnt, mosquito-bitten bodies.
The colourful houses and fishing boats make great contrast for the many photos we're taking, but what to do about the piles of trash? It's easy to crop them out, but to do that would be to crop out reality. Libaran isn't the picture-perfect tropical paradise you might find in a pristine Pacific Island resort; rather it's a real reminder of human impact on the world.
Saying goodbye to ranger Harun is an emotional moment. We thank him for his work and the experience we've had and he says, softly, "I will save the turtles."
His melancholic sincerity is almost too much to bear and I wonder if he too feels a sense of futility in what he's doing. "I am the father of thousands of turtles," he told my friend the night before, but the reality is, only 1 per cent of his "offspring" have survived to adulthood.
As we sail back to the mainland, waves of bottles and rubber shoes and plastic bags float in the water. How many of our turtle babies are still swimming, fighting their way through this ocean of detritus?
Thank goodness for people like Harun, fighting the good fight, and sharing their passion with the tourists who visit Libaran.
Without people like him, the futility would be absolute. With him, there is still hope.
CHECKLIST
G Adventures' East Sabah Adventure eight-day itinerary travels from Kota Kinabalu to Turtle Island National Park and back, taking in rainforests, Sepilok's orangutan rehabilitation centre, and much more. Prices are from $1639, and include an internal flight, all transport between destinations, included activities, seven nights' accommodation and some meals, and the services of a Chief Experience Office (CEO), plus local guides.