The spirit of the famous boy reporter thrives in Belgium, writes Max Wooldridge
My Tintin trail begins as soon as I arrive at Brussels Midi station. On the concourse, a large black-and-white scene from an early book, Tintin in America greets us: Tintin in cowboy gear, clings to the side of a hurtling locomotive.
"Herge is finding his artistic style in these early adventures," says Michael Farr, a leading authority on Herge, and author of several books on Belgium's famous boy reporter. He is a Tintinologist.
"Read the books chronologically and you can see Herge's drawing style evolve."
Outside the station we see large figures of Tintin and his faithful fox terrier, Snowy, on top of the Lombard building, once the offices of Herge's publisher.
We are soon darting around central Brussels in the young reporter's footsteps. We pass the Metropole Hotel, on a tree-lined stretch of Place de Brouckere, that appears in the background of The Seven Crystal Balls.
Then the Parc du Cinquantenaire, the stately Brussels park that appears early on in King Ottokar's Sceptre.
At the Place de Jeu de Balle, in the Marolles district, antiques and bric-a-brac are laid out on rugs on the cobbled square.
This is the flea market depicted at the start of The Secret of the Unicorn book and the Steven Spielberg film.
In both, Tintin buys a couple of walking sticks for Thomson and Thompson and, searching for a present for Captain Haddock, finds a model ship called the Unicorn. We find neither sticks nor a galleon model.
Nearby news-stands display headlines about Europe's migrant crisis.
"Whether it's drug-smuggling or people-trafficking, all the Tintin adventures still have a modern relevance," Farr says.
"Tintin in America criticises US capitalism. Native Americans are driven off their lands when oil is discovered, while The Red Sea Sharks was based on news stories Herge saw about Africans making the trip to Mecca and being sold as slaves."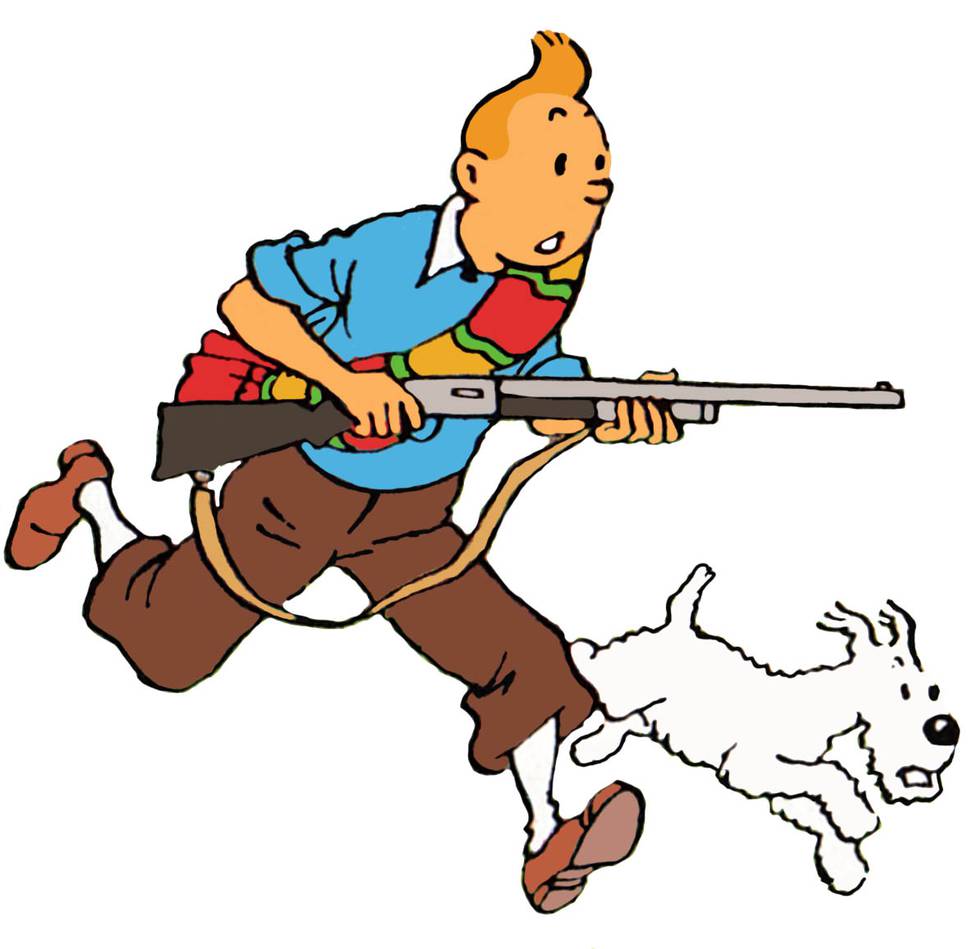 Farr, a former British foreign correspondent, first met Herge in 1978 when he worked in Brussels covering the European Parliament. Tintin's creator was notoriously reclusive but Farr eventually persuaded him to lunch. They soon struck up a friendship.
They used to dine at Comme Chez Soi, a Michelin-starred restaurant in an art nouveau building on Place Rouppe. It is still there today and the wine list features images of drunken Captain Haddock and Snowy.
"Herge was 71 at the time but looked 20 years younger," Farr recalls.
"I asked him about his life, and Tintin, but he wanted to talk about Pink Floyd."
My trail continues east of Brussels at the Herge Museum in the university town of Louvain-la-Neuve.
Some visitors moan that a museum dedicated to Herge should be in central Brussels. The Herge estate was offered various sites there but none had the vast amount of space required.
The museum, which opened in 2009, is a phenomenal celebration of Herge's art. A vast amount of original artwork traces the evolution of Herge's technical artistry, from early newspaper strips to the clear line drawing style of the books.
Some newspaper strips are displayed in the museum's cafe with illuminated covers of Le Petit Vingtieme, the children's supplement where the Tintin cartoon strip first appeared.
Elsewhere in the museum, stylish displays identify real-life inspiration for characters including Professor Calculus, and Herge's brother, Paul Remy, the model for Tintin physically.
En route back to Brussels, we make a brief stop in the nearby village of Ceroux-Mousty, and the 16th century farmhouse where Herge lived in the 1950s. The road name has been renamed Rue Herge.
I'm booked into one of four Tintin-themed rooms at the lovely Hotel Amigo. Their special Tintin package includes a double room, breakfast, a Herge Museum ticket and a soft Snowy toy.
We can't leave Brussels without visiting the Belgian Comic Strip Centre in the Rue des Sables, sited in a former Art Nouveau warehouse designed by Belgian architect Victor Horta.
There is a stone bust of Tintin in the hallway and models of him and Captain Haddock in orange spacesuits halfway up the steps.
There are large Tintin murals on walls across Brussels, but they are no match for what greets passengers at the end of the line on the Brussels Metro. Stockel station, the easternmost stop on Line One, features end-to-end murals of 140 Tintin characters down each platform.
"The murals are a way of keeping Tintin alive," Michael Farr says.
Unmemorable Brussels bureaucrats come and go but it seems Belgium's comic-book hero will live forever.
CHECKLIST
Getting there: Emirates flies daily between Auckland and Brussels with a direct connection in Dubai.
Further information: See museeherge.com/en