Lunch is the pivot of the Greek day, writes Annabel Langbein
It was around lunchtime on a Sunday when my family and I touched down in Kefalonia. A voluptuous Greek woman with a wild mane of raven-black hair swooped down on us as we exited the airport, hoisting our overweight bags into the boot of her taxi with the deftness of a pro weightlifter. And then we were off, hurtling along the narrowest of roads at breakneck speed.
About 15 minutes into this terrifying ride, she turned, tapped her watch and gesticulated with her fingers to her mouth.
"Lunch. Finish," is all she said. It was then we noticed there was no meter running.
"Money, how much?" I asked, imagining we were about to get ripped off. "Sami — €55," she said, screeching to a halt next to a beaten-up car parked in the middle of nowhere.
A man — her brother, uncle or husband, who would know? — got out of the other car and she got in and hurtled off again. The man hopped into the driver's seat of our car and, without further explanation, we continued on our way.
Our new driver was in no hurry — he had obviously had his lunch — and we arrived safely at our destination, the port of Sami, on the east coast of this verdant Ionian island, where friends and a beautiful boat awaited.
They say you can understand a country by the way its people eat. In Greece everything runs on lunch.
And so our Ionian odyssey began. Our first week was spent sailing up through the lush green Ionian islands with our Kiwi friend Lilly, on her gulet, Carolina. You can charter these beautiful Turkish boats through various agencies, and Lilly's boat runs several charters each year.
To the west of the mainland, the Ionian islands stand apart from the rest of Greece by virtue of their lush landscapes, vast groves of stately cypress trees, Caribbean-style beaches and history of foreign occupation.
By the early 15th century the Venetians had wrested control of the string of seven islands in the Ionian Sea, save for Lefkada, which had been seized by the Ottoman Turks. Napoleon and the French took over in 1797, the Russians had a brief stint of rule, then the French got them back until Napoleon's defeat in 1815, when they became a British Protectorate until Queen Victoria signed them over to Greece in 1864.
The influence of these cultures has left its mark, especially in the architecture and the food.
On Kefalonia, the tiny port town of Fiskardo, with its brightly coloured houses reaching down to the water's edge, is a slice of Venice set in a sapphire-blue sea. You can hire small boats and four-wheeler bikes to explore the island, and there are lots of walking tracks to enjoy.
On the waterfront you'll find Tassia, a renowned restaurant offering classic Kefalonian dishes based around local ingredients — all manner of seafood, goat, olives, capers, wild herbs, local cheeses, lentils, beans and seasonal fruits and vegetables. Some dishes, including the black cuttlefish risotto, have a decidedly Venetian twist.
Heading north, the next island you come to is Lefkada, famous for its dramatic limestone cliffs, stunning beaches and turquoise waters. The township of Lefkada in the south has a population of about 7000 and a big marina. It's a good place to stock up on supplies — the prices are much cheaper than in villages along the coastline.
North of Lefkada are two islands that are considered the jewels of the Ionian Sea.
Poseidon, the sea god, is said to have nipped a piece of Corfu off with his trident to form Paxos and Antipaxos as a love nest for his mistress. Certainly these islands are exquisite, offering tiny bays of crystalline waters and pearly pebbled beaches.
Tiny Antipaxos has just 30 inhabitants and four tavernas catering to the daytrippers who visit by boat. We stopped in the small harbour of Agrapidia and climbed the hill to the aptly named Bella Vista Tavern, where we enjoyed a glass of wine with crispy squid and fabulous dolmades.
A little to the north, Paxos is an island of jetsetter houses and pricey boutiques, but utterly charming for all that. In the main town of Gaios, you can find some great Airbnb properties at very reasonable prices. Vasilis and Genesis offer good food and Porto Vecchio is a favourite bar with the locals. The best food on the island is considered to be at the pretty village of Loggos, where Nasos, Vassilis Taverna and Bouloukos come recommended.
Corfu was our final port of call on the sailing part of our journey. The old town is a wonderful place to stay, and we found fabulous lodgings at Locandiera, a small guest house just above the yacht harbour in the old town.
Our host, Nancy, greeted us with a glass of cold water and a plate of homemade quince spoon sweets. Breakfast is something to look forward to — good espresso coffee, omelettes made to order, homemade filo cheese pie, poached and fresh fruits, cereals, yoghurt, cold cuts, local cheeses, toast and homemade jams.
The rooms have aircon (some places don't so always check — in summer you really need it) and are sparklingly clean, with comfortable beds and good linen. In a town that's famously touristic, this little guesthouse felt wonderfully authentic and offered incredibly good value.
Nearby is a fabulous pie shop, the Starenio Bakery. Greece is rightly famous for its pies — not just the classic spanakopita but all kinds of savoury and sweet pies. At Nancy's recommendation, we also enjoyed a great meal at Rex restaurant — fresh traditional food including the likes of stuffed eggplants, grilled octopus and a crisp salad with grilled graviera cheese.
From Corfu our family hired a car and headed to Ithaca. There is a raw, wild beauty to Ithaca. With few roads and very little infrastructure, it's still off the tourist radar. Vathy is the main town in the south, and here you will find small hotels, supermarkets, shops, restaurants and ATM machines.
There are no highrises and, aside from tourism, fishing and subsistence farming, the only commercial enterprise is the small Ithaca's Poem cheese factory, established recently to process milk from the island's sheep and goat farmers. The creamy feta, which comes in various flavours, and a harder yellow cheese known as graviera, which is also matured into a type of parmesan, are amazing — salty, sweet and nutty.
Once you get out of Vathy you can feel the years peel away. Two roads take you north — both are high, extremely narrow and winding, and offer spectacular panoramas. One is etched into the steep cliff-face of the west coast, while the other runs even higher through the middle of the island and passes the tiny hamlet of Anogi. If you go via Anogi, stop at the old church with beautiful painted icons inside. Ask for the key at the restaurant next door, then relax over a delicious lunch of simple fare cooked by owner Sophie and her daughter — grilled sardines, pies of wild greens and herbs, moussaka and fresh salads.
About 25 minutes' drive north of Vathy is the island's second biggest town, Stravos. Around the square you'll find a couple of mini-markets, two butchers, a good bakery, a clutch of restaurants and one of only two ATM machines outside Vathy (both were out of order for an entire week during our visit — the locals just shrug and say, "It's Greece").
From here you can head up to the village of Exogi to see the monastery, or take the road down to the sea and the little harbour of Frikes. Rementzo restaurant on the corner has fresh, delicious food and the owner Poppy spent much of her youth in Australia (many people from this island emigrated to Australia after the 1953 earthquake), so the food is more eclectic than your average Greek restaurant, with gluten-free, vegan and vegetarian options.
Turn right from Frikes and the drive takes you about 5km around the coast to Kioni, a popular bay for the yacht-charter crowd. Along the way you pass three pretty little coves that offer great swimming. At the top of the hill, just before you come into picturesque Kioni is a tiny shop where you can enjoy traditional Greek baking and a coffee. In Kioni village, there is a little cafe opposite the mini mart where you can sit outside, drink a nice coffee and watch the world go by.
Drive on through the narrowest of lanes towards the sea then take a right around the bay for good swimming and kantina fare of souvlaki, crispy squid, Greek salad and chips. Kioni has lots of restaurants — book a table on the hill at Mills restaurant for a breeze and a view and the freshest local food.
During our stay we rented a fabulous Airbnb called Ionian Breeze, which looked out over the sea in a little village near Stavros. Each morning a little van would come by with fresh bread, and later in the day another would offer fruit and vegetables. In the early evenings the tinkle of sheep bells filled the air as the local shepherd moved his flock to graze under the olive trees.
One day, our 80-year-old neighbour, Evangelia, hearing we were curious about local food culture, cooked us an amazing meal of baked lamb and potatoes in a traditional Ithacan clay oven.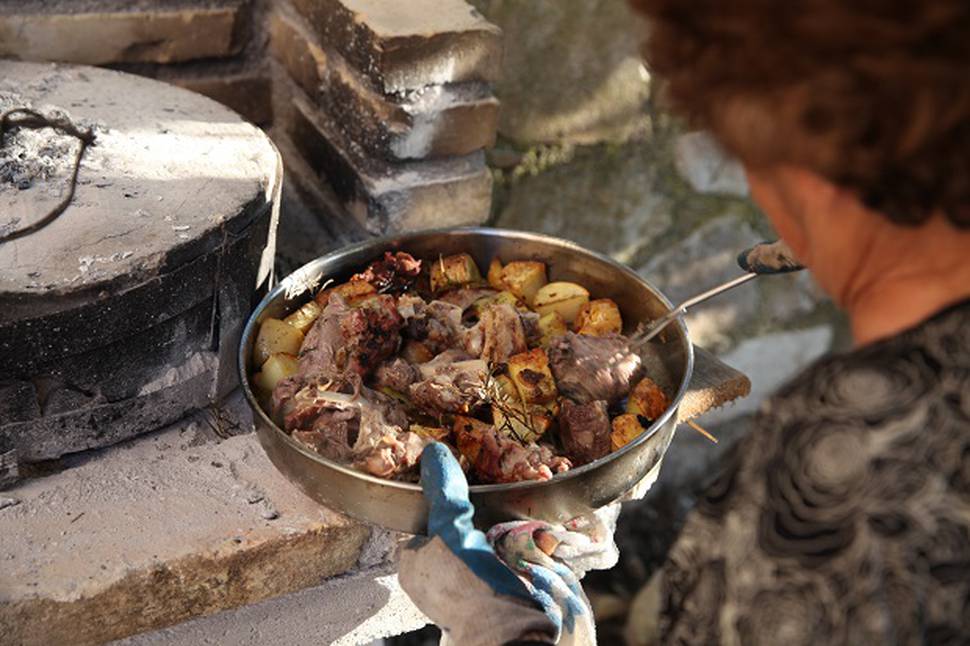 In Ithaca there is a sense of life going on much as it has for centuries. As you wander old paths and clamber over ancient terraces, taking in the scents of wild sage and pine and the astonishing beauty of nature in this untamed place, you find yourself thinking about Homer and his stories and poems, Odysseus, probably real, possibly imagined, and the intertwining of legend and history that is so very Greek.
Nearly 3000 years ago all that brilliant thinking was created out of the simplest existence.
IF YOU GO
Getting there: Qatar Airways flies from Auckland to Athens, via Doha.