With the Six Nations currently in full swing, another winter rugby tournament has already been settled. The Tournoi des Six Stations, played on snow pitches in French Alpine resorts, was won at the end of February by a rugby sevens team representing the hosts Châtel, captained by former French winger, Christophe Dominici, and featuring ex-England fly half, Olly Barkley, and World Cup winner, Iain Balshaw.
This was the fifth year the week-long tour has run, visiting Val Thorens, Les Menuires, Valmorel, Les Contamines and La Clusaz with six teams of rugby legends and amateurs playing each other in round-robin form before the final play-offs based on league position.
The idea for the tournament came when retired French international player, Yann Delaigue, was on a skiing holiday in La Clusaz and started throwing a rugby ball around in the snow outside a bar, gathering a crowd. When one of his friends came up with the "six stations" pun, the format was decided.
Delaigue gathered friends from the rugby world who enjoy winter sports, including Olivier Magne (at one time a promising downhill racer), Serge Betsen (who snowboards), Balshaw, Simon Shaw and Colin Charvis, who have all played in France.
This year, Delaigue invited a larger British contingent to take part, including Lee Mears and Mike Tindall. They all threw themselves into festivities with gusto, burning the candle at both ends (particularly in La Clusaz), with Mears always the keenest to get on the slopes each morning before the evening games.
The final games took place in the late afternoon at Plaine Dranse, a plateau above Châtel in the Portes du Soleil ski area. The Val Thorens team featuring Mears and Charvis lost the wooden-spoon play-off to local rivals Les Menuires, 26-21. Mears had a chance to win the game in the final seconds, with a break for the line.
"After a hand-off and a little shimmy, I saw my name in lights," he said. "But inches before the line I got hit and the ball just squeezed out from under my arm. But what a good game to end a fantastic tournament. The snow was great - I just wish there had been time to go skiing today!"
"It's absolutely heartbreaking to have put in all that training and to come away without a single victory," joked Charvis post-match. When challenged about his 2am training session the night before in Bar Le Bal, La Clusaz, he replied: "Rugby is all about focus and if it takes till 2am to get that focus, you have to stay up till 2am."
Balshaw had to go off injured at half-time in the final. On a treatment table in a chapel-cum-changing room, he explained what happened: "I went to run outside down the wing but took a hit and tore my hamstring. I blame the fact that I didn't have my quota of four glasses of wine at lunchtime before the game - my joints were not correctly lubricated.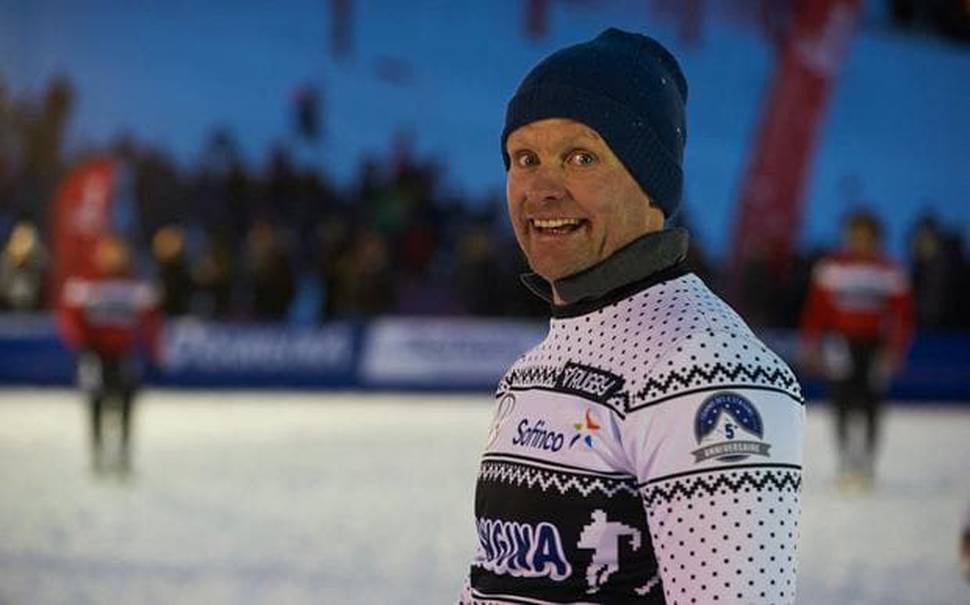 "I was disappointed about missing the rest of the final, but I'm more worried about what my wife will say - I'm supposed to be going straight from here to Val Thorens to ski with the family."
Mike Tindall, appearing for La Clusaz in the play-off for third place, said: "All three games have been really competitive today. There were decent tries, big hits and some good running because the snow was in good shape - the altitude helped with that but, thankfully, it wasn't as hard on the lungs as Val Thorens!"
All the Tournoi players were generous with their time, posing for pictures and chatting to fans. "If you're a skier and a rugby fan, I highly recommend you come to one of the resorts when the Tournoi is on next year," Iain Balshaw concluded. "You meet loads of great people, the games are competitive, and the organisers know how to put on a party."