There are few more quintessentially English experiences than supping a pint of ale in a centuries-old public house, where the walls could tell you stories. London is awash with such places, remarkably so in some respects, given the destruction wreaked by the Great Fire of London, Second World War bombs and post-war planners.
Listed below are some wonderfully historical pubs in the heart of London. Some were around before Shakespeare; others are comparatively recent Victorian additions - but all have a fascinating story behind them.
There are many more options beyond the city centre, and we have highlighted some of the most noteworthy at the bottom of the article.
Central London
1. The Star Tavern
The Star Tavern in Belgravia has seen its share of well-heeled visitors - including Peter O'Toole, Diana Dors and Alexander Korda - since it was built in the early 19th century. However, it is most noted for its role in one of the most colourful - and notorious - episodes in 20th century England. The grand upstairs room was supposedly where the Great Train Robbers hatched their plan to attack the Mail service in 1963. Bruce Reynolds, the ringleader, would reportedly drive up from south-west London in an Aston Martin to flesh out the details of the £2.3m heist. Now, it's a grand, welcoming place with a good selection of Fuller's beers.
6 Belgrave Mews W, SW1X 8HT
www.star-tavern-belgravia.co.uk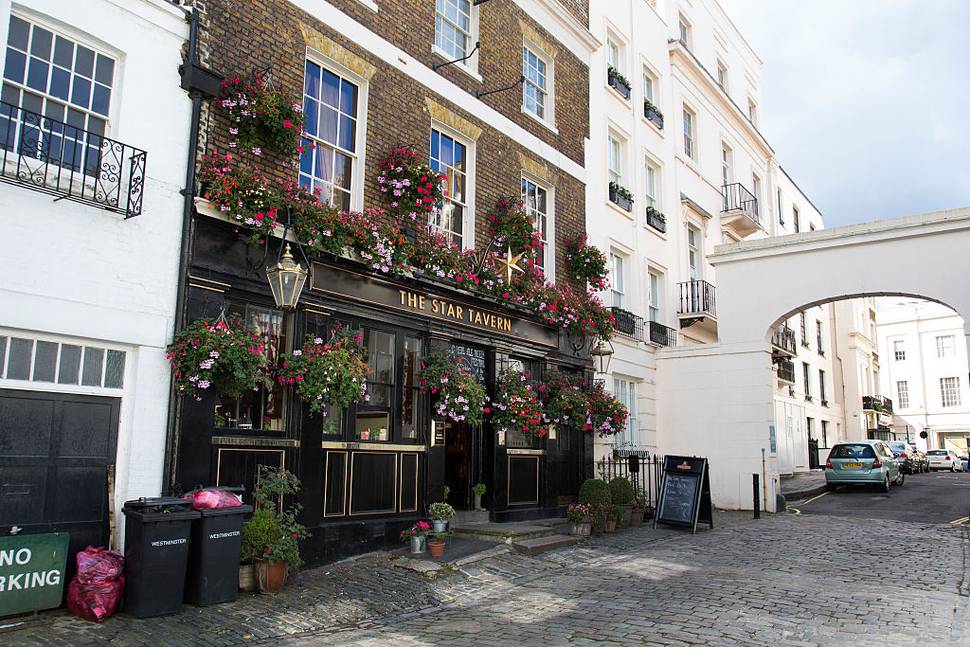 2. The Nag's Head
This wonderful, poky little pub is just a short distance from the shopping district of Harrods and Knightsbridge, but is a completely different world. Just reaching it feels like a discovery, with its location down a quiet little mews. Once you stoop inside, you'll find a cluttered assembly of portraits, bric-a-brac, pewter mugs, and curiosities, and Adnams on tap. This is where you come to get a sense of the public house as it was like centuries ago - and woe betide the person who ignores the mobile phone ban. As befits the old school nature of the place, there doesn't seem to be an official website.
53 Kinnerton St, SW1X 8ED
3. The Grenadier
Built in 1720, the Grenadier was originally used as an officer's mess for the Foot Guards regiment. It became a pub in 1818, and it is rumoured that the Duke of Wellington used to pop in for refreshments. Some also say it is haunted by the ghost of a former soldier who was murdered after cheating in a game of cards. In more recent years, Madonna chose to come here for a post-gig celebration, and the pub's cosy interior remains the haunt of many a socialite looking for a traditional English pint and pub lunch.
18 Wilton Row, SW1X 7NR
www.taylor-walker.co.uk/pub/grenadier-belgrave-square/c0800/
4. The French House, Soho
This Soho institution has played a strong historical role, although as the name suggests, its influence has been felt more on the other side of the Channel. Ironically, the first known landlord was a German, Herr Schmidt, but he was deported after the outbreak of the First World War. During the Second World War, the pub was used as a meeting place for members of the French Resistance, including General de Gaulle. Later, its bohemian clientele included journalist Jeffrey Bernard, and Suggs from the band Madness. The pub retains a distinctly Gallic flavour today, serving alcohol in French measures. Traditionalists should approve of the absence of a television and its mobile phone ban.
49 Dean St, W1D 5BG
www.frenchhousesoho.com
5. The Dog and Duck, Soho
Another well-known Soho watering hole with great literary associations, the Dog and Duck was where George Orwell used to drink. It has an ornate Victorian interior - the pub is Grade-II listed and noted for its lavish tiling and grand mirrors. In its previous incarnation on the same site (the current pub was built in 1897), John Constable and Dante Gabriel Rossetti were apparently regulars, and the owners boast of a visit from Madonna: clearly the singer has good taste in traditional English pubs.
18 Bateman Street, London, W1D 3AJ
www.nicholsonspubs.co.uk/thedogandducksoholondon