In Vietnam, Eli Orzessek finds valuable booty, friends to help him navigate the bustling cities, crazy nights out and confronting relics of war.
If I've learned one thing through group travel it's that as long as we're not playing sport — or talking about it — Kiwis and Aussies get along like a house on fire.
Two days into Contiki's Vietnam Highlights tour I lost my Eftpos card to a machine at the airport in Da Nang. I grabbed my cash and ran, in the sweltering humidity, to catch up with my group as they boarded the bus. Little did I know, in this part of the world, you get your cash before your card and I didn't notice mine was gone until 6pm that night.
The next morning, after a sleepless night of beeping scooters, I was sweating on the bus again, wearing a hat I'd bought in Ho Chi Minh City that simply said "F$@k Life". Despite being on a bucket list-type holiday, I'd been culture shocked from the hectic pace of the city and rattled by the lost cash card. I wasn't having the easiest time.
"Eli, don't be sad," exclaimed one half of a couple from Perth. "We're gonna get you wankered tonight!"
And that's exactly what happened that night in Nha Trang, a strange coastal resort town with more Russians than Vietnamese.
After dining at a restaurant on the beach accompanied by several of the finest extra-strong cocktails, a few of us grabbed some cheap local beers and hit the sand. Under the lights of the gondola made up of Eiffel Tower replicas that stretches across the water, I bonded with the Aussies and a couple of Americans, one of whom was a second-generation Vietnamese guy whose parents had left for the States in the 70s.
By the time we stumbled back to our hotel at 3am, you could say I was "wankered" — and was definitely over the loss of my card.
I'd never considered myself to be the kind of person to embark on a bold journey with a big group of strangers. As an uptight introvert, my nerves only increased as the tour approached — and everyone would get this look on their faces as soon as I said the word "Contiki".
Advice ranged from "prepare your liver" to "pack lots of condoms" and I can tell you, it didn't really help with the nerves.
However, one day alone making bad yet interesting decisions in Ho Chi Minh City left me yearning for the security that comes with travelling as a group. When you're alone, you might just do the kinds of ill-informed things I do, like jumping on the back of some guy's bike for an informal tour that probably cost more than it should've — although this is Vietnam, so it still wasn't much in the grand scheme of things.
And hey, without ill-advised solo traveller behaviour at the start of my journey, I would've missed out on a lot of things I wouldn't otherwise have seen. We wove through the famously hectic traffic, smoking cigarettes, one scooter in a sea of many more going through an underground tunnel under the Mekong.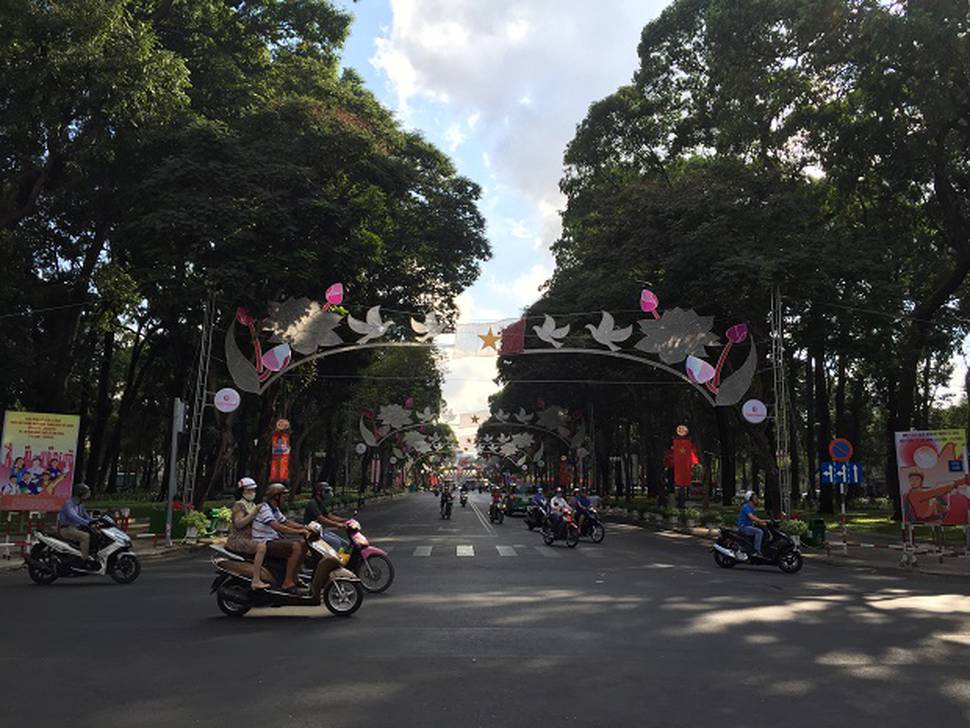 We passed an ominous looking hospital for tropical diseases, stopped by the markets and a couple of temples, then continued on to the slightly disturbing part of our tour: the American Markets, where you'll find a huge range of discarded US Army gear from the Vietnam War.
I hold up a Zippo lighter engraved with a sexy lady and ask my guide somewhat naively, "so the guy who owned this is dead right?"
"This one's from Hamburger Hill, near where I am from in Hanoi," he says with a grin. "That's where we killed the Americans."
The strangest thing was, the place was full of Americans, strapping young dudes wearing communist kitsch T-shirts, who probably would've been drafted to fight there if they'd been born a few decades earlier.
By the time I returned to the Vien Dong Hotel drenched in sweat and clutching an egg banh mi and slightly out of pocket, I was ready to join the group. We were all meeting for the first time that evening in the lobby and there was that slightly awkward air that I remembered from the beginning of school camp. Much like school camp, I was on my own.
But I came to find that although most had come with friends or partners, I wasn't the only solo traveller in the group. One American woman was closer to my age (at the 30s end of the scale), a veritable Contiki veteran with many trips under her belt.
Our tour manager, Lisa, turned out to be a New Zealander, living her dream leading tours through Southeast Asia, and the familiar accent was comforting to hear on that first day.
By the end of the first evening, I'd made a few friends — in fact, that couple from Perth who would later get me wankered were among my first mates on the trip.
Our first day together in Ho Chi Minh City kicked off with a traumatic visit to the War Remnants Museum, which Lisa had warned us could be "confronting" — particularly for the Americans. Despite having worked in news before, nothing could prepare me for the horrific images that lay within — children inside the museum were looking at pictures of children mutilated during the war. Strangely, the gift shop sold a variety of posters of American movies.
While the Contiki tour manager's role is not to be a guide — locals are hired to show us around each area — they fill an important role in keeping everyone happy and together while on the road and are there to support you if you're having a hard time with anything.
It's something you come to appreciate while touring a country like Vietnam, which has been through some serious trauma in the not-so-distant past.
On from Ho Chi Minh, we were on the road to a chaotic domestic airport to head to Da Nang — where the infamous Eftpos incident occurred — before driving up to Hoi An for tailored clothing and then on to Hue, following the famous Hai Van Mountain Pass road driven on Top Gear.
In-between all these destinations were some pretty crazy nights out — of course there was the night of getting wankered on the beach, but another highlight was a boat tour around Nha Trang, with plenty more of that cheap local beer.
Known only as Funky Monkey, our host was a permanently shirtless Vietnamese dude with a large tattoo of a gorilla emblazoned across his chest.
Together with a couple of friends, a beaten-up drum kit and an electric guitar, they became the "Funky Monkey Boy Band", apparently Vietnam's most popular boy band — and when they perform a few raucous local numbers, you could almost believe it.
The band banged out an inspired selection of songs relating to which countries all the tourists on board came from — Gangnam Style for the Koreans, Wonderwall for the Brits and oddly, Backstreet Boys for the Americans. While I was expecting to hear Royals for the Kiwis, the band managed to pull out a pretty decent haka. Maybe Lorde hasn't quite hit Vietnam yet.
When pulled up to perform with the band, I and the other Kiwi on board gave a pretty poor performance. I'll be honest — I was angsting over cultural protocols and things like that — poorly-executed hakas performed by drunk, white New Zealanders overseas tend to make me cringe. And I don't really know the moves.
Luckily for us, our manager Lisa, who'd clearly had to do this a few times before, stepped in and saved the day — a theme that would continue during our 10 days on the road.
Music seemed to be a feature — one of Contiki's trademarks is the "day song", a tune chosen by the tour manager which plays on the bus every morning. Our song was Pitbull's Time of Our Lives and, while I'm a big fan of his Miami Grill restaurant franchise, I wasn't too keen on hearing him every day. But there's a point to this — your song is rammed into your brain so much, that if you happen to hear it again when you're back to your boring life, you'll be transported back to your Contiki experience.
I wasn't sure I would ever hear Time of Our Lives again — I'd never even heard it in the first place. But one afternoon, many months after I'd returned home from the tour, I heard Ne-Yo's soulful strains singing the chorus drifting into my backyard from my neighbour's house.
And what do you know? A bit of "you know you got the biggest booty in this spot" from ole Pitbull and it was like I was back on that bus, surrounded by that sea of scooters.
CHECKLIST
Further information:
Contiki's
10-day Vietnam Highlights trip takes travellers through Ho Chi Minh City, Nha Trang, Hoi An, Hue, Hanoi, Halong Bay. It includes travel on private coaches, local transport and internal flights and accommodation including a stay with local families and overnight on a private junk boat in Halong Bay. Departures year round. There's a discount of 5 per cent on bookings before March 23. Phone: 0508 CONTIKI.