As summer approaches and thoughts turn to homegrown holidays, Eveline Harvey finds magic above and below ground in Waitomo.
It's not summer but a squally spring weekend in the middle of the school holidays when we join the slow roll of Friday traffic heading south. Yet as we weave through the darkening landscape of well-watered Waikato fields, a long-forgotten passage from Shakespeare's A Midsummer Night's Dream suddenly pops into my head:
I do wander everywhere, Swifter than the moon's sphere; And I serve the fairy queen, To dew her orbs upon the green.
The lines are spoken by a fairy, who's telling mischievous sprite Puck the lengths she's been going to prettying up the place for her queen, Titania. And whether you believe in fairies or not, there's no denying the sense of magic you encounter on a visit to Waitomo.
We wake to a light drizzle the following morning and head up the road to Ruakuri Cave. The longest of the area's guided underground tours, Ruakuri exceeds all expectations from the moment we shuffle inside and find ourselves standing at the top of a 15m-high spiral. As we peer down, the levels are illuminated, showing us the path we'll be taking to enter the bowels of the cave. It's all our 3-year-old, Bryn, can do to stop himself from sprinting full tilt into the depths, but he remembers the briefing we've given him not two minutes earlier — "no running, no shouting, no touching the rock formations" — and manages to restrain himself.
This is an excellent tour for families as the groups are kept small and there's plenty of time to ask questions of the guides. It's also wheelchair- and stroller-friendly: our younger son, Luke, takes the darkness as a hint it's time to nap and dozes for the entire hour and a half we're underground.
Guide Beth explains the glow worms we're about to see are the larvae of the fungus gnat. But if the lights they produce are pretty, the process to get to that point is as competitive as you'll find anywhere in the animal kingdom. A female gnat lays clusters of up to 200 eggs before she dies but the first to hatch has a distinct advantage, feasting on the only food source it can readily access — its non-hatched siblings — to get the energy for its first glow.
Bryn seems equal parts aghast and enchanted at this prospect — "Mummy, they eat their brothers and sisters!" — so thankfully Beth has another gem of information up her sleeve with which to distract him . . . the distinctive blue glow the larvae emit is actually nothing more glamorous than their poo. Cannibalistic worms that dangle fishing lines to catch prey and secrete bioluminescent faeces? What little boy wouldn't love these creatures!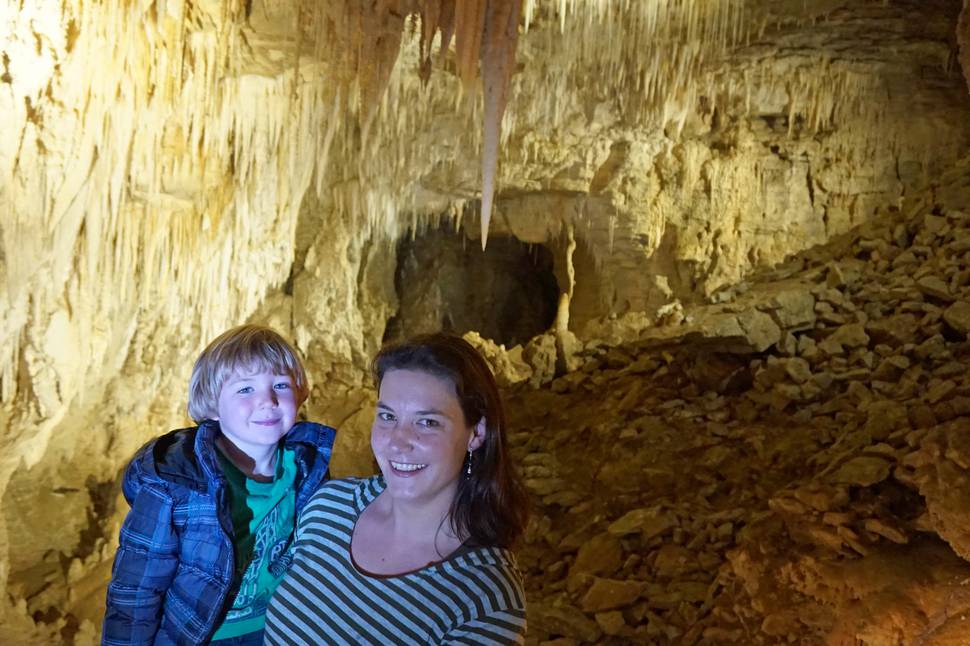 There's something to be said for witnessing your child's first reaction to something as miraculous as these otherworldly pin pricks of light deep underground. I see the wonder on his face as he gazes up at the tiny sparkles and the glistening threads that hang beneath them, fringing the cave wall.
See stalactites and stalagmites, listen to the sound of rushing waterfalls and discover how glow worms produce their signature light on a tour of this fascinating cave in the Waitomo District.
It's not just about the glow worms in Ruakuri though. There are stalactites and stalagmites of course, but we also have rocks that resemble cauliflower pointed out to us and are advised to look out for them should we ever find ourselves lost in a cave. This formation occurs if there's fresh air in the vicinity to dry out the limestone.
"If you find cave coral, you're near an exit," says Beth. "Whether you can fit through the exit or not is a different story, but you're close to an exit."
Luckily, the way out of Ruakuri is straightforward and we gradually make our way back to the surface, blinking a little to readjust to the natural light outside.
After a bite to eat, we join a tour through Waitomo Cave itself. This experience is more condensed and the numbers passing through are much greater (as many as 3500 people a day visit in the summer peak season). We descend to the cavern known as the cathedral, in recognition of its acoustic properties. There's no path for strollers in this cave, so Luke has been transferred to the front pack. Many people have sung in the cathedral over the years and our guide is looking for a volunteer to join their ranks. No one seems keen except Luke, who begins squawking. In an effort to keep him quiet I find myself offering a rendition of Pokarekare Ana to the bunch of strangers gathered in the dimly-lit cave. A few even join in, for which I'm grateful.
Unsurprisingly, the grand finale of this tour belongs to the glow worms. A hush descends as we clamber aboard the boats which will float us back out of the cave. As we push away from the platform we're instructed to look up and our eyes take in the improbably wonderful constellations of blue light adorning the roof. It's not hard to imagine the awe the first people to discover the grotto's secret back in the 1800s must have felt . . . more than 125 years on it's still a phenomenal sight.
Back above ground that evening, I watch my own two impish Pucks tearing around the lawn of Waitomo's TOP 10 Holiday Park. It's still overcast but the cold, wet weather that's been battering the country for weeks seems finally to be loosening its grip. The late first buds of the season are bursting all over the place, though the wind has seen to it there's a carpet of pink petals scattered around the base of the cherry blossom tree . . . or perhaps they're rubies, placed as favours for a hidden fairy queen. Anything seems possible in this spellbinding neck of the woods.
While you're there
Where to stay:
Waitomo's TOP 10 Holiday Park is the perfect place for families with a range of accommodation options. Centrally located in Waitomo Village, it has a playground with trampoline, pool and spa.
Where to eat:
Waitomo Homestead, on SH3 just before the turn-off to Waitomo Village, is a great place to grab a bite. There's also plenty of space for kids to run around outside, with an old tractor to clamber on and lambs, calves and chickens wandering the adjoining orchard.
For good pub grub, head to Curly's Bar in Waitomo Village. The fish and chips met with approval, as did the mussels.
What to do:
Ruakuri and Waitomo caves are each fascinating but seeing them both on one trip will add to your experience immeasurably. Don't forget comfortable walking shoes and a warm jacket.
Also in the area:
The Ruakuri Bush Walk passes through small caves and if you visit at night you'll see yet more glow worms lining the track. Other options require a drive west along the windy road to the coast. Take it slowly if the kids are prone to carsickness but there are impressive sights, namely the Mangapohue Natural Bridge and the thundering Marokopa Falls, which reveal themselves after a short walk through forest thick with nikau. Look out too for that most Kiwi of landmarks — a fence covered in tramping boots!