There's much more to Europe than the famous attractions we've all heard about
If you're thinking Europe is just the land of cathedrals and art galleries, think again. With more than 580 million international tourists dropping by every year to see the continent's most iconic landmarks, it's worth taking a look at some of the more bizarre places or events flying under the radar.
Topdeck ambassador and the writer behind popular travel blog Polkadot Passport, Nicola Easterby, has shared her pick of fun things you've probably never considered doing in Europe.
1. Bathe in Czech beer
Prague is well known for its beautiful gothic architecture - pristine, elegant and picturesque all year round. The crown jewel is the Czech Republic, a magical city of cobbled streets and a hundred spires.
But if you're more interested in the doing than the seeing, this fact will delight you: citizens in the Czech Republic consume more beer per head than any other country.
And what better way to soak in the Czech culture than to treat yourself and your ale-ments to the finest beer in Prague at a beer spa.
Dating back to the Middle Ages, beer spas allow visitors to soak themselves in a mixture of hops, yeast and vitamin B - and just in case you're tempted to take a sip of your bath, visitors can enjoy the experience while drinking an unlimited supply of quality beers.
2. Throw hammers for love
They say love hits you when you least expect it, and in the city of Porto, Portugal, it might come in the form of a plastic hammer to the head during the Festa de São João, the country's very own love-themed holiday.
Drop in on June 23 each year, and you'll be dazzled by a flamboyant display of midsummer madness - one giant party including lavish feasts and dancing in the streets.
The main activity is the re-creation of an ancient pagan courting ritual - the flirtatious attacking of crushes and other targets of affection with plastic hammers.
Since this "attack" is done out of love (or at least lust), the strike is usually gentle - but some still put some force into it.
It's one of the most underrated street parties in Europe but one well worth the revelry. Just remember not to bring a real hammer to this quirky festival.
3. Endure the world's most haunted places
Remember those childhood daydreams of visiting a magical castle with magnificent rooms, glittering crown jewels, and a rich history? Edinburgh Castle ticks all the boxes and one extra.
It's also rumoured to be one of the most haunted spots in the world.
Standing magnificently atop a hill, this historical fortress is more than 900 years old.
It has been attacked in 26 different sieges, and its underground cells - believed to have sealed in plague victims when the castle literally built itself over Edinburgh's old town - are the site of many uncounted deaths.
It's no wonder locals cry ghost.
Those on the quest for a gruesome tale and an adventure to boast about need to bump up this castle on their travel bucket list.
4. Become a piece of art
Europe may be known for its richness in artworks at least a couple of centuries old, but if you're a little over the oily portraits of royal families or crusty frescoes of yet another Biblical reference, here's the place for you.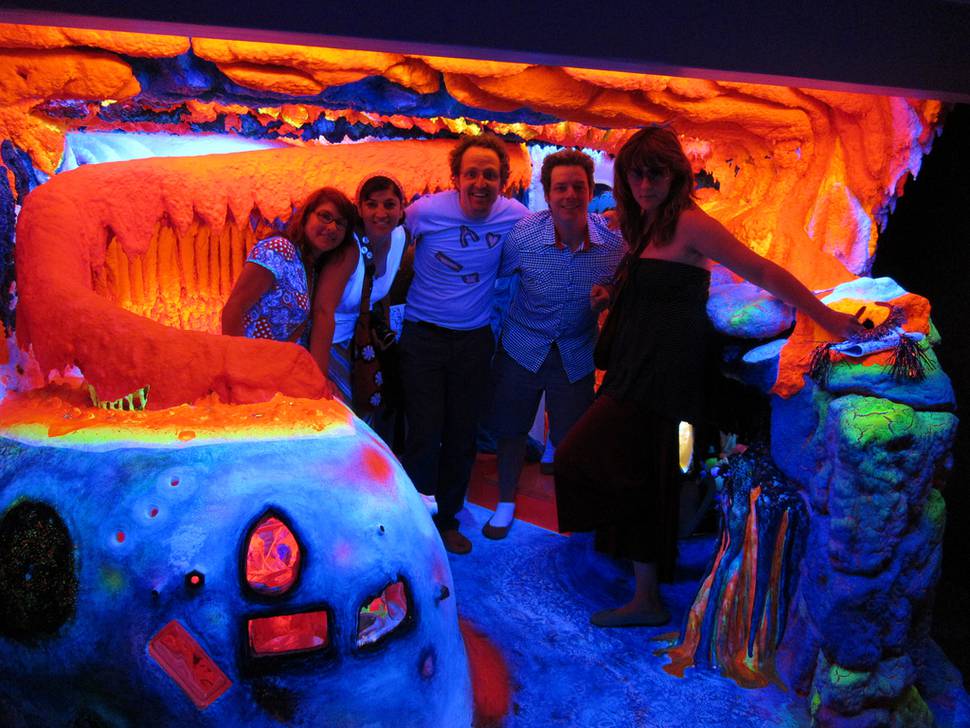 Swap your shoes for slippers and descend the staircase into the world's first and only museum for fluorescent art in Amsterdam.
Affectionately named Electric Ladyland, this is the place where visitors stop merely viewing and engage with their electrified environment where even common grey stones are transformed into glowing specimens of art.
If you've been dreading your next European art museum tour, prepare to be mind-blown.
5. Go snorkelling in a muddy bog
Before you think this is a joke, you have to know that bog snorkelling is considered a serious sport in Wales.
Every August since 1985, Llanwrtyd Wells, the smallest town in Britain, has hosted the World Bog Snorkelling Championship, where men and women compete in snorkelling across water-filled trenches cut through a bog.
Conventional swimming strokes are banned, and competitors are made to rely on sheer flipper strength alone.
It's an eyebrow-raising experience to say the least. Drop by the town earlier in June and you could go home telling friends you also competed in their annual Man versus Horse Marathon.
6. Join a sausage tossing festival
The odd tradition of sausage tossing in the city of Rapperswil in Switzerland dates back centuries. Back in 1350, compassionate citizens would serve food to hungry children through the windows of their houses.
Fast-forward to the 21st century, and the city has preserved the practice as an annual festival.
Eager children take to the streets and gather in the town's main square.
At exactly 3.15pm, the town hall windows roll down to much fanfare and a council member ambushes the children by throwing out an avalanche of sausages, bread rolls and sweets.
It's a fabulous feast for the senses!
7. Catch the Hogwarts Express
For the avid Harry Potter fans who just know their letter to Hogwarts went missing at the post office, here's the chance to experience catching the Hogwarts Express.
Used throughout the epic movie franchise was Scotland's Westland Highland Line, whose steam train The Jacobite runs through stunning Highland valleys from Fort Williams to Mallaig.
Hop on board for a chance to explore Scotland's West Coast and the rich views will give you the perfect answer to why this train was chosen by movie producers.
8. Sample 2500 different kinds of beer
Brussels' Delirium Cafe caters to the extra picky - on tap alone, they offer 2500 different kinds of beer at affordable prices so there's no such thing as not finding a drink you like.
Beer lovers all across the globe come here for their sample, whether it's green coloured cactus beer, the infamous cherry-flavoured Delirium Red or a dark oatmeal stout.
Whatever you pick off the menu, this popular hangout guarantees you unbelievably cheap prices and enough options to have a very merry time.