A New Zealand man has been accused of walking through no-go areas of the United States' biggest hot spring, in Yellowstone National Park, to take photos and videos to put online.
Kiwi Hamish McNab Campbell Cross has been identified by US authorities as one of four men who were videoed and photographed trespassing and damaging the Grand Prismatic Spring in Yellowstone National Park, Wyoming, on May 14.
The group of four men are identified as former Thames High School pupil Mr Cross, Charles Ryker Gamble, Alexey Andriyovych Lyakh and Justis Cooper Price-Brown.
Yellowstone distributes literature to visitors and posts signs around geothermal features warning people not to stray off boardwalks and paths.
A criminal complaint accuses Mr Cross and his friends of leaving an established boardwalk and stepping on to a geothermal feature.
A video, now removed from social media, allegedly showed the group reading a sign explaining why people should not leave the path, before leaving the path.
Each man faces up to a $5000 fine and six months in jail, local media reported.
Yellowstone National Park rangers believe the men have returned to Canada, where they are affiliated with a clothing line promoted through social media group High on Life Sunday Fundayz.
"It looks like from their social media feed that they were already back in Canada when the warrants were issued, but it is just really hard to say," Yellowstone spokeswoman Charissa Reid said last week.
Mr Cross posted on Facebook the day the criminal complaint was filed by park rangers on May 16, that he was on his way to Vancouver, Canada, but would head back to the US (Seattle) on May 20.
At that stage, he had not been identified as one of the group who had trespassed on to the hot spring -- and a criminal complaint was not made against Mr Cross until this week.
As of last night he had not responded to questions about the incident from the Herald.
The High on Life Sunday Fundayz group initially posted pictures and video of their trek on the Grand Prismatic Spring on social media, but all images that showed the men were later deleted.
Later, they posted an apology on its website and social networks, expressing regret for their actions and offering to donate up to $5000 to the park.
The posted apology said the group made a "wrong decision" when they sought to take pictures and video of the Grand Prismatic Spring, which is 50m deep and about 70C.
"When standing at the face of such natural wonder, we were drawn to it. In an attempt to get the perfect shot, we acted in a way that doesn't reflect our respect for the environment we were trying to capture," the group wrote on Facebook.
Witnesses reported the incident to rangers and provided pictures and video.
Last week, Ms Reid said officials were still assessing what damage may have been caused by the men walking on to the hot spring.
Hot springs have sensitive wet, soft bacterial mats that play a role in the colours associated with the spring, she said.
"When people walk on them it actually makes white footprints in the bacterial mat," Ms Reid said. "Not only does it damage the bacterial mat but it also means that other people may be tempted to walk the same path."
A petition has been set up asking the group's corporate sponsors to stop backing "the guys who left the path" -- attracting more than 21,000 signatures.
The Grand Prismatic Spring is named for its red, orange, yellow, green and blue colouration.
The colours are a result of microscopic organisms that grow in the water.
It is the third largest hot spring in the world, after New Zealand's Waimangu Cauldron and Boiling Lake in Dominica.
Thetrespassing happened just days after a Yellowstone visitor violated park rules by loading a bison calf into his vehicle out of concern it needed help.
The calf had to be euthanised because the mother and herd would not take it back and it would have died on its own.
And last year, five visitors were seriously injured on separate occasions after getting too close to bison.
In one case, a bison flipped a woman into the air as she posed for a selfie with the massive beast.
Ms Reid said people wanting to get their pictures shared on social media were "a pretty big problem".
John Powell, spokesman for the US Attorney's Office in Cheyenne, Wyoming, said people taking pictures of themselves violating park rules and posting them on social media could be a "double-edged sword" because others, including rangers, see it.
"It comes back to haunt you," Mr Powell said.
This is not the first time Mr Cross, or members of the group have been criticised for their social media posts.
In April the group shared photos of themselves driving and wakeboarding on the Bonneville Salt Flats in Utah, which can easily be damaged by vehicles when covered by water.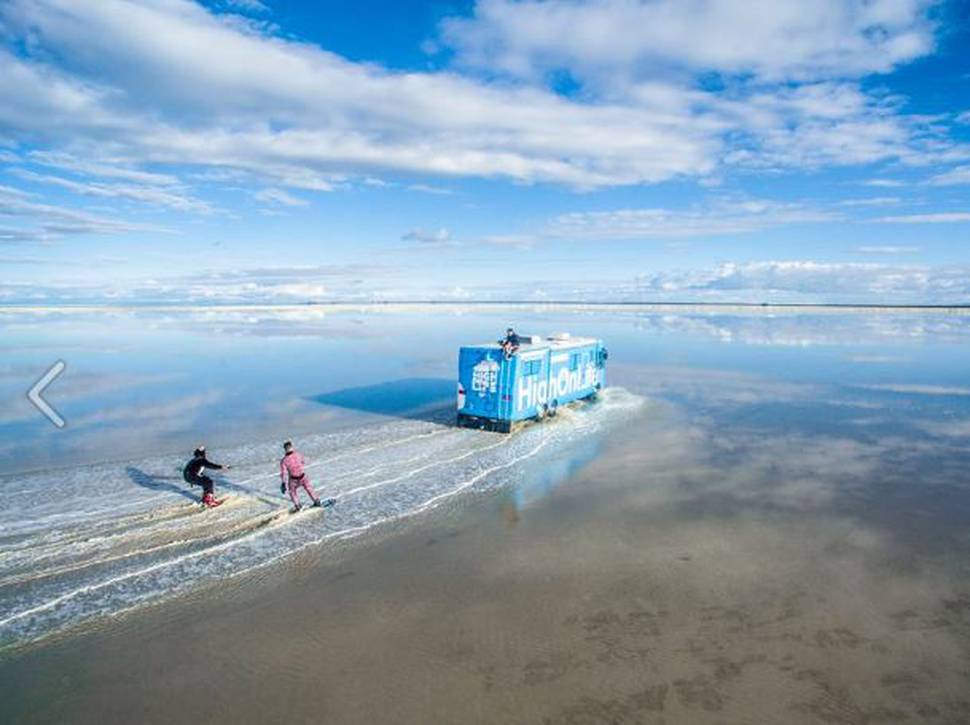 In 2013 Mr Lyakh posted a photo of himself and a friend in a roped off area at Peru's Machu Picchu.
And a 2012 photo showed Mr Cross climbing on the Holocaust Memorial in Berlin.
- Additional reporting AP