In-room bars, king-sized beds and a seven-storey staircase lashed in marble. The decision to stay at the Rosewood London hotel should not be taken lightly.
Housed inside the former Chancery Court building in High Holborn, the five-star venue will taint almost every other hotel experience in your past, present and future.
Justin Bieber once stayed here - and we're fairly sure he would agree.
for a taste of the high life at the luxurious hotel, which is currently on the market for £450 million ($955 million).
Turning into the forecourt is like pulling into another world. Red London buses and the hum of the Central Line faded into the distance as I was welcomed by smartly dressed staff members in jackets designed by Nicholas Oakwell standing in a courtyard where the hotel's blacked-out super cars were parked up.
Guided in through a set of double doors, I stepped into the lobby with my boyfriend, Sam. It is bedecked with enormous rose bronze frames filled with panels of glass that lead to the front desk.
We both instantly agreed that it's easy to see why the Rosewood is rated 7th out of 1,064 hotels in London on TripAdvisor - what is more difficult to grasp is the fact that it's not higher.
After a swift check-in and a meet and greet with several members of staff, we were led up to our room. Room definitely being the wrong word to describe it.
Walking past what is without a doubt the most grand part of the hotel - a Renaissance-style seven-storey grand staircase - we were lucky enough to be given the keys to one of the venue's 11 signature suites, the Pearl Suite - which starts at £2,500 ($5306) a night.
The four-roomed apartment is housed with everything anyone would ever need. You could quite easily live here for the rest of your life.
From a living room with a private bar filled with Dom Pérignon, to Czech & Speake toiletries and a television in the bath - this was no home from home.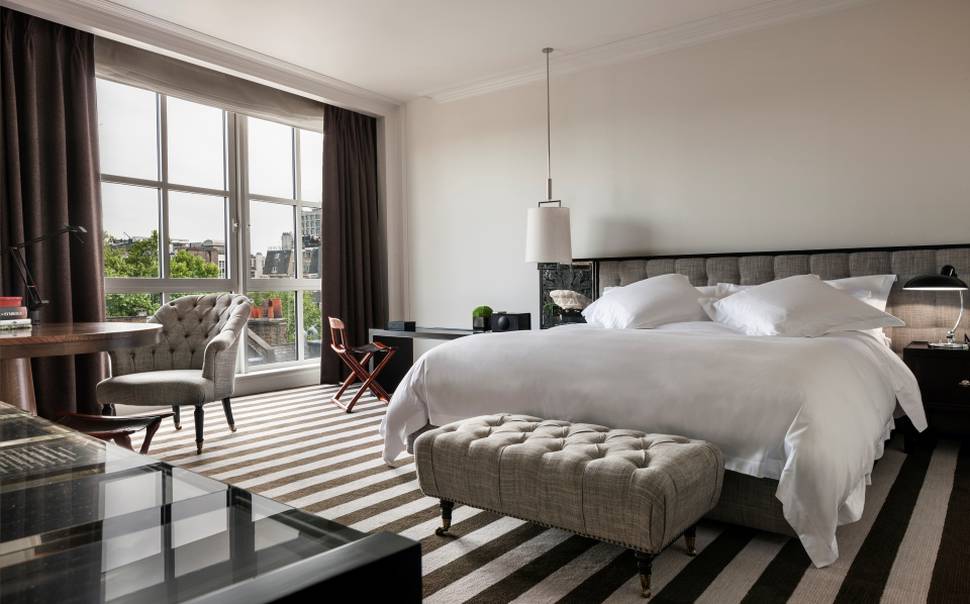 The full induction of the room by our butler, yes all suites come with one, took a fair bit of time to say the least.
Before leaving the room she asked if we would like help unpacking our bag, to which we quickly - and politely - declined... after all, it wasn't custom designer clothing in there.
It was easy to see why the hotel had such a steep asking price. Wasting no time at all we tucked into complimentary treats and champagne before checking out the other in-room facilities, which included a Geneva Sound System, 52-inch LED television and even a walk-in wardrobe.
The hotel opened in October 2013 after an £85 million ($180 million) transformation of a 1914 Edwardian, Grade II-listed building - and surprisingly, the modern venue manages to capture the property's original charm.
It's in a great location, too, situated moments away from Covent Garden, and a stone's throw from rows of ultra-luxury boutiques on Lamb's Conduit Street, the Royal Opera House and hordes of West End theatres.
After unpacking my handful of items into the enormous walk in wardrobe, I selected the longest of the four bath robes hanging beside the walk-in shower and scampered down to the spa for a complimentary massage - another perk that is offered with a suite.
After exiting the elevator one floor early - and ending up outside the dining room entrance in just a layer of cotton - I was ushered into the luxurious Sense spa. The staff ensured me I wasn't the first to get confused with the venue's seven floors.
I was then treated to a 45-minute Swedish massage and refreshing free shot of icy cold raspberry and apple juice in the hotel's breath-taking zen-themed spa, which also boasts facilities including dry heat saunas, amethyst crystal steam rooms and a shimmering gold leaf and teak relaxation lounge.
Heading back to my suite, it was clear why the venue was often graced with the likes of not just Justin Bieber but royalty, movie stars and celebrities including Ellie Goulding.
After a quick shower and a change, I headed to Scarfes Bar - named after renowned British artist and caricaturist Gerald Scarfe - where it became apparent that even in a hotel of this size, the staff made it their job to know your name.
Two glasses of Verve Clicquot were placed at the bar while bartender Charlie, who would have given Tom Cruise a run for his money in 1988 hit Cocktail, showed off his skills and whipped us up a couple of drinks. One gin based, one whiskey.
The artistic surroundings were so nice that it made it difficult to tear ourselves away for dinner in the Holborn Dining Room, a British grand brasserie connected to the Rosewood.
The reclaimed oak-decorated restaurant makes no secret of its pride in using locally sourced ingredients. Each menu is divided into eight sections - bar snacks, cold counter, hot counter, grill, English kitchen, sides, sandwiches and afters.
I have to say, when our starters arrived I was in shock. I have never seen King prawns quite so large... or delicious.
Following the enormous course, which could have been a main if served with a side, I opted for the cod and house fries and Sam enjoyed another large dish in the shape of steak, chips and macaroni cheese.
Finishing the evening with a glass of Clos Du Chateau Puligny-Montrachet (white wine imported from Burgundy, France), we relaxed by the Scarfes Bar fire before calling it a night.
The following morning we were treated to a hearty breakfast that was as remarkable as every other aspect of the stay, before checking out with a heavy heart.
Strolling out of the courtyard and nodding goodbye to the staff there was only one thing left on my mind... where was I going to get £450million from to purchase the Rosewood London hotel?