It's Seaweek this week — what better excuse to get out to some of New Zealand's top snorkelling spots and appreciate the beauty of our marine landscapes.
With the help of Sean Cooper, Manager Marine Ecosystems Team at the Department of Conservation (DoC), we've put together a list of locations that will help you do just that.
DoC's Coastal Gems programme highlights our iconic marine reserves, in order to create awareness of their beauty and the ways people can enjoy them.
With support from Air New Zealand, DoC scientists are undertaking research to help better understand the diversity of these marine environments.
So take the opportunity to see what's under the surface of these amazing snorkelling spots.
Poor Knights Islands Marine Reserve
There's a mind-blowing amount of marine life to see at Poor Knights Island Marine Reserve. Located in Tutukaka, half an hour northeast of Whangarei, it's one of the top 10 diving destinations in the world and comes highly recommended by the late Jacques Cousteau. Under the clear deep waters water, you'll discover kelp sponge gardens and coral fields, home to a great diversity of fish, eels, stingrays, dolphins and other marine animals.
Snorkel through the Blue Mao Mao Arch and see huge schools of blue mao mao in the cool shadows. The reserve is also home to the largest sea cave in the Southern hemisphere, Riko Riko cave. Swim in, sing a tune and listen to the echo.
Cape Rodney-Okakari Point Marine Reserve
Also known as Goat Island, this is the country's oldest marine reserve and it's great for snorkelling. It's a great location for kids to learn to snorkel, as the inshore area of the reef is quite shallow. Be sure to keep an eye out for the huge old snapper that cruise around the southwest corner of the island and in Alphabet Bay, as well as kahawai and kingfish.
There's also a marine discovery centre nearby, with in-depth information on research and marine life in the Hauraki Gulf.
Te Whanganui-A-Hei (Cathedral Cove) Marine Reserve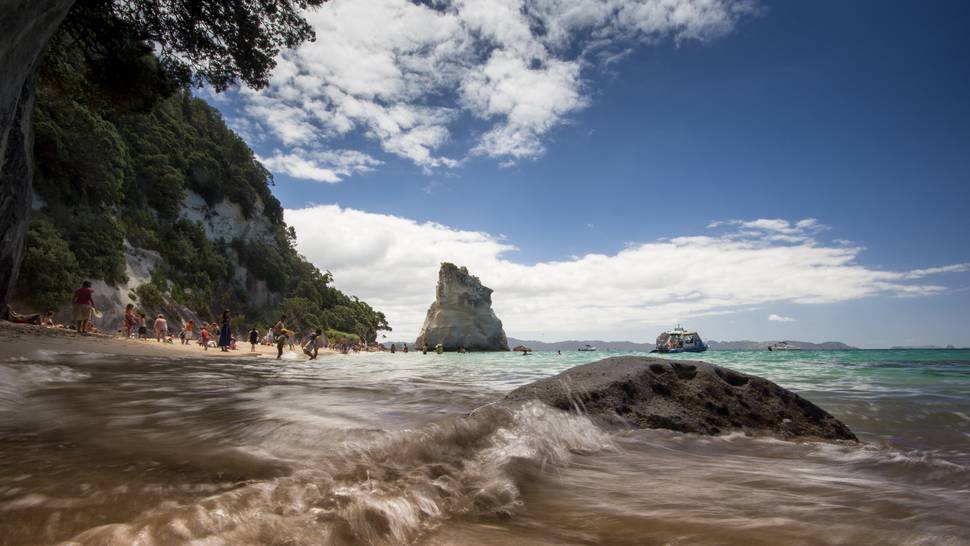 This reserve is accessible by both boat and car, with Hahei the nearest settlement. From Hahei Beach, you can kayak to the reserve, or take the scenic 30-minute walk from the carpark to Cathedral Cove.
The primary snorkelling spot is Gemstone Bay, which has a healthy population of resident fish that can easily be spotted from the surface. While it's accessible from shore, if you have boat access there are many other areas of the reserve to check out that are equally good for snorkelling.
Te Tapuwae o Rongokako Marine Reserve
Take a 15km drive north of Gisborne, along the Pacific Coast Highway, to reach this extremely accessible snorkelling spot. Once you reach the carpark, it's only 50 metres to a massive tidal platform, accessed by crossing a beautiful white sand beach. It's best to visit an hour or two before low tide, when you can walk around the platform and see a vast array of marine biodiversity. There's octopus, eagle rays, brightly coloured triplefins and crayfish. Snorkel around and prepare to be amazed by how friendly the fish are, some triplefins will swim right up to your mask.
Taputeranga Marine Reserve
Located 6km from Wellington's city centre, on the south coast, Taputeranga Marine Reserve provides easy access to marine life and habitats. Over 180 fish species have been recorded here and octopus, rock lobsters, crabs, seahorses, anemones sea sponges, sea squirts and starfish are all common.
Put on your snorkel and wetsuit and complete the Island Bay Snorkel Trail — a great way to get a good look at everything. The best snorkelling is at half to full tide, though on a good day, any tide is rewarding. There's an education centre right on the seaside, if you wish to learn more.
Children can play a mobile game called Habitat the Game by visiting a variety of DoC sites; one is located at Taputeranga Marine Reserve.
Tonga Island Marine Reserve
This reserve runs right alongside one of New Zealand's most popular national parks, the Abel Tasman, famous for its golden sand beaches, intimate coves and great weather.
For the best snorkelling, head to the rocks between Tonga Quarry and Foul Point, where underwater visitors can view tumbled rock and bedrock reefs, with numerous grazing invertebrates. Seaweed is confined to a narrow band along the low water mark, but it makes it easy to see kina and turban shells grazing on the seafloor.
With its sheltered bays, Abel Tasman is the perfect spot for a snorkel. Look out for the beautiful beds of rhodoliths, unattached colourful branching red algae that look a bit like coral.
- nzherald.co.nz