If you're looking for a restful night's sleep, these haunted hotels probably aren't for you.
The Clown Motel, Tonopah, USA
About halfway between Las Vegas and Reno is Tonopah, home to the terrifying Clown Motel. Once a booming goldmine town, now Tonopah is mostly seen as a pitstop. But imagine rocking into town and finding the only place to stay has a lobby filled with hundreds of glassy-eyed clowns that stare deep into your soul.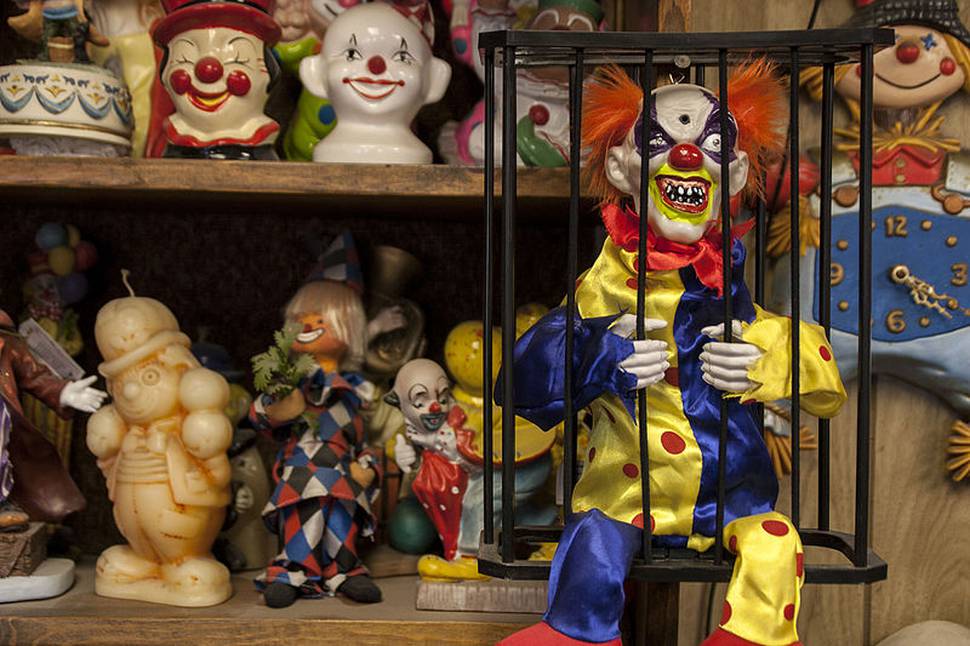 To make matters worse, the motel is right next door to a cemetery full of gold miners who died of the plague. It's like something out of a Stephen King novel.
Grand Hyatt Taipei, Taiwan
Opened in 1990, this luxurious hotel was constructed on top of a World War II prison camp, complete with execution grounds. While it was built, feng shui experts were brought in to place sacred objects around the lobby to ward off any remaining bad spirits.
The top TripAdvisor describes it as a "nice hotel, but haunted" with visitors reporting "strange happenings" in the rooms.
There's even a rumour that Jackie Chan left abruptly after seeing a ghost at the hotel.
Waitomo Caves Hotel, New Zealand
Built in 1908, and extended in 1928, New Zealand's own Waitomo Caves Hotel has a reputation for supernatural activity. Located at a high point near the Waitomo caves, many of which are considered tapu (sacred) by local Maori.
According to Haunted Auckland, one of the ghosts is a Maori princess who was shot after attempting to visit a British soldier she was enamoured with. The hotel itself is built on the site of a British fort.
Herald writer Joanna Mathers stayed there in 2012 and described the experience as "two days of terror".
"My friend woke to find her bed scorching hot, though the night was cold and she had no electric blanket. Strange white lights flickered on the ceiling," she wrote.
"A bath remained boiling to touch, even when half of it was filled with cold water. A black shape whooshed past my bed. So much for a relaxing weekend."
General Manager Richard Howard said guests and staff members have had ghostly encounters. "People have seen a Maori man, and a woman dressed in Victorian clothes. There is also supposedly a child who haunts the place."
Room 12a (there is no room 13 at the hotel) is a particularly active spot and people have reported objects moving and a lamp being lifted off the ground.
However, staff say all paranormal activity is playful and that the hotel has a positive atmosphere.
The Stanley Hotel, Colorado, USA
"All work and no play makes Jack a dull boy" - if you encounter these words while staying at The Stanley, you'll know you're in for some trouble.
This creepy Colorado hotel, constructed in 1909, was inspiration for Steven King's The Shining. He started the novel after an overnight stay in room 217, where a housekeeper was nearly killed by a gas leak in 1911. Since she died in the 50s, doors opening and closing and lights turning on and off have been reported in the room.
However, Room 418 is reportedly the most haunted. Staff say the room is haunted by the ghosts of children and guests have complained about noisy children keeping them up at night - when no children have been staying in the hotel. The ghost of a small child crying out to his nanny has also been spotted on several floors, including by Stephen King himself.
The Marshall House, Savannah, Georgia, USA
This hotel, in Georgia's oldest city, openly markets itself as a haunted hotel. Since the building opened in 1851, it's been used as a hospital three times - once during the Civil War and twice for yellow fever epidemics in the 19th century. As a result, it's collected quite an array of ghostly beings.
Guests have reported seeing taps turning on and off, children running down the hall at night and men in Civil War uniforms. A young man with a severed arm has also been reported by several guests, as he searches for a nurse to reattach it.
Staff maintain a journal to keep record of all the paranormal incidents.
Oatlands Park Hotel, Weybridge, England
During last year's Rugby World Cup, it was reported that the Welsh team had experienced some strange incidents while staying at Oatlands Park Hotel before the quarter-finals. Taulupe Faletau and Dan Lydiate claimed to have seen "a couple of ghosts".
Hotel staff are aware of at least one ghost, the "grey lady" who apparently was a maid who jumped from the bell tower after a lovers' quarrel. She supposedly landed next to room 1313.
The hotel was built on the site of a 16th century palace constructed by King Henry VIII for his wife, Anne of Cleves.
A few boys think they've seen a ghost but I'm not sure they actually have," prop Samson Lee told the Telegraph.
"I think it's best to stay away from room 1313. Some of them reckon they have seen Henry VIII. It has been discussed over food and stuff like that and Dan Lydiate isn't happy about it."
The All Blacks also stayed at Oatlands Park, but made no reports of paranormal activity.
- nzherald.co.nz