Paul Charman claims a summertime cruise of our southern islands can be safe and hugely rewarding.
Everyone capable of doing so should ship aboard a Heritage Expeditions voyage to Snares, Auckland and Campbell Islands.
Reason: While not all of us can spend a lifetime hiking New Zealand's bush and mountain trails, a few good days visiting these southern wonders will produce similar levels of awe and respect.
A 10-day voyage with Heritage earlier this month was my third to the Southern Ocean; I'd sailed there with Heritage in 2014 and also with the Navy last year.
But this one - designed to train aspiring wildlife photographers - was by far the most enjoyable.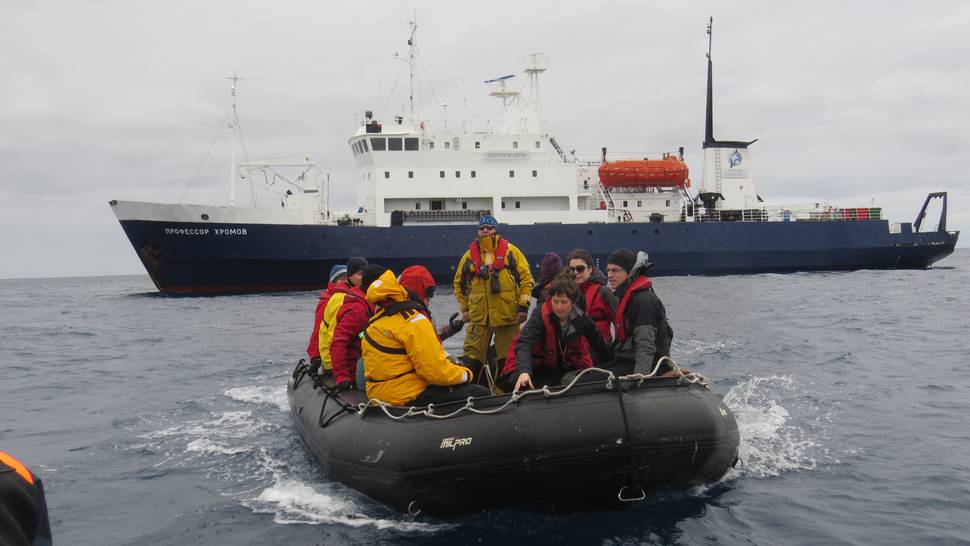 With about 50 passengers aboard a voyage of the Spirit of Enderby, you can get to know everyone.
Interestingly, half a dozen held a doctorate in zoology or botany, or were studying for one.
But passengers you share Zodiacs with, or chat to in bar or dining room aren't all academics.
My voyage boasted a preponderance of internationally known wildlife photographers.
Ship photography tutor, Tui De Roy, shared stories of drift-diving among schooling hammerheads; sitting out a blizzard with emperor penguins in the Antarctic and dangling from ropes in the Peruvian rainforest.
Tui's photographic books are sought after internationally, counting Prince Charles among fans.
This incredible woman, a regular on Heritage voyages, is approachable, fun and hands-on.
And there's little in the way of a hierarchy aboard the Spirit of Enderby.
The general manager of the company, Dave Bowen, covered shifts as a cook, while - as well as lecturing in the evenings - Tui could be found driving Zodiacs and standing in as a wine waiter.
Another familiar face driving Zodiacs, sometimes waiting tables, and overseeing boat safety was renowned Kiwi scientist Martin Cawthorn.
This authority on marine mammals has pioneered measures to protect sea lions from being killed as trawler bi-catch.
I'll remember Martin primarily for hauling me to safety after I stepped off the wrong side of our Zodiac.
Other passengers of note included photographic wizard Ritchie Robinson, a former NZ Herald colleague turned underwater specialist. Ritchie was being dropped off on Enderby Island, on assignment for NZ Geographic.
British wildlife cameraman Mike Potts, a regular collaborator with David Attenborough, signed aboard to see the mighty southern albatross;
Retired international treasurer hunter John Clarke wanted to learn about the famous 1886 wreck of the General Grant . . .
But we were mostly ordinary Kiwis and Aussies, with a love of the outdoors.
Safe sailing
Heritage Expeditions' raison d'être isn't merely to make a profit; it works to get more people involved in conservation.
Every voyage comprises lectures in conservation disciplines, with an emphasis on enjoying these environments.
Heritage provides scholarships to encourage youngsters into conservation roles, and transportation for scientists fighting to save native species.
And if you must voyage the Roaring 40s/Furious 50s/Screaming Sixties this is the kind of ship to do it in.
The 72-metre fully ice-strengthened Spirit of Enderby is "belt and braces strong", built to ply the ferocious Southern Ocean.
Powerful 1500 hp motors to can push her through any swell, and these came 7 metres one night I was aboard.
Russian crew are skilled seafarers and professional: Officers on the bridge don't say much but they're friendly and you get to know them well enough.
Service and meals are great and expert boat handlers (strong young Russian sailors) help you in and out of the Zodiacs.
The emphasis is on safety, as demonstrated by large lifeboat drills. The repetitively-stated key is to hold on to a railing with one hand while you're moving around the ship.
Staying in your bunk is recommended if seas are heavy.
Seasick meds kept me from getting ill and despite a night or two of moderately rough weather I eventually got my seal legs.
Those islands
Steeped in history, New Zealand's Sub-Antarctic islands are desolate and mysterious.
Signs of former inhabitants: explorers, sealers, whalers, coast watchers, farmers and scientists are preserved where possible but it's the animals and plants that make these places special. Nowhere is the argument for eradicating pests so eloquently stated as on pest-free Enderby and Campbell islands.
These "Gardens of Eden", teem with life because we've eliminated pests previously set loose.
High winds, rain, sleet and snow are just around the corner at these latitudes.
I've experienced settled weather on each visit the Sub-Antarctic, but some passengers see bad weather every day. Yet even if that happens at least they'll return with special "explorer's bragging rights".
Magic moments
There are many magic moments on a voyage such as this, I'll just share one:
When our Zodiac entered a huge sea cave at the Snares, passenger Maria McHaffie used
the echo-chamber effect to sing "Hine e Hine" - TVNZ's old "Goodnight Kiwi Song" .
Take it from me, this wonderful song and Maria's beautiful trained voice brought wide smiles and a few happy tears.