Linda Moser's nuptials are all shades of green, as she braves the elements - and aunties - of Ireland.
We did it all backwards and decided not to tell anyone until it was too late. I suppose we did it to save ourselves from being cajoled, coerced and bullied into someone else's version of conventionalism. Far below, patchwork quilt greens in every shade and hue stretched from blue shore to blue shore, broken by crooked lines of cleared rock piled into neat, solid walls.
Circling above Dublin we realised we'd left your suit behind, a 1940s black double-breasted gangster suit. I pictured it still hanging over the side of a chair or on a hook in the toilets at Heathrow Airport. Just more proof that it's better not to plan.
I struggled through the black pudding, white pudding, sausage and egg and tried to keep up with who was having a baby, a christening, a 21st, a Holy Communion, a 40th, an anniversary or a funeral. There were operations, holidays abroad, secret scandals, A levels, O levels, leaving certs, new jobs and redundancies. And there was, of course, the wedding. Family members were arriving from all over Ireland with one or two returning from jobs in Switzerland. We had come the furthest, Canada, and were told we should probably have a little rest now while we still had the chance.
The next morning we got up early and caught the No44 into town, wandered through Stephen's Green and headed down Grafton St where sunshine bounced off cobblestones worn smooth by time and the steady stream of shoes. In Temple Bar we bought wedding clothes, secondhand treasures, and you stopped into a barber's for a "short back and sides". After crossing the Liffey and popping into the GPO, we purchased flowers for Mam in Moore St Market. They sat on our table in Bewley's Cafe while we sipped strong tea and dipped buttered soda bread into soup.
I drank too much at the wedding and everyone was pleased I'd finally come out of my shell. Your youngest brother teased me and tried to offend my sensibilities by calling me American, repeatedly.
Later I reported that his very pregnant girlfriend's waters had broken in the ladies' toilets and he should probably do something. What he did was barge in on Auntie Delia and got a handbag in the face.
Towards the end of the evening your seven married sisters fought like tigresses on a slippery dance floor for the bridal bouquet, which was then thrust unceremoniously into my chest. I don't think my arms were working. We made our announcement the next morning and that same afternoon bus took us across the country to Galway and County Clare. Your sister's husband's parents had a caravan in Lahinch just south of the Cliffs of Moher and that's where we'd be staying.
Late September cold and rain and wind rocked us to sleep that first night after Thomas, from two rows over, helped us get the gas working.
Crisp autumn air and a sky full of light had us wishing we'd brought sunglasses as we walked along the side of the road, thumbs out and hopeful for a lift. There wasn't a lot of traffic on the narrow, winding road and I kept wondering if it was even possible for two cars travelling in opposite directions to pass each other without scraping the paintwork off their sides. A bright blue BMW passed at speed and then braked hard further up the road.
Out the driver's side window appeared a mass of curly grey hair and a face as red as sin. We ran to catch up before he changed his mind. The overpowering smell of cow shit penetrated every surface of the spotless interior.
He was obviously hauling manure in the boot. I spent the next five minutes trying to dig my safety belt from under the seat and listened to your English responses as the driver rattled on in fluent Gaelic. I was surprised to find, upon querying you about your sudden new language acquisition, that he'd been speaking English all along. Wow.
Lying flat on our stomachs we peered down and over the straight face of the Cliffs of Moher.
Rising from the blue-black Atlantic, the Aran Islands seemed to float in the waters of Galway Bay and further yet sat soft cardboard cut-outs of the hills and valleys of Connemara. Wind whipped through our hair and clothing and as I was unprepared to stand at the edge of a 230m drop I inched a safe distance back along the smooth stone and then crawled even further.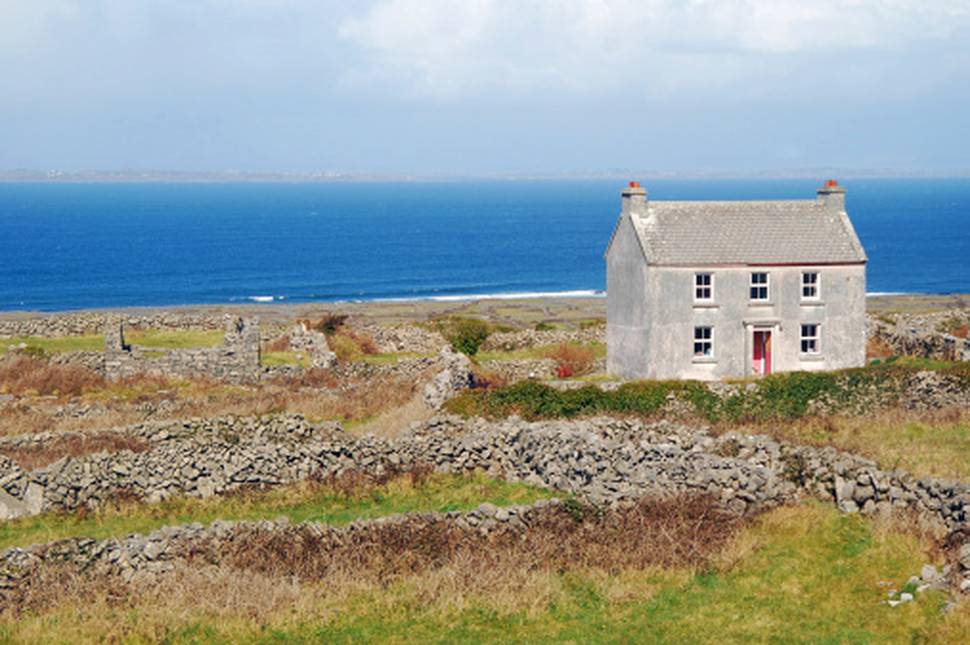 Thinking of Guinness and a bit of craic we walked into a sudden gale-force wind to the village of Doolin. Stopping into McDermott's Pub we fortified ourselves with thick Irish stew and a pint of the dark stuff. Traditional music started around 7pm, we danced till 12am and then managed to hold the pool table for eight games straight. It must have been the drink. Curtains were drawn, lights dimmed and the door locked at 1am. The pub was still teeming with people, mostly locals and the odd tourist. My first ever "lock in". It felt good breaking the law with so many jovial others.
Rain battered windows and an angry, howling wind could be heard above the din of the crowd.
People started to make their way out into the night and with sudden sobriety we realised we had a long, long way to go. Passing Doonagore Castle I got the distinct feeling that we were being watched by some 15th-century ghost and that spooky thought occupied my alcohol-riddled brain for the next few kilometres. All up, the inland route back to the caravan was about 10km and we were freezing cold and soaked to the skin by the time we unlocked the thin, aluminium door and stood dripping on the mat.
Magically, the sun beamed the next morning and we made our way back to Doolin to catch a ferry to Inishmor, one of the three Erin Islands. I vomited into sea spray on the starboard deck as the boat rose and fell and smashed down on what felt like solid rock. You stood behind the safety of the glass and snapped photos of flying sick.
Safely on solid ground we rented bicycles from a place just up from the pier and began pedalling up a gradual hill towards the famous Dun Aengus, a 2000-year-old stone fort perched on the edge of a cliff above the pounding Atlantic. It was like the Tour de France with frantic tourists all vying for a clear view, and as we rounded the first bend, a small dog who sat quietly watching from the roadside, suddenly leaped out and sank its teeth into your pant leg. Four little legs lifted briefly from the pavement as the dog took flight. I think you shat your pants before Super Dog let go.
Karma seems to be alive and well.
After getting lost in the timelessness of Dun Aengus, we pedalled into what was looking like the beginnings of another late-afternoon storm and followed the directions your brother-in-law had given us. Father O'Connor, a hip, young, guitar-playing, vegetarian priest greeted us from his garden and invited us into the safety of his fold.
"Any friend of Johnny's is a friend of mine!"
He looked at us and looked at the sky. "Hope you brought a toothbrush cause you're not about to go anywhere soon with the weather that's coming." We met the crew of happy hippies and later hypothesised, as we lay in bed, that Father O'Connor and Sister Katherine might not be suited for celibacy.
The storm raged and sang and shook all night.
Ferry service resumed the next drizzly afternoon and we both fed the fishes on the trip back to Doolin. Much of the caravan park had been battered and bashed and we picked our way across the rubble to collect our gear.
Kevin, from two rows across, looked lost and forlorn as he tried fixing a piece of cardboard over a smashed window.
"You're lucky to be behind the toilet block. Missed the brunt of it!" Poor bugger.
Back in Dublin, on the morning of our appointment, your mother poured and handed me a large dram of whiskey "for my health" and I had to sit squeezed on your lap in the back seat of the car, next to our two witnesses, on the way into town.
As I stood beside you, the backs of my legs on fire due to the close proximity of the gas heater, and said, "I do", I knew with certainty, that if the next 20 years were half as eventful as the last few days, we were definitely going to make it.
CHECKLIST
Getting there: Cathay Pacific offer airfares to Dublin flying via Hong Kong and London.
AWARD-WINNING ARTICLE
This story won Linda Moser the title of AA Directions New Travel Writer of the Year at the Cathay Pacific Travel Media Awards this month. Moser, a teacher at Hagley Community College in Christchurch, married her husband, Peter Saunders, in a Dublin registry office nearly 25 years ago, and the story is about their trip and subsequent wedding. Herald writer Steve Braunias, judge of the award, said, "It was almost unfair that Linda Moser entered a category which is generally a place where naif writers - enthusiasts, amateurs, first-timers - come to tell stories with energy but perhaps not a lot of craft. But her story about a wedding in Ireland was exquisitely crafted, beautifully told, and just plain better than many professional travel writers could ever hope to achieve".