Homes flattened, crops destroyed and livelihoods affected for a long time to come.
But even among all the devastation and chaos caused by Mother Nature, there are still smiles, laughter and a willingness to carry on.
Most of all, there is hope.
It has been just over three weeks since a category 4 storm - Cyclone Gita - ripped through the island nation of Tonga; striking the main island of Tongatapu and the nearby island of 'Eua.
Aid has already started to be pumped into the country in the form of monetary donations from other countries - including New Zealand - as well as from aid charities helping to distribute food and much-needed supplies on the ground.
Closer to home, members of New Zealand's Tongan communities have been quick to rally hard to bring together building equipment, supplies and food in shipping containers donated by local companies wanting to help.
Among those on the ground over the last few weeks is Donna Collins, a nurse and midwife at Whangarei Hospital and the Northland District Health Board.
Collins has been a humanitarian worker for the New Zealand Red Cross for a number of years. Her first overseas deployment was to Sierra Leone, in 2014, for the Ebola epidemic.
This time, she was sent to Tonga to help the health co-ordinator for the Tonga Red Cross.
Speaking to the Herald, she said the initial health education message to the public lost priority to immediate aid and assistance to people on the ground.
"We gave out tents, kitchen kits and hygiene kits were a huge priority and very much in need. Because there's a dengue outbreak already in Tonga, we gave out mozzy coils and mosquito nets too."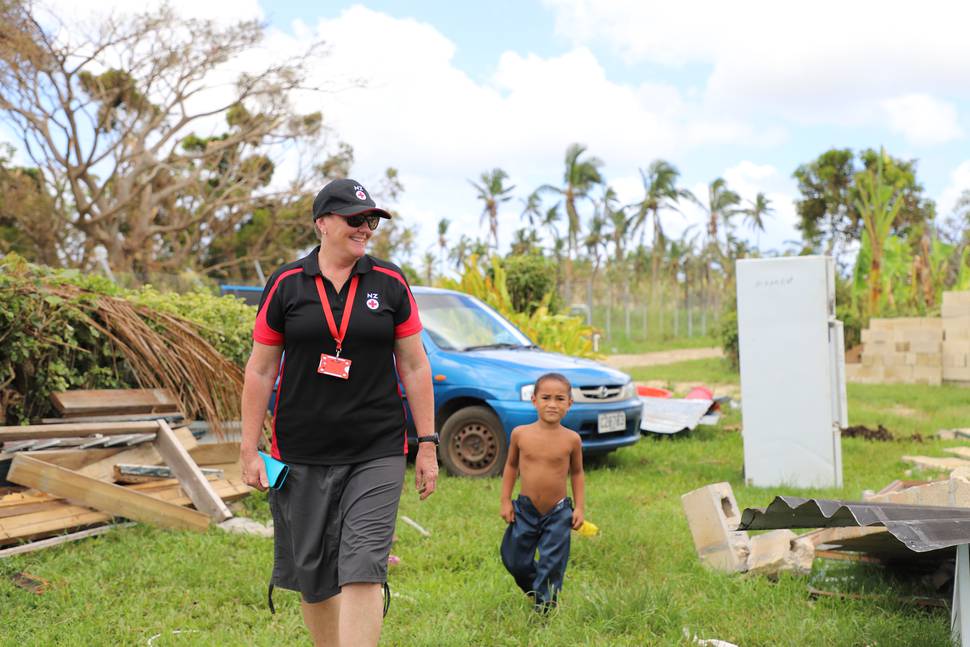 Collins, who was based in Tongatapu, said the level of destruction was high and guessed it would take months for people to rebuild not only their homes, but their lives.
"Powerlines were the biggest thing, there were powerlines down everywhere.
"And so many roofs off - particularly schools. Lots of roofs have gone. For some people - complete houses had gone."
On one day, their team came across a family who had lost their house.
"The mum had just had a little baby. She was sitting in the car nursing a baby who was like a week old. The house was completely flattened.
"Dad and granddad were on the framework trying to put a roof on - literally a small dwelling, like probably 2m sq and that was going to be their temporary abode.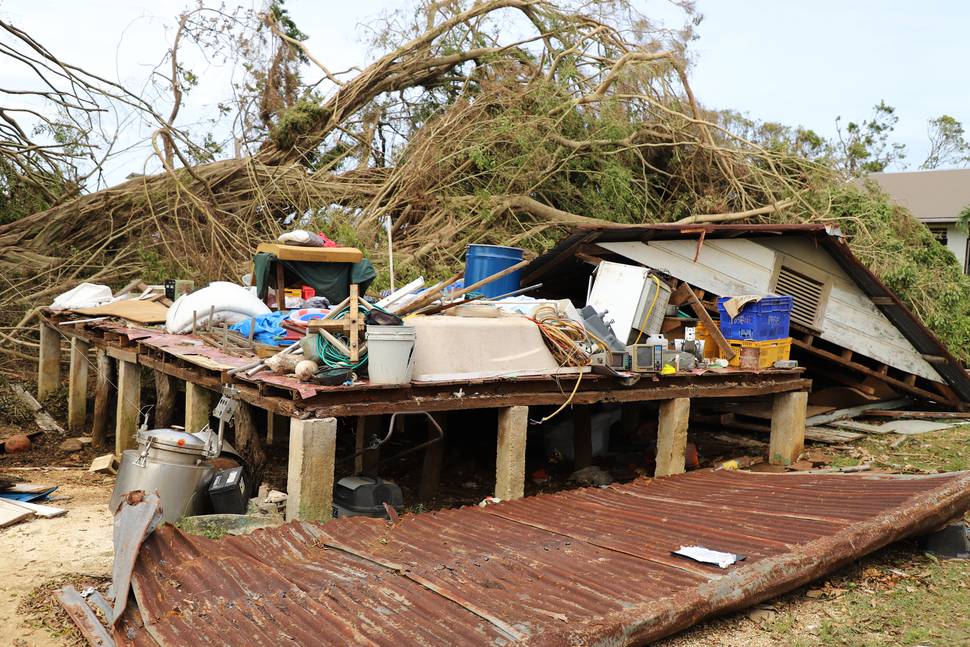 "They'd basically lost everything. We gave them all the things they required and we gave them a tent because they really had nowhere to stay that night.
"The guys said: 'Let's put it up'. We spent the next half an hour erecting the tent for them - and you've never seen such joy on people's faces. It was one of those real feel-good moments.''
Volunteer aid workers continue to seek out families in need.
Every day, food is sent out into villages. There are also hygiene kits - filled with towels, soap, toothpaste and toilet paper - and kitchen kits with the basics for cooking: Two saucepans, a frying pan, a wooden spoon and mixing bowls.
Up to 9000 beneficiaries - people or families have received help from the Red Cross.
Collins said many of the volunteers she worked alongside with were among those who had lost everything, or whose homes had been badly damaged or destroyed.
"You have to realise how incredibly giving these people are.''
In downtown Nuku'alofa, Tonga's capital, there is a lot to be fixed still, she said.
"Walking through the town on Saturday, there's still a lot of broken windows. But there was a big hum of people being busy - you could hear drills and saws and whatnot.''
She said her lasting memory of Tonga would be laughter.
"No matter what and no matter how dire people's situation seemed, they still laughed and smiled. I think that shows the resilience of the Tongan people."