A team of rescuers have saved a calf from being swept to its death in Kāpiti's Ōtaki River.
The SPCA's National Rescue Unit (NRU) was called to the Ōtaki Forks area of the river on Wednesday by rafting company Captivate Adventures.
The rafting company had spotted a calf on the edge of the river, the day before, which appeared to have fallen down a bank.
But the next day, after a night of heavy rain, the calf was seen again, but this time about 200m down the river perched precariously on a narrow ledge about a metre long and half a metre wide.
With more rain expected the company contacted the rescue unit, who mobilised a team, and who contacted the Massey University Veterinary Emergency Response Team (VERT) because of the likelihood of sedating the calf.
The rafting company took some members of NFU and VERT in a raft to the stranded calf.
"The calf couldn't lie down, move around, or anything," NRU technical rescue coordinator Gina Kemp said.
"I approached him and he tried to get away and in doing so slipped into the water.
"I took the opportunity to get control of his head and put a halter on him.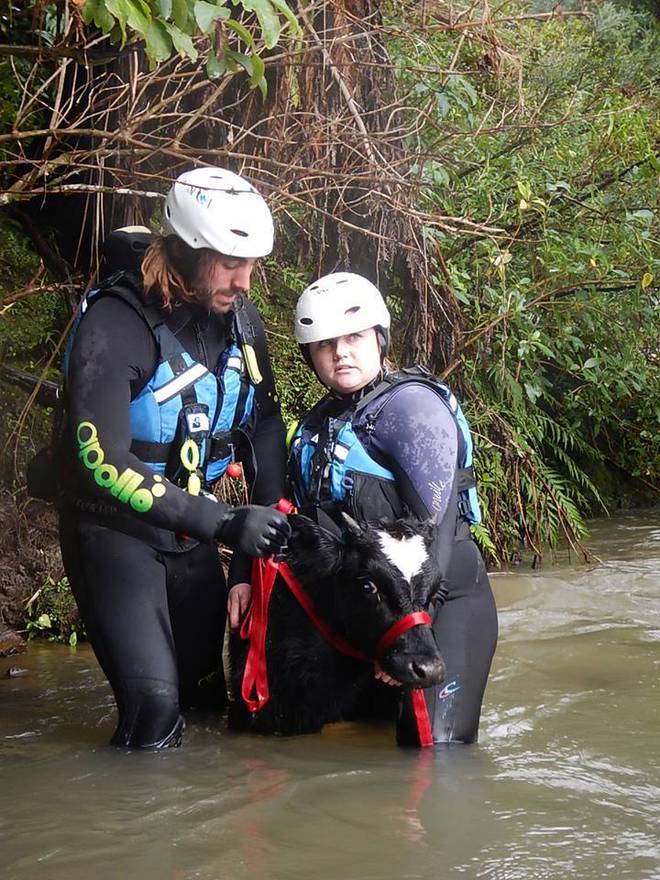 "And then he was pretty calm, I think he was quite weak so didn't put up much of a fight.
"We managed to get a sedative in him quite quickly and then lifted him, with some difficulty, into the front of the boat.
"I managed the sedation in the airway while the others continued the rafting trip downstream which was a bit bumpy.
"There was a bit of water in the boat but the calf handled it well.
"We got him to the other side and by the time we got him into the back of a ute he started regaining consciousness."
After a medical check the calf was taken to the SPCA's Waikanae shelter where it was able to walk to a bed of straw that had been prepared for it.
"He's a bit underweight, and he's been through an ordeal, but he's going to be fine, so that's brilliant," Gina said.
She praised everyone involved in the rescue.
"It definitely had to be an multi-agency response."