When Power Farming Te Awamutu was named Dealership of the Year 2015 we were 'stoked' says dealer principal Murray Barclay.
"Repeating the success a year later proved it wasn't a fluke," he says.
Now the Te Awamutu branch has picked up a third title in as many years — confirming their status as the flagship dealership of the 17 nationwide branches.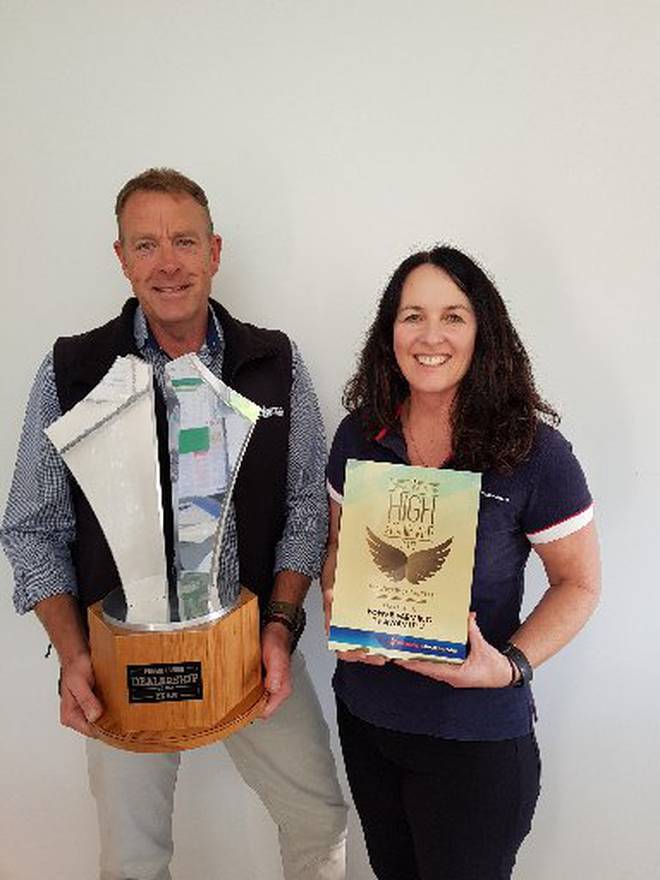 Power Farming Te Awamutu is jointly owned by the Power Farming Group and local residents, Murray and Sonya Barclay.
The couple say it is a team effort to achieve at such a high level.
They say it is a combination of factors, including experience, dedication and commitment.
Most of the staff have been with the company for more than a decade, some over 20 years.
"That is a huge amount of knowledge and skill," says Sonya.
And each department performs at a high level — contributing to the overall success.
This is evident in the other awards the branch earned at this year's National Conference in Queenstown.
As well as being named Dealership of the Year, Te Awamutu won Service Department of the Year and was Runner-up in the Parts Department of the Year category and Andrew McConnell won Technician of the Year.
The Barclays say it is good for every employee to be part of a 'winning team' and the couple plan to celebrate that success with them all.
They also appreciate their loyal customer base.
"We have some very good clients," says Murray.
"We want to thank them for making our business what it is."
The Dealership of the Year award is measured on Key Performance Indicators, like stock levels, loan balances, sales volume, positive customer feedback and service and parts turnaround, as well as staff satisfaction and feedback.
Sonya says being part of the award process keeps them on their toes.
"There are a couple of other high performing branches nipping at our heels," she says.
"But we want to stay on top."
The Power Farming Group of Companies is the largest independent importer and distributor of farm machinery in Australasia.
Te Awamutu services farmers throughout Waikato and King Country with such internationally recognisable tractor and farm machinery brands as Deutz-Fahr, Kioti, McHale, Kverneland, Merlo and Taarup.