The Otairi-Pukeroa Collie Club is not all about a dog trial competition. Despite their name, they're not all about collies. At the Otairi-Pukeroa Collie Club, they're all about community.
On a plank of ply, nailed to the top of some old, high-rising wooden steps, someone has spray painted the word "office" in green paint.
It is really a woolshed on Otiwhiti Station, home to the Otairi-Pukeroa Collie Club and the location of its 75th jubilee in 2018.
It's also the kitchen, dining room and designated drinking area - where competitors share a bit of banter over a pre-trial cuppa, or a post-trial beer.
A group of local women, friends and wives of the competitors, are stirring large pots on stove-tops while their children play in the perfect hide-and-seek environment.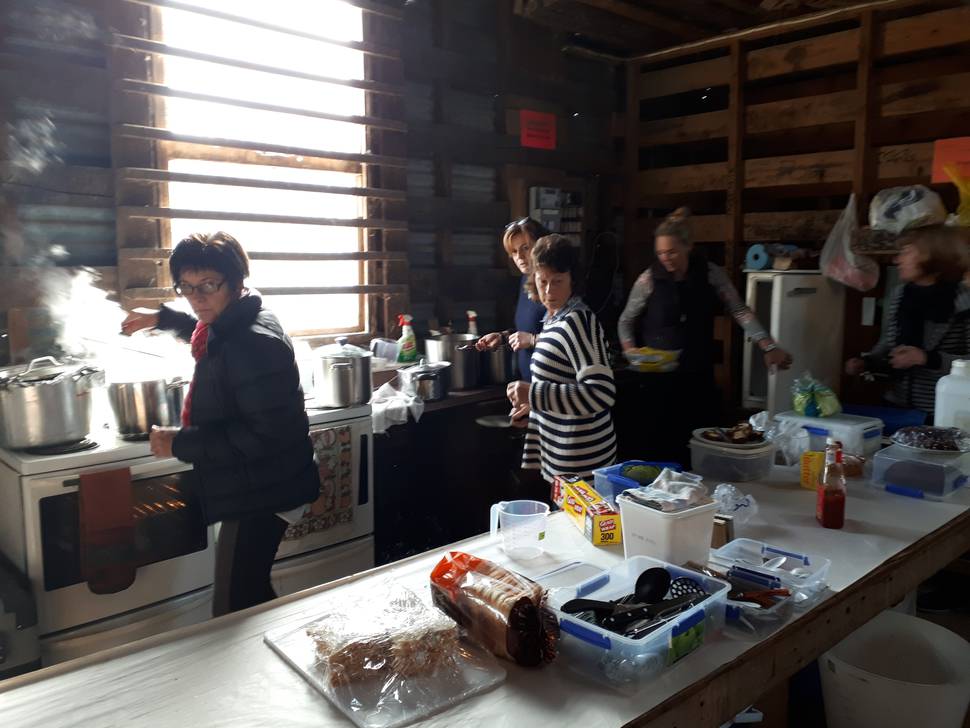 The first point of contact inside is on the right, where a queue has formed in front of an old wooden table where a young lady greets each individual.
Anna Tipling, 28, has been the Otairi-Pukeroa Collie Club secretary for eight years.
She grew up in the area, her grandfather Gary Hurley ran the straight hunt and now her father Shane is running the very same event.
"I grew up like my kids are now, running around under everyone's feet and this is a great thing," she says.
"I don't know where my children are right now, but I know that someone will be looking after them. There are not many places where you could say that."
Her husband, Nick Tipling, is a judge in the class two short head and yard event and they have two children Evelyn and Harry.
She said the club reaching 75 years was a testament to the community.
"These guys here, it costs them a whole week of work, they're here every day working sheep, marking out courses and all that sort of thing.
"The landowners that employ all these guys, that pay them to come here and do this, they're putting in huge support and we're lucky that this is the sort of community we live in."
Having processed competitor applications for so long, Tipling has noticed a pattern in the people entering the trials.
"It's a dying sport," she says.
"The average age of the people doing it is quite high, even in this community. A lot of people will have a go today, but they wouldn't necessarily go somewhere else to trial their dogs."
When the last secretary left, the club convinced Tipling to cover the role for a few years and she has remained ever since.
"If I don't keep doing it, it's going to die out and that's sad. I'd hate for it to die out in my generation because no one is interested," Tipling says.
"It's the only event that there is to show off what farmers do and there is no other sport like it."
Stan Whiteman, 72, was born in Taihape and now lives in Whanganui. He has been going to the Otairi-Pukeroa Collie Club dog trials since 1964.
He says the lack of youngsters may be due to the expenses involved in the sport now.
"Some of the young fellas can't get the time off to go anymore, or they don't have the funds and I certainly don't want to spend a lot of money going down to, say a South Island championship," he says.
"The expense comes in that piece of water between Wellington and Picton and accommodation. You can say goodbye to a thousand dollars just to cross the water."
Whiteman prefers centre championships and jubilees like this one. He loves the challenge of competing and that working stock got in his blood.
"I presume people that jump out of an aeroplane get a buzz, we hear on TV these people that take drugs get a buzz, but this is our high, to go out there and compete and get a good result," he says.
"You're out of bed before daylight, probably go until after dark, at the end of the day you feed your dogs and know that they've done some really good work for you."
Whiteman's run in the short head on the first day was no good, but he is out to make up for it with his dog Reign in the long head.
In the long head, competitors are judged on how well their dog runs out up a hill, above three sheep, and then pulls them back down the hill and holds them in a circle made of white pegs at the bottom.
The score is marked out of 100, with 48 available for the run out, 48 for the pull and 4 for the hold at the end. The judge today is David Shields from Dannevirke.
"Time," Shields says and it's all go.
"Run Reign," Whiteman yells.
"Now walk, walk, walk … stop.
"You sit down."
These are the instructions given throughout, with a few short, sharp and piercing whistles in between.
Whiteman is pleased with the performance.
"I'd have to say the dog was very honest, right on the ball, she got on good terms with the sheep and we got a strong hold," he said.
"She put a lot of effort in and I'm very happy with the run."
Whiteman said the fact Otairi-Pukeroa Collie Club had survived through tough times over the years showed the commitment of the community.
"It's fair to say they would be known right throughout the North Island as one of the best social clubs around, it's a feature in Otairi, they've always shown great hospitality to the competitors," he says.
"In the old days, there weren't many clubs that didn't put the bottle of whiskey there at the secretary's and you helped yourself. Well this would probably be the only one left doing it."
*The Tux North Island championships start on May 7, hosted by the Te Aute club in Hawke's Bay at their grounds on Te Aute Trust Road. The Tux South Island and NZ championships are being held in Marlborough from May 28.