The source of an oil spill in Tauranga Harbour remains a mystery, for now.
Bay of Plenty Regional Council regulatory compliance manager Alex Miller said the team was first notified about 6.30am yesterday via its pollution hotline of an oil sheen on the water near Cross Rd and Sulphur Point.
"A visual inspection of the shoreline by our maritime and regulatory compliance staff, as well as representatives from Tauranga City Council, confirmed these reports," Miller said in response to Bay of Plenty Times queries.
"In addition to a light oil sheen on the water, an oily residue could be seen along the high tide mark of the new tidal steps ... and several locations around the Marine Precinct on the eastern side of Sulphur Point."
Miller said the incident involved a small amount of oil and was relatively localised to a narrow stretch between Cross Rd on Sulphur Point and the tidal steps.

Because the investigation and clean-up was under control and the affected area was clearly cordoned off there was no need to notify the wider community, Miller said.
Instead, staff notified those in and around the area in person and ensured signs made any passersby aware.
"So we can perform a final check in the morning, we have left the cordon in place overnight and we have since updated the sign," Miller said.

"In carrying out this investigation and response we worked with Tauranga City Council and Port of Tauranga and we also kept local iwi representatives up to date."

Miller said investigations had found no link to the pipeline that failed as part of the Mobil oil spill.
The team was yet to determine the source of the spill but was investigating, he said.
Regional council staff put booms in the water around the tidal steps and marine precinct to try to stop the oil spreading further.
"Regional council takes the health of our waterways incredibly seriously but we can't be everywhere all the time. We count on the community to let us know if they see a waterway being polluted," Miller said.
Tauranga 20-year-old Tekoikoi Brown was angry he couldn't go for the swim at the city's waterfront as planned. Not because his plans were ruined, but because he holds the wellbeing of the harbour dear.
"This has really pissed me off. This is a place where we come to chill out and unwind. Stuff like this, it really gets me down. It's polluting our wildlife.
"For me, to see this, it just hurts. This is a place where people come to congregate and to have a barbecue or take the kids for a swim. When people see this, they won't want to come here."
Gregory Taylor, an NZME employee, was spending his lunch break at the eastern end of 6th Avenue when he spotted three lines of oil on the sand and a large slick stretching off into the harbour.
"There was quite a lot. It was clear to see."
Carlo Ellis, the manager of strategic Maori engagement at the Tauranga City Council, said he had been advised by the regional council that iwi had been informed about the spill and were working alongside the regional council.
"Generally speaking, a spill in the harbour is a regional council matter but we do work pretty closely alongside each other. The regional council team have advised us and kept us up to date with what's going on for that matter."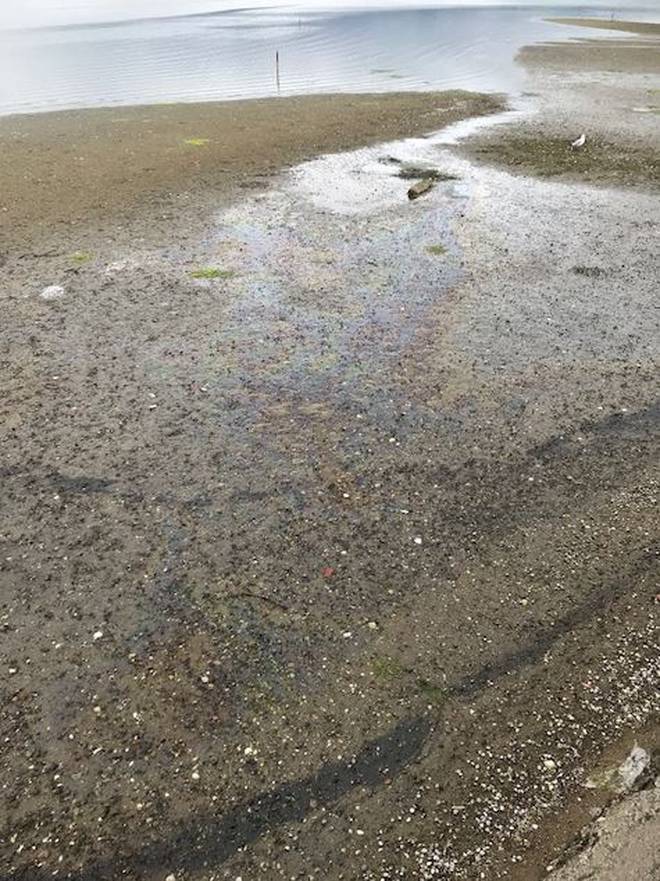 Spills
- Under the Resource Management Act it is an offence to discharge contaminants to the marine environment within the 12 nautical mile, or 'territorial waters' limit. Fines of up to $300,000 for individuals, $600,000 for corporate entities can be issued and those prosecuted could face up to two years in prison.
- In order to help identify spills and pollution incidents, the regional council has a 24/7 pollution hotline (0800 884 883).