Finding something for everyone is the key to a happy holiday.
When you space your three babies four years apart, you (rightly) don't consider family holidays down the track, but those gaps mean finding a holiday to suit everyone is a bit of a trick. With our oldest, Ella, overseas shortly I wanted one last holiday for "the tight five".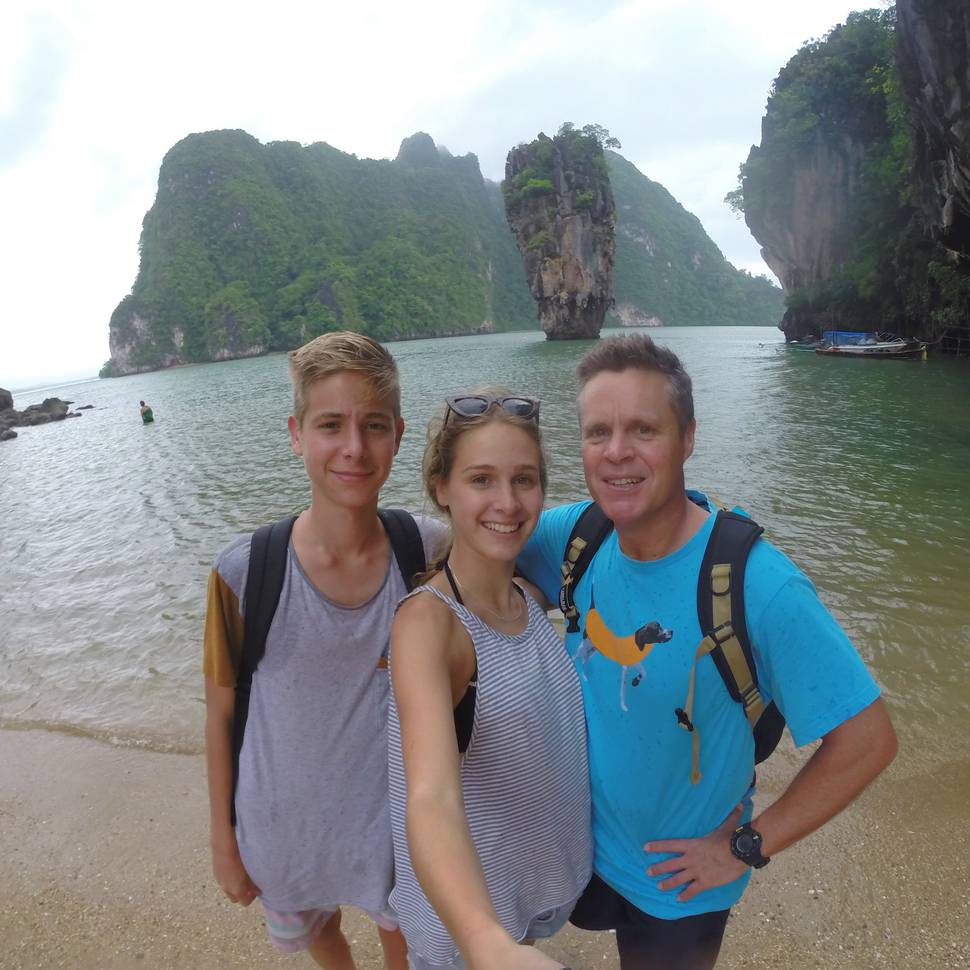 Our best dinner in Phuket was local and family-run - yummy and inexpensive. It was four doors down from the "beauty" salon we girls found where a 60-minute massage was $15 each and the youngest got her hair braided.
You need to explore to grasp the reality of a destination, plus it's cheaper than resort life - though I suspect some families never leave, which does nothing for a youngster's education. Even the chaotic power wires are an education.
Things to do
With the smallest one unwell for much of the time, my husband took the teens exploring. They drove as far south as they could to see the end of the island one day - hoofing off up tracks to windswept lookouts.
They drove north to Phang Nga National Park then hired a longtail boat just for them ($150 for four hours) to see "James Bond Island" - the site of The Man with the Golden Gun movie (we watched bits of it that night to see where they'd been).
Horrified by the number of tourists, daughter insisted they move out far enough for a photo with her trusty Go Pro that made it look like they were lonelier. Next stop was Panyee stilt village where they reckon they had the best Pad See Ew on the trip, albeit feeling very aware of the inhabitants' subsistence existence.
Big Buddha is also worth a visit. It's some 20 minutes south of Karon and is just that - a Big Buddha on top of a hill. Views are magnificent and if you need any confirmation that Buddism is alive and well in Thailand this will do it for you. That and all the signs giving priority seating, toilets and special areas just for monks in many places.
We intentionally did not stop on the drive up to visit the elephants you could ride on or the monkeys you could have a photo with. That's just wrong, all wrong.
We did however find a great restaurant where you felt like you were eating in the treetops.
The Gibbon Rehabilitation Project in the tropical rainforest at Bang Pae waterfall is also worth a visit to open your eyes to the baseness of human behaviour.
We chose to go here to see a monkey and hear their sad, but enlightening stories. For every baby gibbon ripped away from its mother, usually at least three gibbon families die - older ones trying to protect them, other babies falling from high trees. On average, Thailand loses 3000 a year to hunters who sell them as pets (once mature they're often not wanted) or they become tourist photo fodder. Many come in with hepatitis, as owners use dirty needles to sedate them, even though they are chained up. Spend your money in the rehabilitation centre's gift shop to help rather than have your photo taken with a gibbon and adding to the obscenity.
A Bangkok river ferry and tuk tuk ride (sort the price first for the tuk tuk) is a tick-the-box experience for all ages. The river affords all sorts of experiences - a walk up the steep Wat Arun, the night markets (our older two became great bargainers there and at the MBK shopping mall) and a connection to the MRT (rail) system, which is clean and efficient, but crowded.
If you're visiting any temples make sure you're dressed appropriately - we were fine for all but The Grand Palace, where rules are strict. They're okay with men's long pants and shoes and socks, but both genders' shoulders should be covered (a sarong is not good enough) and women should wear long skirts. Our 12-year-old daughter was problematic. While a child in all other places, she was a woman here. We got through the first check and bought tickets, but she was taller than the arbitrary line on the stick at the main entry (I'd say about 8-year-old height). We went outside and bought a $5 skirt rather than wait 90 minutes in the heat to borrow clothes as others were.
All in all a good trip for the tight five, but to satisfy all ages on a trip I reckon you've all got to compromise a bit, split up sometimes and have a story to remember with your photos and videos. Make sure you download offline maps to get around. I must write to Bangkok Airport and ask it to rectify the upside down New Zealand on its world map.
Jude Dobson is a long-standing television presenter and the producer of the Raising Children video parenting resource at raisingchildren.org.nz. Download the free Raising Children app.