An award-winning New Zealand home built in an ancient pohutukawa forest has featured on the BBC show The World's Most Extraordinary Homes.
The Piha home designed by husband and wife team Lance and Nicola Herbst at Herbst Architects won a stack of awards when it was built in 2011 but recently caught the eye of producers for the prestigious BBC show.
Hosts of the show - award-winning architect Piers Taylor and actress Caroline Quentin -
explore four houses from around the world built in forest locations.
The stunning house in Piha, west of Auckland, features alongside a basalt house in an ancient pine forest outside Madrid in Spain, a treehouse and a forest skyscraper in the Catskill Mountains in New York State.
The Piha house, known as "Under Pohutukawa", was built on land so thick with the mature tree that four had to be removed for the build.
The house impressed the show's hosts who described the wood-clad and glass-roofed house as "mimicking the branches of the surrounding trees".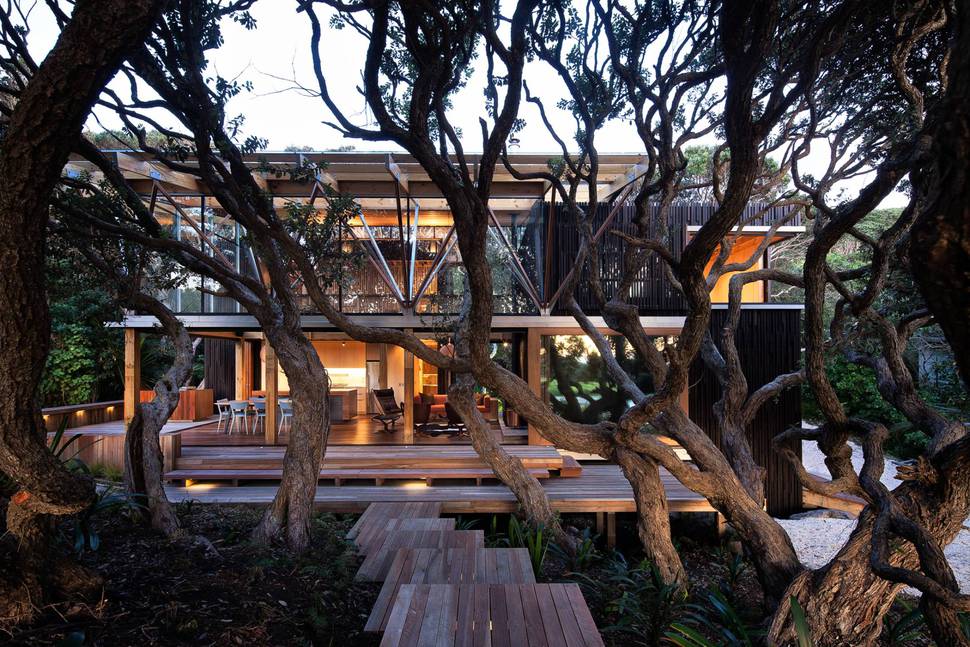 "Its huge sliding glass walls open up completely to allow the surrounding forest to become an intrinsic part of the house itself."
The house features a pair of two-storeyed block structures which were designed to represent tree stumps in a nod to the trees that were removed.
Dark cedar cladding mimics the dark bark of the pohutukawa and lighter wood used on the interior looks like the centre of the tree.
The glass roof is supported by stunning "branches" of steel and timber.
As well as ticking the boxes for the BBC show the Piha house featured in numerous design publications throughout the world.
It also won the following local awards.
* NZIA - Auckland Architecture Award 2011
* HOME magazine home of the year winner 2012
* NZIA New Zealand Architecture award 2012
* NZIA medal finalist 2012
* "NZ Wood" Timber design awards winner: residential architecture excellence 2012
* WAN (World Architecture News) house of the year 2012 finalist