Ground-breaking science cured a baby who doctors said had only weeks to live. But are we saving lives or designing children? Madhumita Murgia reports.
Layla Richards was a bouncy 3.5kg baby with downy dark hair and plump cheeks when she was born in a London hospital in June 2014.
But 12 weeks later, Layla, who had been settling in at home in North London, suddenly stopped drinking milk and began to fuss and cry constantly. Because she had been a sunny, happy infant until then, her parents took her to see the doctor. He suspected a stomach bug, but just to be sure he took a blood test. The results that came a few days later were a shock: Layla had an acute, deadly form of leukaemia that she couldn't survive without immediate treatment. She was just 14 weeks old.
When the diagnosis came in, an ambulance rushed the family from their home to intensive care at the Great Ormond Street Hospital, the world-famous paediatric centre in Bloomsbury. Her doctors described her cancer as "one of the most aggressive forms of the disease" they had seen. For the next few weeks, she endured several rounds of chemotherapy, followed by a full bone marrow transplant to replace her damaged blood cells. This sort of aggressive therapy can often be successful in babies, but none of Layla's treatments, even the experimental ones, worked. Medically, she was out of options. Only one choice remained - admitting her to an end-of-life care facility to make her final weeks more comfortable.
Just a few doors down from the leukaemia ward at Great Ormond Street is the office of Dr Waseem Qasim, a bearded, genial immunologist who specialises in immune system disorders in children, including cancers. For several months, Qasim had been working on a new type of leukaemia treatment in which an anonymous donor's white blood cells are engineered to recognise cancer cells, by tweaking their genes. White blood cells are the body's soldiers; they fight infectious disease and foreign invaders. The engineered cells form an arsenal of targeted cancer-killer cells that can be injected into anyone. There was one problem: The procedure had only been tested in mice.
Qasim's lab is based in the University College London GOS Institute of Child Health, connected by a single corridor to Great Ormond Street.
"We move effortlessly between the two. There are no other physical or intellectual barriers, so it leads to serendipitous events," Qasim says, as we stroll through a set of double doors from his lab into the hospital.
Qasim heard about Layla's case from her transplant surgeon. "He asked as a sort of joke, 'I might be out of my mind but could [your cells] be useful here?'" Qasim recalls.
Because the therapy had never been tested in humans, there was the obvious danger of things going badly wrong, but Layla's parents and doctors knew she would die without a miracle.
After the Medicines and Healthcare products Regulatory Agency granted an emergency license, Layla became the first person to receive a vial of gene-edited cells from a stranger to attack her cancer.
What followed after Qasim's experimental gene treatment, a new technique using custom-designed molecular scissors to cut, edit and delete DNA, was described by Layla's doctors as "miraculous" and "staggering." She went into remission within four weeks and successfully survived a second bone marrow transplant. Now, nearly two years on, she remains healthy and cancer-free.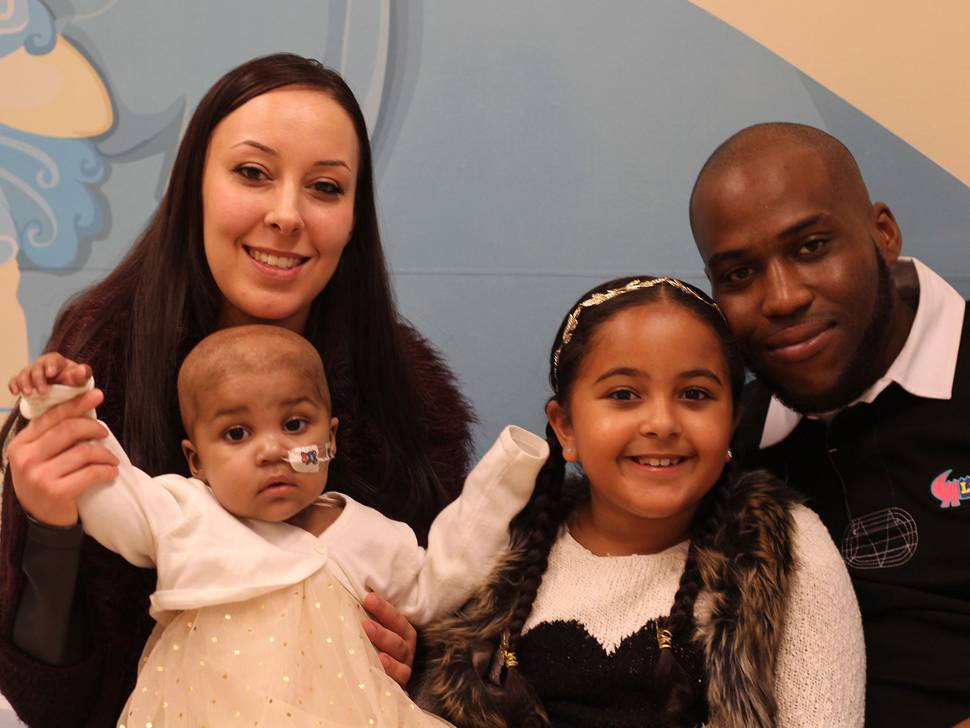 Layla was a pioneer, the first person saved by gene editing; and without the favourable environment created by British scientists and regulators over the past decade, Qasim's experimental treatment, which gives special properties to cells, would never have been allowed.
With recent advances in gene editing and governmental approvals, the UK is set to become the unlikely pioneer in one of the most controversial, yet astonishing spheres of human knowledge: the manipulation of our genetic code. While research labs around the world are working on genetic cures to childhood and adult diseases, most have been wary of interfering with the DNA of a human embryo, fearful of unintended consequences for future generations.
Yet the UK achieved a double first in 2016: It became the first country to legally permit replacing part of an embryo with a third person's genes, and the first to allow genetic modification in humans from the embryo stage.
Opponents of the techniques believe they herald a dystopian future of "designer babies" - a world where parents will "play God" by opting to edit their unborn child's genes to make it stronger, taller and healthier.
Molecular biologist and ethicist David King, the founder of British watchdog group Human Genetics Alert, believes that embryo manipulation opens up "for the first time in human history, the possibility of consciously designing human beings, in a myriad of different ways".
A recent report from the Nuffield Council on Bioethics in London found that gene editing - particularly in embryos - demanded further scrutiny. Ethical opposition has arisen especially where, it said, the "scope for unforeseen consequences is considered to be great or editing is regarded as irreversible".
All humans have a unique "genome" sequence, the more than 3 billion molecule pairs known as DNA that define who we are, from our physical appearance to biological characteristics and even our personality. Our hair colour, preference for certain kinds of food even our ability to make deadlines - it's all rooted in our DNA. Mutations or mistakes in this genetic code can result in disease, such as diabetes or leukaemia.
Gene editing means we can now find and correct genetic errors in a lab. Once honed, the tools could be used to fix maladies like sickle cell anaemia and cystic fibrosis and even fight cancer.
The promise of gene editing goes beyond curing adult disease - it could even be used to modify human embryos and delete egregious genetic defects before birth. That would prevent the transmission of debilitating illnesses from parent to child, and could signal the end of devastating inherited disabilities.
The British Government's recent endorsement of gene editing research thrust the country to the forefront of the next revolution in health and science, whether the rest of the world is ready for it or not.
Nearly four decades before Layla Richards was born, another baby girl made history in Britain. In July 1978, Louise Brown was born by caesarean section to very eager parents. There was nothing particularly unusual about the birth of this healthy, 2.6kg baby - and yet her arrival into the world helped two British scientists win a Nobel Prize.